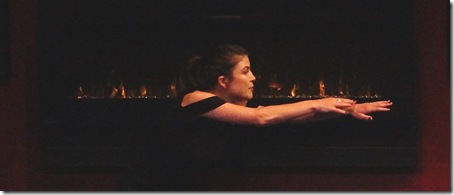 Photo:  by Venetia  Lawless. Zoe Georgaras
An evening that begins in Geoff Gruson's cozy sitting room design with enormous wooden bookcases, a warm fireplace, posters and paintings coming to life under David Magladry's soft lighting that heats up the room in its friendly glow. A writer's paradise. Three friends, David, (Michael Thompson), Sam (Tahera Mufti) and Robert (Chris Torti) are gathered in Roberts sitting room discussing the life and death of Paul, a successful writer friend, author of horror fiction who recently passed away. Robert also laments the death of his own wife Tara Waters, a talented writer whose memorabilia is spread out over the walls and around the house and whom, according to Robert, is not really dead! What kind of presence does he sense in the room?
In fact the deceased Tara, is just as present as Paul because both dominate the conversation by their absence. These five people were very close in the past and now that two of them have disappeared, there is a certain malaise among the surviving three, who are awaiting the arrival of a young woman, representing Paul, supposedly bringing them some unexpected news. Director Venetia Lawless takes it in hand beautifully , bringing out all the nuances hidden in the script, even to the point of transforming the faces of her actors. Watch them closely! Cues lie at every turn.
The first act sets up a background of unanswered questions, moments of strange behavior, of uncanny thoughts that are not only clues to the second act, but also unexpected tips that may even send us purposely off in the wrong direction. More than anything, author Muggleton shows us his thriller poetics as he falls into the model (perhaps without even realizing it!) of Isadore Ducasse, better known as the Comte de Lautréamont who wrote (1868), in the Songs of Maldoror, that famous phrase that set off the imagination of the surrealists poets , by bringing together images, objects and ideas that had absolutely no logical relation among them: a dissecting table, an umbrella and a sewing machine. Such was the point of departure of much Surrealist poetry, which later became a game called the Cadavre exquis (the exquisite body) and the sign of a talented writer who tosses together images and unrelated words in the hopes that his poetic imagination will inspire some unexpected , strange and totally illogical relationship in the onlookers/reader's mind. Such is the origin of Maldoror's evil in the world, and the departure point for Muggleton's game of horror that is played out on the stage here.
The writer is not only an excellent actor (see the review of his performance in Dangerous Liaisons http://capitalcriticscircle.com/dangerous-liaisons-joyous-audience-reaction-from-this-spicy-period-piece/#more-119) but also a talented playwright who is able to construct a complex network of relations that let themselves morph into an apparent horror story before anyone realizes what is happening until a banal phone call changes everything. Muggleton knows his craft and even when the end seems in site, he still keeps us begging for more until the final moments.
The first act of rapid-fire exchanges was sometimes difficult to follow because so many fragments of information came pouring out and we had little time to digest all the details. Eventually however, it all made sense as Robert, David and Sam become a perfect trio of friendly chatter and joking until the arrival of Zoe Georgaras changed the dynamics of the encounter. Who is she? We are not sure. But the actress creates a convincing portrait of a different species of individual. Her heightened physicality gives her a strange presence in this solid, friendly cocoon of writers' bliss, especially as she drifts gracefully around the fireplace coming dangerously close to the fire! She barely listens to what the others are saying, she floats around the room like something from another planet. Her face betrays moments of disapproval, of tension, even of playful taunting until her tone changes and she becomes the narrator of a terrible tale. Muggleton has created an ambiguous character, who charms, who frightens, who could be the incarnation of an ambitious writer or even an evil spirit who has returned as a creepy ghost, to haunt old acquaintances!! But… didn't Robert say earlier that he was convinced Tara his wife was not dead? The clues pile up, the performances are tantalizing and we are completely taken in by the whole thing.
Burn is a great evening of good natured horror and fine performances, a fitting tribute to their late colleague Steven Dwyer who produced the original version of this play at the Avalon theatre in  2016.  It is now playing  at the Gladstone Theatre Friday August 25 and Saturday August 26. Curtain at 7h30.
Produced by Cuepennyproductions and dedicated to the memory of Steven Dwyer, the orginal producer.
Directed by Venetia Lawless
Set by Geoff Gruson
Lighting by David Magladry
Cast
Robert Chris Torti
Samira Tahera Mufti
David Michael Thompson
Eve Zoe Georgaras
The show will be performed at the Tsawwassen Theatre in Vancouver in September 2018