I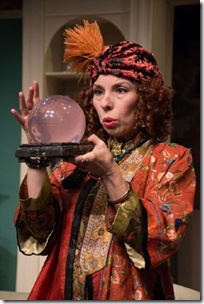 Photo: Stephen  Wild. Anita Wittenberg as Mme Arcati
I f you enjoy Noel Coward's comedies as much as I do, get over to the 1000 Islands Playhouse and see their terrific production of "Blithe Spirit."  Director Ashlie Corcoran and her uniformly strong cast hit all the right notes of both Coward's style and humor. Ms. Corcoran has made a wise decision in bringing in Alison Deon as Dialect Coach.  For once Coward's dialogue and "airy persiflage" sound authentic.
This is partly due to the excellent cast, including Christopher Weddell and Janet Michael as Dr. and Mrs. Bradman.  Kelsey Gilker has great fun with the inexperienced maid Edith, particularly the opening of Scene 2 when her mishaps are accompanied by percussion.  Speaking of percussion, Christopher Stanton's music and sound are first rate.  I love the scene change music that sometimes sounds like drums and kazoo, as well as the perfectly timed sound in the final scene.
Krista Colosimo does a fine job as Ruth, Charles's rather unsympathetic second wife, as does Stephen Gartner as Charles, from the use of his perfect period haircut to his final declaration of independence.  As for Shannon Currie's mischievous Elvira, she's well-nigh perfect, especially her wonderful body language which is enhanced by Dana Osborne's lovely costume and wig.
As for Anita Wittenberg's Madame Arcati, she's hilarious without ever going over the top. Usually played by an older if not elderly character actress, this Arcati is youthful, possibly mid-thirties, and energetic.  Splendidly costumed in flowing exotic gold-trimmed garb, mismatched plaids, and a red wig, her believably flamboyant spell casting is a great contrast with her matter-of-fact explanations.  Miss Wittenberg's comic timing is impeccable.
My only quibble, and it's a small one, is the garish flowered wall paper and the actor-tripping over-lapping carpets on Dana Osborne's set.  However her first-rate costumes and the rigging for the final scene make up for it.  Oz Weaver's lighting is also first rate and very effective.
Ashlie Corcoran has directed "Blithe Spirit" with a sure hand.  The staging is excellent and the characters never get lost in the style.  The pace is right on the nose.  This is a sparkling production of a comedic classic.
"Blithe Spirit" by Noel Coward               Plays through July 16  Tkts: 613-382-7020
Produced by 1000 Islands Playhouse in association with Western Canada Theatre, Kamloops, BC.
CREATIVE TEAM
Director – Ashlie Corcoran
Set & Costume Designer – Dana Osborne
Lighting Designer – Oz Weaver
Composer & Sound Designer – Christopher Stanton
Dialect Coach – Alison Deon
Stage Manager – Isabelle Ly
CAST
Ruth – Krista Colosimo
Charles – Stephen Gartner
Edith – Kelsey Gilker
Mrs. Bradman – Janet Michael
Dr. Bradman – Christopher Weddell
Madame Arcati – Anita Wittenberg
Elvira – Shannon Currie