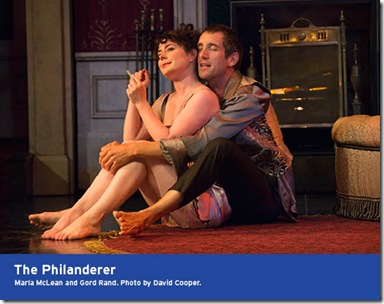 Photo: David Cooper. Featuring Marla  McLean and Gord Rand.
NIAGARA-ONTHE-LAKE, Ont. — We're not really getting full nudity on the stage of the Festival Theatre, but that's still what the opening moments of The Philanderer manage to suggest.
We're privy to a couple still in lustful embrace, and they leave us in no doubt about what has just taken place. The man is Leonard Charteris, an accomplished womanizer whose sexual confidence is only matched by his sense of sexual entitlement. The woman is Grace Tranfield, a current conquest and a young widow who has managed to convince herself that the charismatic Leonard is her new soul mate.
Gord Rand, effortlessly debonair even in a state of undress, and Marla McLean, an amusing combination of dopey romanticism and panting sexual compliance, make for a sizzling combination in the Shaw Festival's outstanding new production of Bernard Shaw's late Victorian comedy. Their opening scenes set the tone for an offering that, although faithful to period, seems unabashedly contemporary in sensibility.
Indeed, the play soon erupts into a display of sexual jealousy that — in tone and psychology — could have been written yesterday. It comes courtesy of Moya O'Connell, a rampaging fury in the role of Julia Craven, another notch in Charteris's belt and a woman whose murderous instincts are fuelled by the discovery that his erotic gifts are not confined to her. O'Connell, spitting words as though they were bullets, is terrific as this seething avenger, but this fine actress gives Julia no free ride, also seizing on the opportunities afforded by the text to bring out this character's own monstrous ego, possessiveness and hypocrisy.
Meanwhile, there's no denying the recurring erotic tension. And what else can we expect when the playwright sets the stage so adroitly for a cat fight? The production's American director, Lisa Peterson, has no patience with those critics who insist that Bernard Shaw knew nothing about sex. Legendary critic Kenneth Tynan once referred to Shaw as the spinster aunt of British drama, the implication being that GBS could not relate to the mysteries of sexual attraction. Tynan's quip was clever, but nonsensical: by Shaw's own admission, he wanted to provoke an uproar with this play's views on sexual freedom, and he succeeded so well that the scandalized Lord Chamberlain's office denied The Philanderer a public performance until 1907. Furthermore the play was inspired by the youthful transgressions of Shaw himself and two of his mistresses.
In directing this latest revival, Peterson takes a cue from Shaw's own opening stage directions — "A lady and gentleman are making love to each other . . ." — and then lets things rip. Shaw was happily entering a minefield when he decided to take irreverent aim at a variety of targets — Victorian hypocrisy, the sanctity of marriage and the infallibility of the medical profession, to name a few. But he was also unleashing a witty series of character studies and acknowledging the rich varieties of the sexual temperament. Peterson and her terrific cast take advantage of these opportunities with unbridled confidence and commitment.
The production, another triumph of the 2014 Shaw Festival season, is also propelled into a strikingly different dimension by the end of the play because Peterson has brought back Shaw's discarded third act. There's a shift in texture here — contrast the aggressive reds and blacks provided by designer Sue LePage for the opening act with the almost dreamscape quality she and lighting designer Kevin LaMotte supply at the close. And yes, that very blue sky is too good to be true — but intentionally so. Meanwhile, The Philanderer retains its vitality and continuing topicality throughout.
It's fascinating to see how Shaw's zingers continue to resonate. The best of them are assigned to the Charteris, and Gord Rand comes through with splendid aplomb when he suavely suggests that "only conventional people marry" and, without the slightest touch of embarrassment, makes clear his determination to achieve the maximum pleasure out of life with the minimum of commitment.
Still, the good lines are spread around. For example, there's a delightful Jeff Meadows turning the floundering Dr. Paramour into a true ninny who spouts absurdities about the pleasure of detecting a duct on the liver of a guinea pig. This is another production given further ballast by the excellence of a supporting cast that includes Michael Ball, a crusty delight as Grace's drama-critic father, Ric Reid as Julia's long-suffering parent and Harden Sandhu doing an absolutely captivating take on Bernard Shaw's vision of a quintessentially Ibsenite woman. So yes, Shaw's preoccupation with the theories of fellow playwright Henrik Ibsen also surfaces in this play but we needn't worry — it doesn't weigh too heavily. Play and production remain an airborne delight.
(The Philanderer continues to Oct. 12. Ticket information at 1 800 511 7429 or shawfest.com)