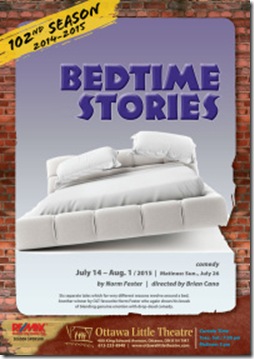 Poster for the Ottawa Little Theatre.
Seeing the aging shock rocker peel off his sleeves of tattoos is the single most effective moment in the Ottawa Little Theatre production of Bedtime Stories.
It is a reminder that Norm Foster comedies can be very funny, even touching at times.
Sadly, this group of six vaguely connected skits set in various bedrooms is worthy of few laughs, rarely touches and leaves one wondering why Foster has so often been called the Canadian Neil Simon.
The opening sequence of the group, written in 2006, is both ridiculous and distasteful: an ambitious radio host has paid a middle-aged couple $5,000 to have sex on air. The conservatively clothed couple is less than the passionate pair he envisioned. Yet, the sounds of their bedtime activities become an irritating recurring theme through the remaining playlets. Other repetitions such as mention of a cab driver, who constantly loses her way, and her foolish sister, an incompetent exotic dancer, are hardly worth a smile, never mind a laugh.
The weakest skit features a botched burglary. The tale of a bitter wife on the point of leaving her husband — the ambitious radio host of the opening skit — and the firing of the stripper are not much better.
Only two playlets have any punch: the aging rocker (a happily married man) confronted by a teenage rebel anxious to bed him and a dying man visited by the woman he loved when he was in high school. In both scenes, the chemistry between the performers, Christopher Glen and Tina Prud'homme, as well as better writing, offer the evening's best moments.
But there is little that director Brian Cano has been able to squeeze out of the remaining scenes. The technical aspects of a workable set from Patti Vopni, effective lighting and sound from Frank Donato and Bradford MacKinlay, and excellent costuming from Glynis Ellens cannot rescue Bedtime Stories, particularly when rearranging the bedrooms between scenes slows this excruciatingly slow and weakly written show even further.
Bedtime Stories continues at Ottawa Little Theatre to August 1.
Director: Brian Cano
Set: Patti Vopni
Lighting: Frank Donato
Sound: Bradford MacKinlay
Costumes: Glynis Ellens
Cast:
Eddie/Nick/Charlie………………………………………Christopher Torti
Betsy/Sandy/Yolanda…………………………………….Erin McNamara
Lou/Davey/jerry………………………………………….Bill Milner
Derek/Tommy/Steve……………………………………..Christopher Glen
Susan/Melod