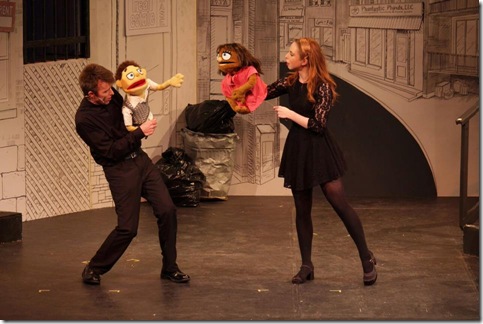 Photo: Allan Mackey/Valley Wind Productions
Gently racy and naughty but nice, Avenue Q is Sesame Street for adults stripped of politically correct sugar coating (thankfully).
The 2003 award-winning musical satire by Robert Lopez, Jeff Mark and Jeff Whitty wafts a skewer over a broad spectrum with such numbers as Everyone's a Little Bit Racist or What Do You Do with a B.A. in English?
The show is set in a rundown neighbourhood, populated by people and puppets of the Bert and Ernie and Cookie Monster muppet variety. The style and camaraderie of the long-running children's television show are evident, despite a disclaimer in the program noting that the Jim Henson Company or Sesame Street Workshop are not responsible for the content of Avenue Q.
If the representatives of JHC or SSW had seen the terrific TotoToo Theatre production (even in preview, as I did) they might have asked for that disclaimer to be removed. As directed by Michael Gareau, Avenue Q is not only lots of fun, but also incorporates a little tenderness in the people/puppet combo of the well-cast ensemble.
Choreography from Aileen Szkwarek, hand in hand with musical direction from John McGovern is bright and bouncy. Gareau's smooth and imaginative direction brings out the best in the top-notch cast, who all have to be quadruple threat, adding puppetry to the singing, dancing and acting demands of musical theatre.
The connection between puppet and person — a central element of a show that is much more complex than it seems at first — is effective throughout, climbing to simply spectacular in some cases, particularly from Alianne Rozon as Kate Monster and Pascal Viens as Rod. And Mary Ellen's sashaying version of Lucy the Slut is laugh-out-loud funny.
And the star quality and warmth of the performance from Iyono Ede, as the apartment building superintendent, Gary Coleman, brings an extra layer of joy and sparkle to this lively, loveable production.
The TotoToo production of Avenue Q continues at the Kailash Mital Theatre (Carleton University) to June 20.
Avenue Q
Book by Jeff Whitty
Music and lyrics by Robert Lopez and Jeff Mark
A TotoToo Theatre Production
Director: Michael Gareau
Musical director: John McGovern
Choreography: Alison Szkwarek
Set: Sally McIntyre
Scenic artist: Christy Bindhardt
Lighting: David Magladry
Sound: Mike Heffernan
Kate Monster……………………………………………..Alianne Rozon
Brian………………………………………………………Kodi Cannon
Rod………………………………………………………..Pascal Viens
Nicky………………………………………………………Patrick Teed
Christmas Eve……………………………………………..Jasmine Lee
Princeton………………………………………………….Andrew Galligan
Gary Coleman…………………………………………….Iyono Ede
Bad Idea Boy Bear/Newcomer/Ricky…………………….Andrew Portolesi
Bad idea Girl Bear……………………………………….Katrine Mangin
Mrs. Thistletwat/Lucy the Slut.………………………….Mary Ellen Vice
Trekkie Monster………………………………………….John Leclaire