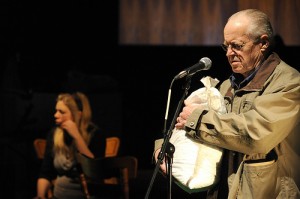 Liisa Repo-Martell and Eric Peterson, in Seeds.
Photo: Guntar Kravis
In the world of documentary theatre Seeds may reign supreme as one of the most complex topics ever incubated for the stage. The story is one well suited for the headlines-as-dialogue, taunt teaching moments, and characters-as-points of view form of theatrical presentation docudrama uses to construct its world. The little guy – and they don't get much smaller than the individual farmer – is suddenly and it would appear unjustly targeted by a multi-national corporation because their genetically modified seeds have capriciously settled on his land producing a crop resistant to the weed blasting properties of Round Up herbicide. That's the simple plot.