Reviewer: Alvina Ruprecht
Reviewed by Alvina Ruprecht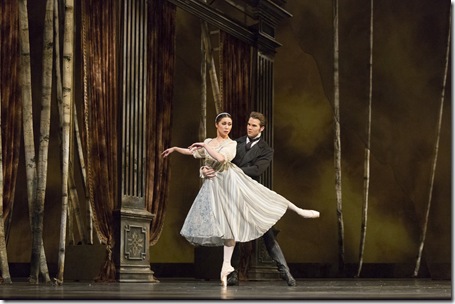 Photo.  Aleksandar  Antonijevic,  with Xiao Nan Yu and McGee Maddox.
Spectacular narrative ballets are the forte of the National Ballet of Canada and Tchaikovsky's work based on stories and fairy tales have become the mainstay of their production, not to discount that exquisite Romeo and Juliet set to the music of Prokofiev which brought Karen Kain to my attention many years ago. This was just after seeing her dance Nana (based on the novel by Emile Zola) with the Company of Roland Petit in Paris, Now, thanks to the choreography of John Cranko the Company has added to its repertoire, another exquisite production of storytelling on point, this one inspired by Russian poet Alexander Pushkin's verse novel Evgeni Onegin written in 1823.
Based on the lyric opera Onegin created in 1879 and set to the music of Tchaikovsky, choreographer John Cranko created his own balletic version of Pushkin's work which premiered in Stuttgart in 1965 and which became part of the National Ballet's repertoire in 2010. Last night, we saw the premiere of this fiery example of Cranko's highly dramatic choreography as it came swelling into Southam Hall, lifting up an adoring audience with its emotional power and magnificent artistic perfection! Who could ever forget Xia Nan Yu as Tatiana the rejected shy young girl, eventually , melting into the arms of the repentant Onegin act III, then she just as passionately tears herself away from his desperate embrace and then turns to the audience in a state of physical ecstasy and mental disarray in one last sign of denial! . The whole event is an extraordinary meeting of dancers who are also excellent actors and the collaboration of director Reid Anderson working with Cranko's choreography gave us a performance which highlighted the strong dramatic power of Pushkin's verse.
19
Jan
Posted:
January 19, 2017 Thursday at 6:12 pm