Reviewer: Alvina Ruprecht
Reviewed by Alvina Ruprecht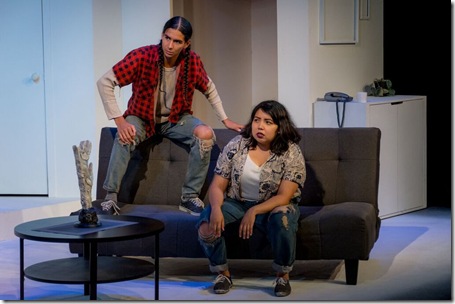 Photo: Stephen Wild. Taran Kootenhayoo and Joelle Peters.
Drew Hayden Taylor is a prolific playwright, also well known for his stand-up comic routines which bring out his corrosive and provocative humor as well as ideas that stimulate much thought. Published in 1998 and winner of the 1996 Dora Mavor Moore Small Theatre award for Outstanding New Play, Only Drunks and Children tell the truth was first produced in Toronto (1996) by Native Earth Performing Arts. This new production in Gananoque gives us a chance to see the work of an author who has not yet had enough exposure on the mainstream theatre circuit in spite of his many plays that have already been published. .
Taylor raises delicate questions about stereotypes and racism and mistaken attitudes in the non-native community of Canada with regards to native people . Here, he takes a close look at Grace, a young woman of Ojibway origin, from Otter lake, who was removed from her family by the Children's Aid Society when she was a child because the Society assumed the father had abandoned the family which was not true. She became "Janice" in Toronto where she grew up in a non-native family . As time passed, the cultural memories of her former life, slipped quietly away. The white set by designer Jung-Hye Kim shows us a symbolic place where all culture has been eradicated, as the invisible paintings and other objects that decorate the room only exist in the memory and the imagination of the owner or of those who are still in touch with her past.
15
Aug
Posted:
August 15, 2017 Tuesday at 1:02 pm