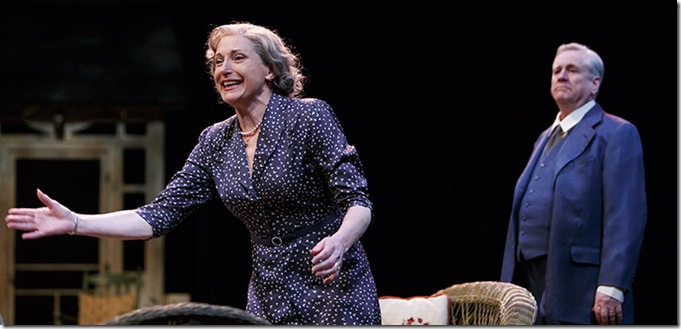 Photo: David Hou.Lucy Peacock as Kate Keller and Joseph Ziegler as Joe Keller. 

There was a time when Arthur Miller's 1947 play, All My Sons, was undervalued, its reputation eclipsed by the
subsequent triumphs of Death Of A Salesman and The Crucible.
Perhaps today's troubled times have contributed to its renewed stature. Or perhaps its simply benefiting from a more aware perception of what it's really about. One strength of Martha Henry's marvellous new production at the Stratford Festival rests in its subtle power in examining the often elusive nature of guilt. This sterling revival provides a textbook example of how to realize the dramatic potential of the familiar theme of the sins of the father being visited on future generations. But Henry and her cast are also going for something particularly unsettling here — the conundrum of the once decent human being who commits a terrible act.
We can't deny the essential likeability of the play's tragic hero, Joe
Keller, when we first encounter him. Joseph Ziegler gives us the
devoted, seemingly carefree family man, moving into serene middle age.
He has the aura of what we would call a "good" person — and one
suspects that by many standards he is.
But then we learn more about him — that he's a manufacturer so anxious
to fulfill defence contracts during the Second World War that he
knowingly supplied aircraft with faulty equipment, thereby
contributing to the deaths of 21 pilots. The orderly middle-class
facade that Joe is so eager to sustain for himself and his family is
starting to rupture. The tree that has come crashing down during a
thunderstorm at the play's very beginning is acquiring ominous
significance. There are growing signs of a family in denial, and therefore a family in crisis.
Martha Henry has staged All My Sons in the round in the Tom Patterson
Theatre, and that draws us into an increasingly enclosed and
claustrophobic world of secrets and lies. So, while Douglas
Paraschuk's setting may represent middle-class order and stability,
that's no defence against the emotions that will boil over this
August weekend in 1946.
Henry's production deftly explores the play's familiar preoccupations
— the nature of right and wrong and of guilt and innocence — but she
also sees All My Sons as a mood piece about the gathering of darkness
and the corruption of the American Dream. And in finding the right
emotional texture for the material, she has been helped immeasurably
by Louise Guinand's lighting and the late Todd Charlton's soundscape.
Ziegler's performance is a series of modulations executed so subtly
that they vanish into a portrait of moral and spiritual disintegration
that leaves Joe with no place to hide at the end. And of course by
then also we're asking ourselves where his real guilt lies. Is it in
the spectacle of a harassed businessman prepared to cut corners in
order to meet a government deadline? Or is it in the betrayal of the
business partner who took the rap and ended up in prison instead of
Joe? Such is the impact of Ziegler's performance that Joe's normality
does seem real — but so are the forces that are battering him from
within and without.
Then, there is Lucy Peacock, tenacious and pitiable, a coiled spring
near breaking point, as Joe's wife Kate. She's sustaining herself with
lies — the saddest of which is her insistence that attention must be
paid to her belief that the son who died in the war is still alive.
Tim Campbell, the play's moral compass, is outstanding as Chris, the
son who did survive and must struggle to preserve his own integrity.
He has fallen in love with Ann Deever, once the sweetheart of the
missing Keller boy. Their romance is an affront to Kate Keller, still
struggling to sustain herself with her dream that her vanished son
will return home one day and marry the girl of his dreams.
Ann, portrayed here with conviction and honesty by Sarah Afful, may
not intend to conjure up ghosts from the past, but it's inevitable
that she will. After all, Ann is more than just the girl next door.
She's also the daughter of the business partner who ended up in jail
instead of Joe. And, confronted by Kate's ferocity, she's also the
keeper of one final secret that can change everything.
The play acquires a further and unexpected dynamic because of Henry's
casting choices. Actress Sarah Afful happens to be black — and on the
surface, this may seem no more than an example of the festival's
commitment to non-traditional casting.
Afful easily inhabits the world of this play, and — as Henry observes in her program notes — there > were integrated areas in the Ohio of 70 years ago. But her presence also allows the production to hint at something more dismaying when it
comes to the true nature of Joe Keller's betrayal. Did race also enter into his cavalier abandonment of his former partner? It's a question that flares up here — particularly after Michael Blake, superb in the role of Ann's brother, make his angry, anguished appearance. This is potent, compelling theatre.
>
(All My Sons continues at the Stratford Festival until Sept. 25.
Ticket information at 1 800 567 1600 or stratfordfestival.ca)