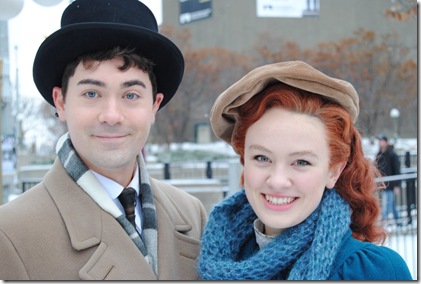 Photos by Barbara Gray
Now a decade after its creation, Anne and Gilbert The Musical is firmly established as not only a worthy sequel to the much loved 1965 musical Anne of Green Gables, but also as a Canadian theatre standard.
Based on Lucy Maud Montgomery's second and third novels about the feisty red-haired orphan, Anne and Gilbert follows her adventures at Redmond (a.k.a. Dalhousie University). She makes a new friend, the wealthy Philippa, finds a new beau in Roy and continues to deny that she loves Gilbert Blythe — when everyone else knows otherwise.
Knowing how the story will end is of no importance. Anne and Gilbert is primarily a celebration of a way of life in a small island village in the early 20th century. (Little wonder that P.E.I. tourism has set up a booth, complete with assorted Anne souvenirs, in the NAC lobby. A catchy number such as You're Island Through and Through tempts you to take a trip to the island.)
The slick NAC English Theatre production of Anne and Gilbert, as directed by Martha Irving, with musical direction by Lisa St. Clair, is attractive, despite John C. Dinning's unappealing set.
Some of the performances, particularly Ellen Denny's bright Anne, are highly effective. As Marilla, Alison Woolridge's beautifully sung When He Was My Beau is memorable. Charles Douglas as Roy and David Ross Whiteley as Moody MacPherson maximize the humour in their roles. The chase/escape between Philippa (Amanda LeBlanc) and her two pursuers is funny and well choreographed.
Yet, despite numerous fine sections, this production maintains a degree of distance and a slight chill that is far removed from the magical warmth of a totally charming Gananoque production in 2007 and the early, far less elaborate production in Summerside, P.E.I.
The NAC English Theatre production of Anne and Gilbert The Musical continues to December 19.
Anne and Gilbert
Book by Jeff Hochhauser
Music by Bob Johnston and Nancy White
Lyrics by Nancy White, Bob Johnston and Jeff Hochhauser
Based on the novels Anne of Avonlea and Anne of the Island by L.M. Mongomery
An NAC English Theatre Production
Director: Martha Irving
Musical director: Lisa St. Clair
Choreographer: Brittany Banks
Set: John C. Dinning
Lighting: Leigh Ann Vardy
Sound: Don Ellis
Costumes: Roger Schultz
Cast:
Rachel Lynde………………………………………………..Robin Craig
Anne Shirley………………………………………………..Ellen Denny
Gilbert Blythe……………………………………………….Alex Furber
Philippa et al………………………………………………..Amanda LeBlanc
Diana Barry…………………………………………………Brieonna Locche
Josie Pye……………………………………………………Paula-Jean Prudat
Moody MacPherson………………………………………..David Ross Whiteley
Marilla Cuthbert……………………………………………Alison Woolridge
Roy Gardner………………………………………………..Charles Douglas
Mr. Sloane et al…………………………………………….Bruce Dow
Simon Derome……………………………………………..Fred Wright
Annetta Bell………………………………………………Celia Koughan
Anthony Pye……………………………………………….Mike St. Amant
…
Schoolchildren and Freshettes:
Sam Ashe Arnold, Petra Ginther, Jake Hamilton, Auden Larratt, McKenna Mellon, Kelty O'Brien, Maureen O'Brien, Ry Prior, Clara Silcoff, Charlotte van Barr, Kelsey Warren, Mikayla Wills