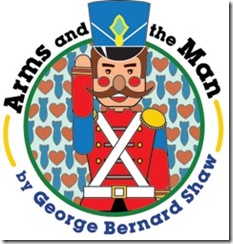 Logo: Classic Theatre Festival, Perth.
George Bernard Shaw sub-titled Arms And The Man an "anti-romantic comedy" when he wrote it in 1894. His intent was serious — to challenge romantic illusions about the glory of war. But his methods were playful as he set up farcical situations to make his point and created a memorable gallery of comic characters who continue to delight audiences more than a century later.
Perth's Classic Theatre Festival has mounted a robust revival that declares its purpose immediately when we're introduced to Raina, the romantically inclined heroine whose heart begins fluttering at the very thought of the heroic Balkan war happening around her. She — fantasizing with schoolgirl fervour about the stalwart conduct of her betrothed, Sergius Saranoff, on the battlefield — is actually bursting into song as the stage lights go up. To be sure, there's no singing in the text of the Shaw play, but director Laurel Smith has cunningly chosen to launch the evening with a few bars of the aria, My Hero, from The Chocolate Soldier, the 1909 Oscar Strauss operetta based on Arms And The Man. That's sufficient for actress Lana Sugarman, an ongoing delight as Raina, to start giving shape to a character addicted to head-in-the clouds romantic nonsense until she's brought down to earth with a resounding thud by the Swiss mercenary who seeks sanctuary in her bedroom.
However, The Chocolate Soldier also becomes a stylistic reference point for a production that isn't afraid of throwing a measure of operatic buffoonery into the on-stage mix. Even Lois Richardson's cheeky designs for the Petkoff household are not quite real. And there's a touch of Ruritanian fantasy in Renate Seiler's costumes.
Laurel Smith is bringing off a tricky balancing act here. This show has a bevy of deliciously over-the-top performances, but they don't disintegrate into  cartoons. They remain character-based, and Bernard Shaw's witty and provocative views on war and heroism continue to receive their due.
Significantly, the play's one oasis of reason is Bluntschli, the exhausted mercenary who bursts into Raina's bedroom and starts shattering her illusions — first with his revelation that he carries chocolate in his pocket rather than cartridges, secondly by his less-than-flattering comments on Raina's lover, Sergius, whom he has witnessed leading a ludicrous charge.
The sounds of battle may be erupting outside, courtesy of Matthew Behrens's soundscape, but inside a mischievous chemistry of opposites is starting to work. Sugerman's Raina may be given to moments of flighty hysteria, but there's also a sturdy resilience here and growing evidence that she's not quite the bubblehead we thought her to be at the beginning. As Bluntschli, Scott Clarkson is the antithesis of her romantic illusions, but he brings an easy athleticism to his physical presence and a  surprising charm to his pragmatic views on life.
Indeed, all the characters are excellent company in this production. Lindsay Robinson, wonderful as Sergius, is an adroit visual comedian — an angular joy whenever he struts stork-like across the stage. His is the most stylized performance — understandable given that Sergius is constantly striking postures — but Robinson also gives us the loveable blockhead.
As Raina's overly-excitable mother, Catherine Bruce has some good moments — her body language communicates character beautifully — but she should seek to be less shrill. Alastair Love is suitably crusty as Raina's father, Major Petkoff, Rachel Fischer is outstanding as that pert and knowing maid, Louka, and Alan Lee brings jaunty conviction to the role of a conniving servant named Nicola. In brief a polished and likeable revival of an endearingly likeable play.
Arms And The Man by George Bernard Shaw
A Perth Classic Theatre Festival production
To Aug. 14
Set: Lois Richardson
Costumes: Renate Seller
Lighting: Wesley McKenzie
Sound: Matthew Behrens
Cast:
Raina Petkoff………………………..Lana Sugarman
Catherine Petkoff……………………Catherine Bruce
Louka………………………………..Rachel Fischer
Captain Bluntschli…………………..Scott Clarkson
Nicola……………………………….Alan Lee
Major Petkoff……………………….Alastair Love
Sergius Saran………………………..Lindsay Robinson