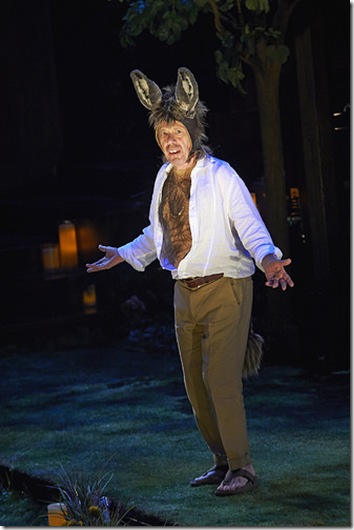 Stephen Ouimette as Bottom. Photo Michael Cooper.
STRATFORD, Ont. — Some may see the Stratford Festival's new production of A Midsummer Night's Dream as an act of desecration.
Not so. But it is a depressingly foolish and self-indulgent treatment that drains the magic out of Shakespeare's most magical comedy and opts for sophomoric nonsense instead.
We're not talking here about director Chris Abraham's much publicized decision to introduce same-sex relationships into this world. That idea seems inspired.
Indeed, the show begins promisingly with Scott Wentworth's Theseus bestowing his blessing on the marriage of two males. But then, Theseus turns fickle when confronted by the love between Hermia and Lysander, both portrayed here by women. He doesn't like the idea
That's enough, of course, to send Hermia (an enjoyable Bethany Jillard) and Lysander (Tara Rosling) fleeing to the enchanted wood where they and other characters in the story find their true affections thrown into further chaos by Puck's magic.
Considering that much of the play's comedy revolves around sexual confusion and misdirected yearnings, the gay aspect introduces an intriguing new dynamic. And mindful that in Shakespeare's time, female roles were played by males, the production has added another fascinating layer, in that two men, Jonathan Goad and Evan Buliung are alternating this summer as those reigning fairies, Oberon and Titania.
A pity then that an audacious concept fails to reach its potential — perhaps because Abraham had no real idea what to do with it. Instead both it and the play itself are pulverized into stupidity by a director who should know better.
It's hard to come to terms with the fact that Chris Abraham, who in recent years directed truly memorable productions of Shakespeare's Othello and Thornton Wilder's The Matchmaker, should be responsible for this infantile mess.
To be sure, its opening performance triggered gales of laughter from large chunks of the audience. A food fight will always bring down the house — so Abraham obligingly trots one out.  But as the cupcakes start flying and faces are squashed into the icing on a wedding cake, you begin asking yourself whether this is the play's skewed logic at work or simply evidence of a director driven by whatever takes his fancy.
In truth, the food fight offends against the play's internal logic.
But then again, Shakespeare's text often seems about the last thing on this production's mind. Lovers of the play will quickly discover that many favorite lines are missing and that many more are perishing in a din of comic hysteria.
The moments when the poetry is allowed to shine through seem accidental. Scott Wentworth's Theseus delivers. So on opening day did Jonathan Goad's macho Oberon and Evan Buliung's beefcake Titania. But there will be other moments where you might well be asking — where did THAT line come from?
Stratford seems to have a lot of trouble making Dream work. Directors often seem to distrust the material. In 1993, director Joe Dowling's influences included Cats, Michael Jackson, Diana Ross and The Supremes and an Oberon (Colm Feore) who reminded you of Spider-man. Shakespeare's text came out second best. In 2004, British director Leon Rubin's Brazilian rain forest setting offered more flash than substance. What we keep missing is true magic and enchantment — the kind that took over the Festival Theatre stage in the mid-1970s in a dark but memorable production directed by Robin Phillips and starring Maggie Smith, Hume Cronyn and Jessica Tandy.
The design team has garnished the Festival stage with much greenery and has strung twinkling lights above it. There's also a pond into which characters keep falling — far too often.  The Fairies sport silly wings as phony as the Astroturf on which they are gamboling, with some evoking unfortunate memories of David Cronenberg's The Fly. The production remains resolutely earthbound in sensibility. If it were serious in purpose, it wouldn't have allowed actress Chick Reid to turn Puck, that shimmering dispenser of magical trickery, into a simpering nonentity.
With its penchant for visual gaggery and for halting the action with pointless injections of pop music, the production seems intended for people who don't like Shakespeare. Even the wonderful scenes involving the Mechanicals, preparing and performing their version of the Pyramous and Thisbe myth, sputter into mediocrity. Stephen Ouimette's spatula-wielding Bottom does achieve some comic definition —  you can't loving the guy even when he's at his most meddlesome — but even this fine actor suffers defeat. And when audience members see the so-called ass' s head bestowed on him by Puck, they should feel cheated.
Actors like Ouimette and Wentworth do manage some degree of subtlety, but too many others seem forced into frenzied overdrive, especially Liisa Repo-Martell (Helena) Maev Beaty (Hippolyta), and Tara Rosling whose early coltish charm as Lysander falls victim to adolescent shrillness.
Only Mike Shara, who learned much about comic style during his years at the Shaw Festival, emerges with some credibility out of the manufactured mayhem. Of all the young lovers, his jaunty Demetrius is the only one tracing a credible emotional arc — and being genuinely funny to boot. But, of course, he knows that good comedy can't easily arise out of pure situation. He knows the importance of character in the equation.
(A MidsummerNight's Dream runs to Oct. 11. Ticket information at 1 800 567 1600.)