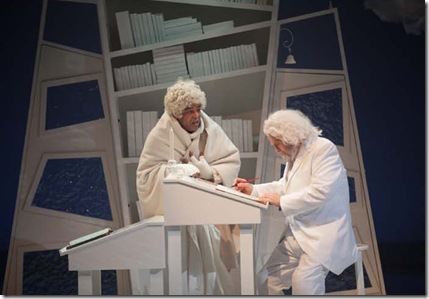 Photo. Courtesy of the NAC. Nigel Shawn Williams (Bob Cratchit and Andy Jones as Scrooge)
I am a big Christmas sap. I watch all the Christmas shows. Of course there is probably no Christmas tale that has been retold more often with more approaches than Charles Dickens' A Christmas Carol, sometimes to great effect and sometimes less so.
Artistic director Jillian Keiley has the challenge of adding a twist to a classic without diluting the Dickens out of it. To this end, She brings us in to see, touch, smell and feel Christmas by literally touching fur, feeling the weight of the chains and sharing smiles and chat with the actors. It is a masterful way to bring you in, sit you down and warmly hold Christmas in your heart and hands before a word of Dickens is spoken: it works wonderfully well.
Before you even enter the theatre there are Christmas trees adorned with miniature sets of the familiar places you will be seeing throughout the play. They are places you have seen in your minds eye a thousand times before. The life size set and costumes are various tones of cream and white, not nearly so detailed as the miniatures. Every element is designed to feed and fuel the imagination of the audience so that the spirits and shadows are nourishing your memories simultaneously as they liberate Scrooge from his own cold heart.
There is a prologue or more of a preamble where narrator Bruce Horak who also plays the ghost of Christmas past engages us while the company infiltrates the audience handing out pieces to hold and touch while we are serenaded with Christmas music . Bruce Horak is a warm and charming opening master of ceremonies who also happens to be legally blind. It is the most direct attempt to let the audience get a feel for the design that I have seen. Another narrator, Jack Volpe who doubles as the Spirit of Christmas yet to come is deaf. He teaches the audience some basic sign language including and how to applaud.
This audience interaction just seems to melt into the start of the play and before you know it the spirit is upon you. In fact,there is a phantom like presence to Bretta Gerecke's set and costumes that is at once haunting and magical; it is at times creepy and almost simultaneously profoundly beautiful, especially when washed in the dancing and swaying pockets of light provided by lighting designer Michael Watson. This ethereal quality of the visuals is aided by elegant sound scapes of keyboardists Jonathon Munro and David Terriault and the luscious base lines of cellist Timothy McCoy. The combination of these elements coupled with the top notch storytelling of the cast create a spellbinding effect that speeds by so rapidly, the end of the first act quite literally catches the audience off guard.
The NAC company is of course comprised of some of Canada's best actors. Marc Béland as Jacob Marley has the most dramatic entrance that highlights his skill as a physical performer as well as his vocal interpretation. Chris Ralph, a well established local favourite performs in his NAC debut. Although credited in the program with the single character of the tenaciously jovial Fezziwig, I counted at least three others he played peppered through the evening. All were delivered solidly.
At the heart of A Christmas Carol is the Cratchit family and of course Scrooge. Kristina Watt's Mrs Cratchit has the right blend and of sadness, frustration and joy of mothering a child of precarious health. Sébastien Cimpaye is the suitably adorable Tiny Tim and Nigel Shawn Williams is the humble but proud Bob Cratchit.
Andy Jones gets the glorious task of playing Scrooge. He is very good at being the cold, curmudgeonly miser that buries his spirit in a vault of regret of his own bad decisions. The painful cracks in his frozen heart get chipped away by the spirits until they finally explode in the giddy joy of Christmas spirit. At this point where the play has come full circle the audience is invited back in to complete the symbiosis.
There were a couple of places where the choices will likely conflict with the vision we have of our favourite Christmas Carol, so deeply is this tale embedded in our consciousness, but this production is holistic and imaginative and a joy to be part of.
Once again, the world is in a time where fear and hate threaten to overtake our good will and common sense. The NAC has crafted a play that attempts to incorporate the audience: to help us mutually understand our immense privilege in the gifts we have, to know that everything is not accessible to all and to strive to understand, feel and care to make things better.
Adapted by Jillian Keiley from the novel by Charles Dickens
A NAC English Theatre production at the NAC theatre to Dec. 31
Director: Jillian Keiley
Set and Costume design: Bretta Gerecke
Musical Director: Jonathon Munro
Choreographer: Dayna Tekatch
Lighting: Michael Walton
Sound Designer: Don Ellis
Assistant Director: Corey Payette
ASL Director and Deaf Consultant: Pamela Witcher
ASL Lead Interpreter, Performance Rehearsal Interpreter: Carmelle Cachero
ASL On-Stage and Rehearsal Interpreter: Jordan Goldman
ASL Performance and Rehearsal Interpreter: Kathleen Henderson
ASL Performance and Rehearsal Interpreter: Catherine Maier
Stage Manager: Samira Rose
Assistant Stage Manager: Loreen Gibson
Apprentice Stage Manager: Lauri Shannon