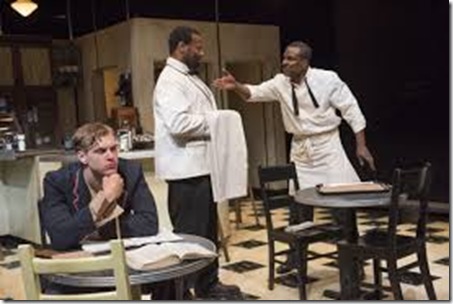 Photo David Cooper. 
Master Harold and the Boys, by Athol Fugard, directed by Philip Akin
NIAGARA-ON-THE-LAKE, Ont. — It's difficult to pinpoint the exact moment when the racism that has been quietly simmering beneath the surface begins boiling over in the Shaw Festival's superb production of Master Harold And The Boys.
But that very difficulty is one of the points of Athol Fugard's painfully nuanced play, set as it is in South Africa in 1950 when apartheid was tightening its grip. Fugard has a particular fascination for the conventions of day-to-day living in an entrenched racist environment, and for those moments when the conventions crumble and the veneer starts to crack. South Africa's apartheid government had no problem spotting Master Harold's lurking sub-text — which is why it banned performances of Fugard's play in 1982 when it first came out.