Reviewed by Alvina Ruprecht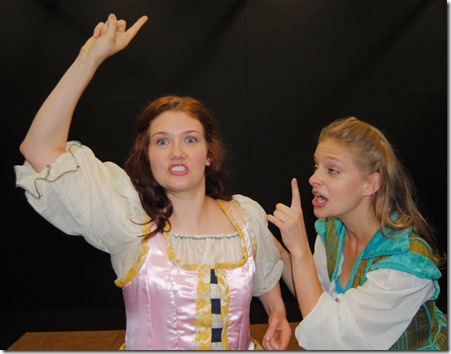 Photo. Barb Gray. Katie McArthur and Katie Ryerson.
A fun-filled production of As You Like It where the masterful touch of Scott Florence's direction heightens the humour, the corporeal performances, the playfulness as well as the seriousness and the lyrical effusions of this delightful pastoral romance . The actors articulate their lines so that they never lose control of the text, producing  a comic performance that always serves the play. The rivalry of the brothers Orlando and Oliver, the banishment of the old Duke into the forest of Arden by his younger brother, Frederick, the banishment of Rosalind who also flees to the forest of Arden with her cousin Celia, leads to  games of hidden and confused identities, the main impulse of their pastoral romp. Rosalind becomes young Ganymede, Celia becomes "his" sister Aliana, and the peasant girl Pheobe does not hide her lust for that young man, while Orlando flits about the forest posting his love-sick verse in the trees, pining for the beautiful Rosalind who is really right under his nose the whole time.
22
Jul
Posted:
July 22, 2014 Tuesday at 6:35 pm