Reviewed by Iris Winston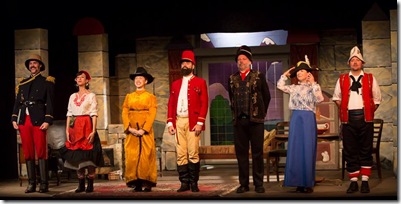 Photo: Jean-Denis  Labelle
Arms and the Man by George Bernard Shaw, directed by Laurel Smith. A Classic Theatre Festival Production
A comedy of manners, bordering on farce, George Bernard Shaw's Arms and the Man pits romance versus realism, idealism versus pragmatism and flamboyant foolishness versus clockwork precision.
One of Shaw's earliest and funniest scripts, Arms and the Man is set in a wealthy Bulgarian household during the 1885 Serbian invasion and subsequent peace between Bulgaria and Serbia.
The comedy revolves around two overlapping love triangles: the first involving Raina, the Bulgarian heiress engaged to the empty-headed exhibitionist officer Sergius Saranoff, and more attracted to the efficient Swiss mercenary, Captain Bluntshli, whom she helps to escape capture; and the second amongst household servants Louka, a maid with ideas above her station, manservant Nicola, content with his role in life, and Sergius.
24
Jul
Posted:
July 24, 2016 Sunday at 12:29 pm