Reviewed by Jamie Portman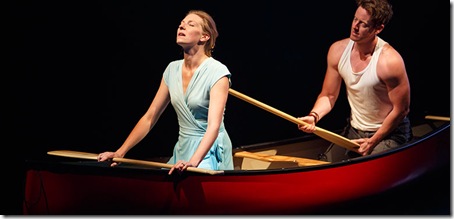 Photo: David Hou. Maev Beaty and David Patrick Flemming.
STRATFORD, Ont. — Hanna Moscovitch's new play, Bunny, had its world premiere at the Stratford Festival the other afternoon — and this was a cue for theatre staff to go all cutesy for the occasion by wearing rabbit ears on their heads.
Given that we were definitely not in for a cosy afternoon of G-rated entertainment in the company of Flopsy, Mopsy and Cottontail, it was more than a little bizarre to be confronted by ticket takers decked out like participants in a kiddies' picnic. Or perhaps this was intended as some sort of ironic statement on the numerous sexual couplings we would soon be witnessing in the intimacy of the festival's tiny Studio Theatre.
"Let me tell you about Sorrel," announces Maev Beaty, the resourceful actress who will be guiding us through this saga of unquenchable sexuality and unfulfilled needs. Beaty is actually portraying Sorrel herself, although the script requires her to discuss her character in the third person. And Sorrel's nickname is "Bunny" — hence the title — and that comes from that frightened rabbit-in-the-headlights look she gets when she's in situations where her lack of social skills leaves her unable to cope.
23
Aug
Posted:
August 23, 2016 Tuesday at 6:37 am