Reviewed by Alvina Ruprecht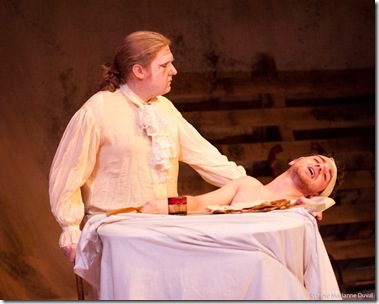 Photo Marianne Duval.   Paul Piekoszewski (Marquis de Sade) and Jérémie Cyr-Cooke (Marat).
This play written in German by Peter Weiss, with the terribly long title, was first produced by the Royal Shakespeare Company as part of Peter Brook's LAMDA experiment , a season of Cruelty, executed under the influence of Artaud's essay The Theatre of Cruelty . The original version of the essay, first published in French in 1938 , eventually appeared in English in the early 1960s during the neo romantic revolution in the Americas and that is when the English speaking theatre world began working on interpretations of Artaud's ideas of a "theatre of Cruelty" . Brook worked with a chosen group of actors and writers to show the relationship between theatre and the body, between, theatre and therapy, as well as the use of theatre to transform and renew Western culture by taking a new look at the French Revolution as well as the conventions of the Western stage. One look at this play, shows us to what extent Ariane Mnouchkine's 1789 was very likely inspired as much by Brecht' as by Brook's renewed vision of the stage.
26
Feb
Posted:
February 26, 2015 Thursday at 10:12 pm