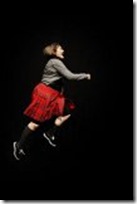 Maja Ardal as June McCready. Photo by GCTC
YOU FANCY YOURSELF by Maja Ardal, a Contrary Company production currently running at GCTC, is both poignant and funny. It's performed by the playwright who, in the course of the play, shows us 11 different characters. The main character is Elsa, based on the childhood experiences of the author. When her family moves from Iceland to Edinburgh, Elsa is faced with finding her way in a new culture and a new school. As the "new kid," she juggles dealing with bullies, romantic crushes, the desire to fit in and the search for a new friend.
Along the way we meet poor and neglected Adelle, Elsa's first friend who, as Elsa says, was "sending sadness all down the back of me." In Act II Adelle has a wonderfully touching moment of triumph. There are also the school mistress Miss Campbell, the fearsome bully Frances Green, the smarmy teacher's pet June McCready with her exclusive horse club and David MacDonald, the boy with the squashed ear who surprises everyone in the song contest.
The versatile Miss Ardal gives Elsa's mother a few lines in Icelandic – both spoken and parts of folk songs. In Act II we meet Michael Bailey, the object of Elsa's crush, who she describes as "a mixture of trouble and fun." Miss Ardal delineates all these characters with deft body language, high energy and a mobile face. Best of all is Elsa, whose 8-year-old dramatic recitation of "The Massacre of Glen Coe" is hilarious.
Julia Tribe's stripped-down production design works very well. The set consists solely of a rectangular wooden trunk. The lighting is simple and uncomplicated and the costume provides only the change of a jumper to a plaid skirt and different color socks for Act II. This goes along with the Contrary Company's philosophy – "The essence of our creativity focuses on the transformation of empty space." The focus of YOU FANCY YOURSELF is on the human drama – no strobe lights or falling chandeliers here.
Director Mary Francis Moore has done a fine job of staging the play. With only one actor there's always the danger of it becoming static, which in this case never happens. She's also helped Miss Ardal bring the characters to life, sometimes changing character in mid-gallop. I do question the choice of music. Although true to the period, it's quite different from the tone of the play.
YOU FANCY YOURSELF began as a collection of poems. That poetic spirit is evident in the script, such as when Elsa says on the ship heading to Scotland, "Today is the day of in between." Miss Ardal's play and performance provide a terrific evening of both heart and humor.
YOU FANCY YOURSELF at GCTC through Nov.3 Tkts: 613-236-5196
YOU FANCY YOURSELF by Maja Ardal
Produced by Contrary Company presented by GCTC
Director: Mary Francis Moore
Production Designer: Julia Tribe
Stage Manager: Chantal Hayman
CAST
Maja Ardal