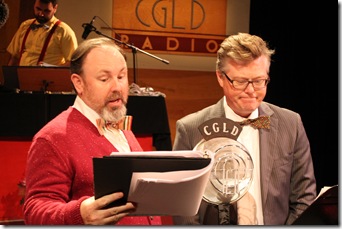 Photo: William Beddoe.  Chris Ralph (Winnie) and David Gerow (Eeyore)
There's something decidedly inviting about the shared pleasure of spending time with Winnie The Pooh and his friends.
So you're conscious of a strong sense of community when you arrive at the Gladstone Theatre for Plosive Productions' latest Christmas bow to the glory days of radio.
In this instance, it's a simple matter of audience members engaging in a special way with the people at the microphones. And the task of Winnie-the-Pooh: The Radio Show is to recreate through voice and a bit of body language the magical world created by author A.A. Milne in his Pooh Bear tales.
There's a built-in contentment that can come automatically from this kind of familiarity. Many of us already know how Eeyore the donkey managed to lose his tail or the sticky saga of Pooh and the honey jar. But this needn't diminish the pleasure of revisiting the stories as listeners at an old-fashioned live radio broadcast. So the charm of this show, under the direction of Teri Loretto Valentik, is also nostalgic.
Its inspiration comes from a series of classic BBC broadcasts aired in England more than 70 years ago. This adaptation by Ottawa playwright David Whiteley seamlessly integrates some new sections with the classic Milne content. There are, for example, some amusing pre-broadcast moments when the four cast members are assigned the various roles they will be playing this evening. Are we reminded of Bottom and his fellow worthies in a classic sequence from Midsummer Night's Dream? We are, indeed, and it's a nice touch.
The production succeeds despite some slackness in the second half. The piece essentially offers a succession of chapters — familiar chapters — from Milne's first Pooh book. And it's a continuing delight to be reminded in this production's best moments of the wit and whimsy underlying the story of Eeyore and his missing tail or the saga of Pooh Bear's mishap with the honey jar. But following intermission, there are some signs of a show running out of steam, of familiar episodes that fizzle out instead of arriving at neatly orchestrated endings. But even here, we still find ourselves enjoying the characterizations. This is a cast that clearly holds Milne and his world in genuine affection.
So we have Chris Ralph as the frequently baffled but eternally loveable bear of very little brain. Does it make any sense at all to say that vocally this Winnie communicates a roly-poly charm? Perhaps not, but we'll say it anyway.
We have a very good Katie Bunting effortlessly switching identities from the non-judgemental dependability of Christopher Robin to the snarkiness of Rabbit. There is also solid work from Michelle LeBlanc who gives us a loyal and earnest Piglet, and from David Gerow who turns Eeyore into a morosely drawling exile from America's Deep South and gives Owl an appropriate scholarly dryness. Lawrence Wall does a lovely job as narrator, and Jonah Lerner deserves a medal or two for turning his special effects job into a piece of performance art in its own right.
And we mustn't forget the delightful velvet-voiced presence of the singing Gladstone Sisters (Robin Guy, Nicole Milne, Doreen Taylor-Claxton) with their evocative musical interludes.
Purists may complain at the recurring evidence of a hundred-acre wood that has been relocated somewhere in North America. But no matter — this affectionate memory piece merits our thanks and goodwill.
Winnie-the-Pooh:: The Radio Show
Based on the stories of A.A. Milne
A Plosive Productions
Gladstone Theatre to December 13
Adaptation: David Whiteley
Director: Teri Loretto Valentik
Sound Effects: Jonah Lerner
Lighting: David Magladry
Voice Actors: Katie Bunting, David Gerow, Michelle LeBlanc, Chris Ralph, Lawrence Wall
Gladstone Sisters: Robin Guy, Nicole Milne, Doreen Taylor-Claxton