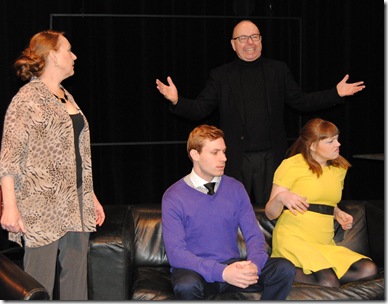 Photo: Barb Gray.
One of the most important  plays of the contemporary American repertoire (created in 1962)  has resurfaced at the  Gladstone these days and we should be grateful to the theatre  for daring to programme this work. Luckily  they were able to  bring in a fine director such as Ian Farthing   who during his years as artistic director of the Saint Lawrence Shakespeare Summer Theatre company , put the theatre on the map in Prescott. Even the Globe  Theatre  from London,  with its travelling  version of Hamlet, made its only Canadian stop in Prescott to perform in the festival arena by the river.
This encounter between a wife who is compelled to destroy her husband with insults and humiliating accusations in spite of the fact she realizes he is the only one who understands her and a husband who submits himself to this constant humiliation, has become legendary on the world stage.  George is trapped in this compulsive need to be with her because of a troubled past and his refusal to show he is defeated.  The arrival of two guests, a naïve young couple Honey and Nick, allows this marital battleground to come to a head as they each give vent to their frustration, their rage and their deep-seated anxieties that propel this self destructive interaction. It also reveals Albee's enormous talent as the play moves between symbolism , gritty psychological realism sprinkled with fitting and ironic references to great works of art and a reflexion on contemporary history which goes deeply into the American psyche . It is a work one must see at least once in a lifetime.
However, the enormous gaps in the status  of the actors were painfully obvious and made me extremely uneasy.  Paul Rainville as George, the history professor and long suffering husband, was the only actor who touched me in any way because when he spoke his lines the character came to life!  Whatever he did, whatever noises he made, even the way he blinked or twisted his mouth, one always had the feeling that the character was a living breathing creature, powerfully fused with the actor and fusion of the two played out with increasing energy as the alcohol took its effect. Some of Rainville's facial reactions did seem rather out of character as he found himself at times making  grimaces behind Honey's back as alcohol turned her into an annoying and silly little mouse. However, it was still clear that each time Rainville spoke, Albee's text reached  a  new  more disturbing level of  suffering, of irony, or even new heights of vicious disdain for  that young  girl sitting there with her husband swilling down George's liquor     Rainville clearly was aware of what he was doing at every moment of the performance. Even  when he wasn't talking, his face was almost constantly a masque of restrained anger and some of his best moments  were his  reactions, verbal or otherwise   to Martha's most deeply insulting comments because he interiorized them  so well.   We understood immediately  that   he wanted us to believe  she could no longer hurt him,  even though  her words  and her grotesquely vulgar behaviour with the young husband , tore up his insides. You could feel his disgrace, his shame,  the  helpless submissiveness  burning in his head  as he smoothly  descended into an  alcoholic daze  that didn't really dull his emotions.  He felt everything and so did we! .  His  was a delivery tightly  put together, with great  thought, full of meanings that dug into one's heart every minute he was on stage.  Seeing this man descend into his own hell was almost unbearable to watch.
Then Martha, Honey and Nick opened their mouths and everything changed. Suddenly, on stage  we saw actors, only actors.  NO suspension of dis belief was even remotely possible.    Anger, frustration, vulgarity and  self loathing  became yelling, barking, and a string of words blurted out  with almost  no inner   connection to the text .  In some cases   words  sounded like  empty noises, in  other cases they were prologues to overacting and  shrieking,  bits of dialogue  lacking in rhythm, that revealed a  tone-deaf performer.   Then there was the young  husband  who  did not seem to be listening to what was being said around him, whose emotions remained on hold until he became angry, giving the impression the text was only a succession of boiling points that elicited mechanical responses.  The nuances were obliterated. Albee was obliterated ! This was a good high school performance at best.
Unfortunately, all the characters were necessary to deal with this monstrous circus  of an aging couple frought with  a terrible sense of loss that was destroying them but since  three of the actors  were not  carrying their emotional weight,  the play veered off to what quickly  appeared  to be a bit of nasty fun.  The audience giggled and  laughed a lot because the ferociousness of Martha's  belittling of George   appeared to be nothing more than a nasty mud slinging contest .  The real horror, the essentially tragic nature of the situation,  did not come across.
Nevertheless, the play did seem to work during the last few minutes when the accusations , the yelling and the overacting calmed down and the  furious husband  who had had enough of Martha's  emasculating behaviour,  took over their long-standing "game" about their son. Martha  was no longer playing according to the rules of their life sustaining  illusion because  she had mentioned their son outside the family.   It was a  cruel game, and now George was using it avenge himself after all that he had endured.  Martha was almost reduced to silence apart from a  few pathetic words that allowed  a sense of reality to fill the air. There  was more than  sadness,  and even shock;  a terrible illusion had come to an end, their lives had suddenly changed forever , and Martha appeared to be genuinely  upset.  We no longer just heard them talk.   We heard their pain.  Of course  what really happened was that this beautifully  written play was finally able to overcome all the distractions and establish its  power  over the stage.  And afterwords,  the voice of Paul Rainville's George still echoed in my mind.
Who's Afraid of Virginia Woolf  continues at the Gladstone until April 16.
Call 613-233-4523 for tickets .
Whose Afraid of Viriginia Wolf
by Edward Albee, directed by Ian Farthing
Martha Rachel Eugster
George Paul Rainville
Honey Grace Gordon
Nich Cory Thibert
Costumes Vanessa Imeson
Lighting and set David Magladry
Composer and sound Melissa Morris
Media constulant Sheilagh D'Arcy McGee
A production of Bear &Co.