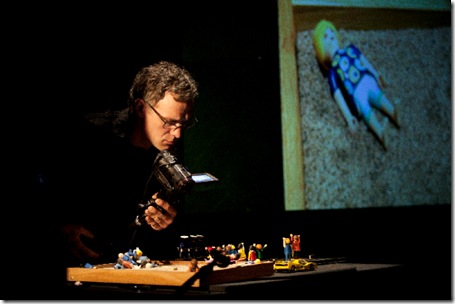 Photo, Pire Espece, Olivier Ducas..le magicien!
La Nouvelle scène is  still a hole in the ground but it is on the way to being built, said Anne Marie White , playwright, director and artistic director of the Théâtre Trillium as she introduced le Théâtre de la Pire Espèce….For the moment , all the Franco-ontarian theatres are performing at the LaSalle School on Saint Patrick street.
This time, Trillium has us sitting with the artists/technicians on the stage, as Wajdi Mouawad loves to have us do..and we were close to the inventions and magic moments, the machines, the sound equipment, the props and everthing that Olivier  Ducas  brought to life during this highly original spectacle..
A most original production that creates a whole universe of imaginary spaces and forms, linked to the conscience of Olivier Ducas who has reimagined the world, and set it up using contemporary forms and images taken from film, from computer images, from graphic design, from web cams, from spy cameras, from animated film techniques; a great mass of textures, colours, styles that meet and melt and explode…as the narrator who wields the camera tells us the story of his collection of towns, their different temperments, their forms, the way their elements are integrated..it is theatre with no characters, no narrative, no psychological types, no action, no elements that come from novels…but this is PURE cinema—and abstraction as seen by Kandinsky_ pure form, pure colour, ..space, texture, sound, light the essence of modern art..quite a magnificent creation ..and we are the "flâneur " in his little collection of cities.  Baudrillard is in the wings, so is Baudelaire , watching, wondering, taking it easy, enjoying the surfaces, the graffiti, the sounds , the new urban space devoid of living creatures..DONT miss this…Le théâtre de la pire espèce is a marvellous bundle of youthful creative energy from Montréal,  that we hope to see again in Ottawa.
Anglophones and Francophones…will enjoy this…