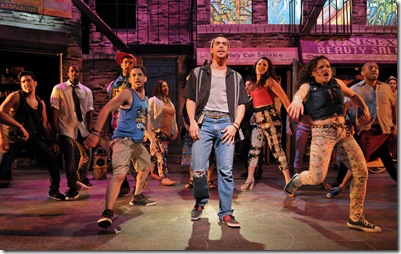 Photo: Craig Bailey/Perspective Photo  "In the Heights"
In the Heights, the 2010 Tony award winner, is a feel-good, much loved musical about the trials, tribulations, and joys of a group of Latinos living in a barrio in New York City's Washington Heights. The show's optimism would seem, at least in part, the product of composer-lyricist Lin-Manuel Miranda's youth when he first conceived it as a student at Wesleyan College in 1999. He wanted to develop a musical about the Hispanic community where he had grown up, drawing on Latin and contemporary musical influences. Unlike the earlier Latino-themed musicals West Side Story and The Capeman, In the Heights is devoid of gang violence. Violence has been replaced by solidarity. While Miranda's decision to break with clichés is laudable, the result, in this case, is a lack of dramatic conflict and sentimentally drawn characters.
Quiara Alegría Hudes' book for In the Heights is formulaic and weak. Its two principal storylines follow Usnavi (Diego Klock-Perez), who believes his ambitions lie beyond the shabby bodega his parents left him and Nina Rosario (Santina Umbach), a Stanford dropout. Nina, the brightest kid in the neighborhood, lost her insufficient scholarship because financial pressures forced her to neglect her studies for work. Without confiding in his family, her heartbroken Puerto Rican father (Tony Castellanos) sells the family car service business for the money to send Nina back to school. She rebelliously refuses it and briefly runs off with Benny, one of her father's employees and the only non-Hispanic character. Although no one in this idealized neighborhood of the mainly young is truly impoverished, money would solve everyone's problems. At the play's end, Abuela Claudia (Carolyn Saxon) the barrio's emblematic Cuban grandmother comes to Usnavi's aid after a $96,000 lottery win, which she splits with him and his young cousin Sonny (Jorge Barranco) before dying. Usnavi realizes that his place is in the neighborhood and determines to use the money to upgrade his bodega. Nina decides to take her parents' money to return to Stanford and fulfill her father's dream of upward mobility for his progeny. Hopes remain high for Benny and Nina's romance.
As Usnavi opens the show with a rap number in which he gives the exposition, the street springs to life as the other characters join him in song and dance. The mostly sung-through show blends rap, hip-hop, salsa, ballads, and the occasional show tune, often to good use. Spanish, sprinkled through the songs, emphasizes the cultural ambience. Although political references are rare, they can be heavy-handed as in "Blackout," when, the neighborhood having lost electricity, the company sings "we are powerless."
The multitalented cast – a mixture of theatre students and professionals – brings lots of passion, energy, and rhythm to this physically demanding show. Their joy in performing is fun to watch. While the company is uniformly strong, a few performances stand out. Diego Klock-Perez's Usnavi is a vibrant charmer. Tony Castellanos makes the controlling father three dimensional, particularly with his moving rendition of "Inútil" ("Useless") – a hymn of immigrant despair. Carolyn Saxon's Abuela wows the audience with her belting of "Paciencia y Fe" ("Patience and Faith"), her own version of the immigrant's experience.
Elisabetta Polito's colourful, scruffy, and ill-fitting costumes bring an element of realism to the production. Set designer Jenna McFarland Lord's street scene takes advantage of SpeakEasy's small stage to give a sense of cramped living conditions, although the action takes place outside. On the balcony is a lively eight-piece band led by keyboardist Nicholas James Connell, which unfortunately, occasionally overrides the singers. Over the course of the performance, Larry Sousa's zippy and athletic choreography becomes a little repetitive.
Such is the popularity of In the Heights that its SpeakEasy run was extended even before it opened.
Presented by SpeakEasy Stage Company
Music and Lyrics by Lin-Manuel Miranda
Book by Quiara Alegría Hudes
Conceived by Lin-Manuel Miranda
Directed by Paul Daigneault
Music directed by Nicholas James Connell
Choreography by Larry Sousa
Boston Center for the Arts
Boston, MA
With: Anthony Alfaro, Jorge Barranco, Christian Bufford, Tony Castellanos, Sarah Crane, Lauren Csete, Jared Dixon, Merissa Haddad, Sean Jones, Diego Klock-Perez, Jasmine Knight, Melanie Porras, Chris Ramirez, Adrian Ruz, Nicole Paloma Sarro, Carolyn Saxon, Santina Umbach, Alessandra Valea