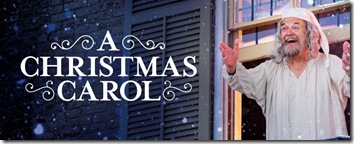 Andy Jones as Scrooge at the  NAC.
                                                                        John D. Huston as Dickens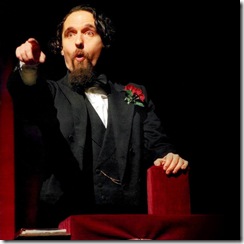 There's no doubt that the National Arts Centre has unleashed an intriguing production of something this Yuletide season. And yes, it purports to be A Christmas Carol —   indeed the printed program tells us that  the Dickens classic has been adapted and directed by Jillian Keiley, the NAC's restlessly inventive head of English theatre.

Before traditionalists go into meltdown over what's taking place at the NAC Theatre, they may find comfort in the fact  that the arts centre doesn't hold the  corner on the Scrooge market in Ottawa this December — not with John D. Huston holding court a few kilometres away at the Gladstone with his one-man version of A Christmas Carol. The two shows present a sharp contrast — with Huston unrepentantly drenched in tradition and the arts centre taking, shall we say, a more cavalier approach.
The Gladstone offers the authoritative presence of John D. Huston, assuming — right down to the spats — the Victorian presence and demeanour of Charles Dickens at the lectern to deliver another of his world-famous readings of A Christmas Carol.
It takes  no more than a bare stage, a minimum of lighting and the endlessly varying cadences of Huston's voice and body because the body languagte go into a public parc where his body language plunges su immediately into the Turbulent ife of the novel.
Indeed, with the book's very first words — "Marley was dead" — uston's Dickens   seizes our attention, showing the huge dramatic mpact such a statement can have in the most simple, unembellished of urroundings — provided it is delivered with the sense of thundering heatricality that it deserves. And as Huston continues, an entire wold, the world of the London Dickens knew and loved intimately,  is tking shape in our imaginations, and with it an equally rich
community of characters. It's amazing how the drama of Huston's rading can throw image after image into bold relief in our minds.
He efortlessly conjures up the horror of the dead Marley's appearance at the bedside of a quaking Scrooge. But the more intimate images also communicate  — for example the twice-turned dress worn by Mrs. Cratchit at the impoverished family's Christmas celebration. This is not the first time John Huston has performed A Christmas Carol in Ottawa. But it's his first time at the Gladstone where it looks and sounds great. It is a brilliant and joyous entertainment.
There's an added treat in the presence of the local a cappella trio, Finest Kind, which will provide musical interludes through Dec. 21. Harpsichordist Susan Toman will be on hand Dec. 22 and 23.
Meanwhile, over at the NAC, we learn from Jillian Keiley's notes in the printed program that she faced a dilemma: given that  Canada's professional theatre system mounted 35 different productions of A Christmas Carol last year, how could she and her colleagues separate themselves from the herd and give Ottawa audiences an experience that
was unique? However, in explaining where she's coming from, she errs in calling A Christmas Carol "the most commonly performed script" in Canada: it's certainly the most frequently performed material, but numerous adaptations are out there, of which Keiley's script is merely the most recent.
This is not the first time that Keiley has embraced the shade of Monty Python: one can almost see her greedily eyeing  this Yuletide mainstay, and happily announcing — "and now for something completely different!" Given that in recent years she has left her distinctive fingerprints on Moliere, Lewis Carroll and Anne Frank, she no doubt
found the idea of having a go at Charles Dickens to be irresistible. So it's probably  churlish to ask why she simply didn't set herself the task of delivering a superior production of the real thing.
The somewhat glacial conception that opened last weekend earns its marks for creativity and fidelity to what Keiley and her colleagues wished to achieve. It features some astounding visual moments, courtesy of designer Bretta Gerecke and lighting wizard Michael Walton. Musical director Jonathan Munro integrates his original material and carol arrangements seamlessly into the action. And Scrooge's story still engages our attention — but at a distance.
If the end result seems curiously lacking in any sense of time and place, not to mention humanity, it's perhaps because it's been filtered through the gauzy and somewhat antiseptic sensibilities of its director and designer. And if the characters lack substance, the reason may partly lie in the adaptation  and partly in the unfortunate decision to break down the "fourth wall" separating players and audience. That happens before the show begins, with cast members wandering through the auditorium, passing on various  items to audience members. They're inviting us to experience the feel and texture of objects from the world of A Christmas Carol, although not necessarily from the world offered us in this production — and if the rationale for this device seems confusing and contrived, it is. But it seems we're expected to draw comparisons between what we're experiencing in this touchy-feely prologue with the sterility of whatwe'll be seeing in Scrooge's crabbed universe. We're told this should be a "kind of game" in which we'll eagerly want to participate. But on opening night it simply left many of us waiting with mounting annoyance for the play to begin.
When that finally happens, we find ourselves in a sort of ice cave rather than Scrooge's grim and gloomy place of business. To be sure, the evening's visual look  will change as Scrooge begins fearing for his own mortality and later starts warming towards the humanity he once despised. But even real warmth remains a rationed commodity here, given that designer Bretta Gerecke has dressed pretty much everyone and everything in sterile white, or variations thereof, and topped her
characters with snowy wigs that are patently false and sometimes ill-fitting.
There are occasional slight departures — when a quivering Scrooge contemplates the reality of death, he's surrounded by spectral objects who appear to be garbed in bed sheets and hoods —  but on the whole we keep being reminded of how visually interchangeable the inhabitants of this world often seem to be.And what kind of world is it? The people behind this version of A Christmas Carol have invested a lot of effort into the creation of intricately designed miniatures which dangle above the stage as indistinct representations of a different, truer reality. Speaking personally, I got what they meant on opening night, but only because I already knew what they were  for. As for other audience members — who knows? There is a potential problem with any production concept that needs to spell out its purpose and meaning in advance. Scrooge seems a curiously diminished figure when we first see this miserly money-lender scratching away at his desk while Bob Cratchit makes hapless attempts to share a bit of the heat from the small lamp between them. The Dickens text may tell us about Scrooge's refusal to allow a few more lumps of coal for the fire but there's no real fire here — just that ludicrously flickering lamp. This image may please devotees of minimalist theatre, and some may see what appears to be a jagged slab of ice hovering over these proceedings as a wonderful metaphor for old Ebenezer's coldness of heart. But does it work dramatically?
Designer Bretta Gerecke is serving notice  here that the world of Victorian London is far from her mind. That dangling white bookcase, its dimensions distorted, betrays an Expressionist inclination that is reaffirmed later on when we glimpse a distinctly crooked street lampand an out-of-proportion park bench. Visually, the production suggests
such varied influences as Lawren Harris and Anton Grot. And what does this have to do with the mean dark streets of 19th Century London? But of course, A Christmas Carol is about the cleansing and redemption of a tarnished soul — and  yes, it's true that some elements of Expressionism are big on redemption. That doesn't alter the fact that this production draws us into an eerie white dreamscape that shreds the sensibility of the original and keeps depriving scenes of the dramatic conviction they need. We quickly seem to be in another dimension, devoid of any naturalistic underpinnings, even before events turn supernatural with the appearance of Marley's ghost.
But is this really what A Christmas Carol calls for — an evening of dreams within dreams within dreams?
In one of the show's cleverer moments, the deceased Marley suddenly pops  out of the lower portion of Scrooge's bed — but there's something oddly pristine about the whole sequence. The design concept for this show can convey nothing of the seediness of Scrooge's bedchamber —  Quite the contrary: his bed sheets might well have just been delivered by the Linen Chest — and Scrooge's encounter with his late business partner seems locked in some sort of icy visual void.
There's a recurring problem here, arising from a production concept that doesn't really serve the material. Hence, Christmas at the Cratchits, although engagingly staged, seems to be  happening inside some kind of celestial drawing room rather than a poverty-stricken home.
Keiley's script is attentive to the text of A Christmas Carol and also to its most famous scenes. So we get Scrooge watching the Cratchit Christmas and revisiting a past frequented by old Fezziwig and and his Yuletide partying. But although such moments are highlighted by Chris Ralph's adroit and engaging sketch as Fezziwig, and a wonderful turn
from Nigel Shawn Williams as Bob Cratchit and fine work from Kristina Watt as his missus, such scenes can sometimes dissolve into distant abstractions divorced from the warm, untidy reality of the novel. It almost seems like we're being forced to view A Christmas Carol through the wrong end of a telescope. Heaven help us if we get too close to
its beating heart.
The production often exudes confidence and assurance, especially when it comes to the visuals. But it's best to draw a veil over the choreography and the sometimes clunky scene changes. Performances are a mixed bag. Among the spectral appearances, we have a credible Ghost of Christmas Past from Bruce Horak and a creepy Ghost of Christmas Future from Jack Volpe, an actor with a gift for body language. Marc Beland's Marley is convincing in his spectral torment, but Dulcinea
Langfelder's Ghost of Christmas Present is a puzzler — coming across as a ditzy Glinda who's given to leg-hoisting Harpo Marx mannerisms.
The text of this adaptation offers performers little opportunity to get beyond mere cut-outs, although one suspects they might have more life had their characters not been trapped in an extended whiteout. Andy Jones, who plays Scrooge, struggles to define the character in his early scenes, but he does have his moment of acting glory when
he's driven to anguish and remorse when confronted with his own mortality. But then he's encouraged to complete the evening by turning into — would you believe — Andy Jones. Those final moments, when he faces the audience and indulges in an exhibition of comic schtick, will rank high on your cringe meter — unless, of course this is really what you've been waiting for during the last couple of hours.
So this is how the world of this production ends — not with a bang but a dose of humbug.
A Christmas Carol by Charles Dickens
Featuring John D. Huston as Charles Dickens
Gladstone Theatre to Dec. 23.
A Christmas Carol by Charles Dickens
Adapted and Directed by Jillian Keiley
National Arts Centre Theatre to Dec. 31
Jillian Keiley: Director
Bretta Gerecke: Set and Costumes
Jonathan Monro: Music
Michael Walton: Lighting
Dayna Tekatch: Choreography
Don Ellis: Sound
Marc Beland: Jacob Marley
Benedicte Belizaire: Mrs. Fred
Louis Brault: Peter
Sebastien Cimpaye: Tiny Tim
Attila Clemann: Young Scrooge
Lili Connor: Belle
Max Dillabough: Tiny Tim
Charles Douglas: Fred
Bruce Horak: Narrator, Christmas Past
Andy Jones: Scrooge
Dulcinea Langfelder: Narrator, Christmas Present
Chloe O'Malley: Belinda
Emily Pearlman: Mrs. Fezziwig
Ry Prior: Peter
Chris Ralph: Fezziwig
Clara Silcoff: Belinda
Jack Volpe: Narrator, Christmas Future
Kristina Watt: Mrs. Cratchit
Nigel Shawn Williams: Bob Cratchit