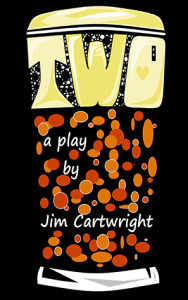 Mere silence on stage can sometimes be as arresting as an explosion. That's what happens at the Gladstone Theatre during the most memorable moments of its new production of Lancashire playwright Jim Cartwright's pub drama, Two. We have a woman sitting quietly at a table. There's a tentative smile on her face — she's relaxing into a moment of serenity. In the background there is the noise of other customers, but for the moment she's occupying her own, private secure world. But only for a moment. Reality intrudes, the smile vanishes. and those brief glimmerings of happiness yield to anguish bordering on despair. There's also fear.
Michelle LeBlanc is the actress here, her face and body language signalling an unsettling gamut of emotions. We start realizing that this is someone in deep trouble, and when her boyfriend shows up with the drinks, we know why. We have front-row seats for a glimpse into an abusive relationship. Her boyfriend, played with swaggering cruelty by Richard Gelinas, is as much an emotional tyrant as he is a physical menace — toying with her anxieties and fears, threatening her with the jealousies and possessiveness which hide his own insecurities. You know the scene will have a bad ending — and it does.
Director John P. Kelly has staged this sequence with the care and nuance this treacherous material deserves. He and his performers must do their best to disguise the fact that the two characters are stereotypes and that their sad little drama is playing out predictably. Gelinas, truly discomforting here, manages to bring out the awfulness of the boyfriend, getting beyond the elements of caricature in Cartwright's script. And it is LeBlanc's brilliantly modulated characterization that conveys the young woman's ultimate anguish of spirit.
But there's also a problem here. This sequence is part of a play that begins in cheeky Eastenders or Coronation Street mode, with Gelinas and LeBlanc portraying a pair of bantering, bickering Northern England pub-keepers, adept at keeping the evening regulars happy while keeping a lid on the seething tensions corroding their own relationship. And as the evening unfolds, we'll watch these two accomplished actors move through a whole series of other characterizations — 14 in all. But to what purpose?
One suspects there are two good reasons for the popularity of this play. The first is that it's a two-hander, meaning that in the world of professional theatre, it's cheap to put on. The second reason is that invites actors to demonstrate their dexterity and versatility in a multiplicity of roles — and that factor can be sufficient to fool audiences into believing they're seeing something special.
But the play has any true cohesion, it's confined to the sad realities undermining the pub-keepers' relationship — and we know that this is the kind of script where before the end of the evening, there will be the the climactic confrontation scene that tells all — and again, because of the nature of the script, we have a pretty good idea about the nature of these dire revelations. Yet, for all its predictability, Kelly and his actors give all this final moment more impact than it probably deserves, with LeBlanc again carrying the emotional colours most persuasively.
What we really have with this evening is a succession of vignettes, their only connection with each other being that they are set in a pub and performed by the same two actors. Some are comic to the point of bawdiness, some poignant, some tragic — at least that is the aim. Some moments work, others wear out their welcome. For example, the script calls upon Gelinas to engage in cheery banter with some audience members: such moments, strained and uncomfortable, can't end too soon.
Still, full credit to director John P. Kelly for his determination to give this disjointed material a fluidity that doesn't really exist. And both performers do switch identities with dexterity, but not always with the conviction that would be possible if they were working with less trite material. You can appreciate the skill with which Gelinas offers a snapshot of lonely old age or relish LeBlanc's mischievous portrayal of a woman concealing a raging sexual voraciousness beneath a strait-laced exterior, but they can't conceal the inadequacies of the writing.
Both William Saroyan, in The Time Of Your Life, and Eugene O'Neill, in The Iceman Cometh, invoked a tavern setting to provide a microcosm of human society. But these were integrated plays. If, with Two, Cartwright aspires to offer a North Country equivalent of Nick's Saloon or Harry Hope's Bar, he should think again.
Two continues at the Gladstone to January 31, 2015.
Two
By Jim Cartwright
A 100 Monkeys production
Continues at the Gladstone Theatre to Jan. 31
Director: John P. Kelly
Set and lighting: David Magladry
Sound: Stewart Matthews
Cast:
Richard Gêlinas and Michelle LeBlanc