Twelfth Night: Light production sacrifices depth for fun
Twelfth Night: Light production sacrifices depth for fun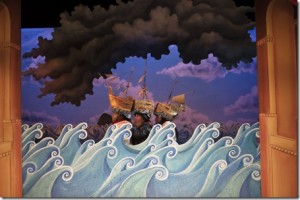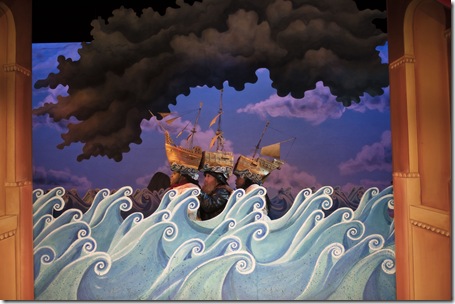 The NAC English Theatre Company has teamed up with The Old Trout Puppet Workshop for a visually stunning production of William Shakespeare's Twelfth Night. The Old Trout Puppet Workshop hits it out of the park with the sets and masks, which director Jillian Kieley elegantly brings to life. It's not a flawless production, or a version that gives Shakespeare's elegant balance of comedy and melancholy its due respect, but it is fun and visually appealing.
Twelfth Night hardly needs much explaining, so let me be brief. Viola is separated from her brother Sebastian in a ship wreck. She washes up on the shoes of Illyria, cross-dresses as a eunuch named Cesario, and serves in the court of count Orisno, who is in love with a disinterested Olivia. Viola-as-Cesario is sent to woo Olivia, who falls madly in with her/him. Did I forget to mention that Viola is in love with Orsino? Or that there is a sub-plot between Olivia's perpetually drunk cousin, Sir Tobey Belch, his drinking buddy Sir Andrew Aguecheek, and the servants?
The production is light, colourful, and fun. It's described as directed by Keiley and imagined by the Old Trout Puppet Workshop. This is very clear throughout the production, as the wonderful aesthetics overwhelm the story. Much of the depth of Shakespeare's text is sacrificed for the visuals and an over-reliance on farcical, physical comedy. The joke Sir Toby Belch and his group play on Malvolio is treated as just a bit of fun, so the blighted man's anger and despair seem out of place.
Likewise, the decision to set the play in the late 17th century would have been more believable had the costuming been more consistent. A sailor's very modern raincoat and hat seem out of place in a sea of stockings, embellished jackets, and wigs. Likewise the jester Feste's white costume looks out of place in the 17th century, and too simple and colourless for the 16th.
The play is choreographed well for the most part. Some of the particularly funny scenes were accentuated and enhanced by the measured movements of those on stage. Some restraint would have been good in Feste's (portrayed by a very modernly irreverent Kayvon Kelly) character. He is funny and bawdy, but occasionally comes off as too crass.
Keiley has wisely chosen to let the actors speak without a British accent, and it pays off. The diction and portrayal of emotion was more clear than in any production I have ever seen that employed accents. Janelle Cooper's Viola is good spoken, but, surrounded by so many animated characters, she is ultimately forgettable. Amanda Leblanc's comedic timing is spot on and she makes a hilarious and giddy Olivia. Bruce Dow plays the puritan Malvolio with conviction, to the great delight of the audience. Paul Rainville is reliably great as the drunken Sir Toby Belch. The star of the show, however, turned out to be Alex McCooeye, whose Sir Andrew Aguecheek is a foolish, dapper delight, ribbons and limbs akimbo. He shows moments of having a very dim appreciation of his own limits, and his self-deprecating shrugs win over the audience. His mannerisms, both in body and face, made him the star of any scene he was part of.
The NAC's Twelfth Night focuses on the physical, silly aspects of Shakespeare's comedy and ignores any depth found in the play. I wish directors would trust their audiences to understand different types of jokes, but if you're not too concerned with the subtleties of the bard's message and are out for a good laugh, then this production is for you.
Twelfth Night continues until February 6, 2016.
by William Shakekspeare adapted by Jillian Keiley and the Old  Trout Puppet Workshop
directed by Jillian Keiley
featuring
Quincy Armorer as Orsino
Janelle Cooper as Viola
Lucinda Davis as Antonio
Bruce Dow as Malvoleo
Kayvon Kelly as Feste
Tristan D. Lalla as Sebastian
Amanda LeBlanc as Olivia
Alex McCooeye  as Andrew
Paula-Jean Prudat  as Fabienne
Paul Rainville as Toby Belch
Alison Woodridge as Maria and Priest
and all the  puppets….
Old Trout Puppet Workshop
Peter Balkwill   Consultant
Pityu Kenderes and Judd Palmer Costumes, set and props
Cimemeron Meyer   Lighting design
John Gzowski            Sound design
John Koensgen         Fight director
it lasts 2 hours with no intermission