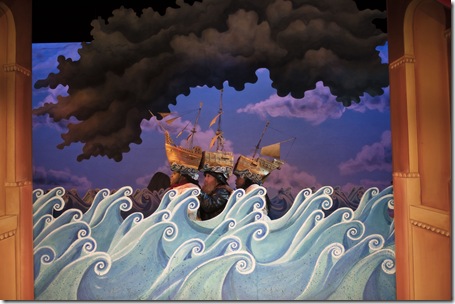 Photo. Andrée Lanthier
Shakespeare has become material for all forms of experiments in countries around the world. Nowhere more so than in Quebec where he is constantly transformed, mutilated, reorganized and reworked, in most cases with much success. It is sufficient to say that Shakespeare's material lends itself to multiple readings because the plays consist of so much richly textured material that they allow one to go beyond the limits of any one style , thus opening the doors to infinite readings. Jillian Keiley's version of Twelfth Night, a collaborative effort with the Old Trout Puppet Theatre from Calgary makes a similar attempt.
The first thing one notices is the huge, voluminous set designed by Pityu Kenderes and Judd Palmer inspired by the longstanding Czech tradition of mechanical theatre sets designed for puppets but which were widely used in the French courts and public spaces during the period of baroque theatre in the early 17th Century, There are doors that slide in from the wings and partitions that fall from above. It is a beautiful independent puppet-style stage of human proportions that has the actors pushing in waves from the sea and boats bobbing in the water, fish swimming, walls falling into place and all manner of construction bits that come together on wheels and pulleys , sliding in and out, catching our eye but mostly distracting us from the actors . The set was beautiful but it did seriously upstage the human beings when it did not simply steal the show. There is a sense of imbalance between the little actors and the huge brightly coloured pieces of scenography that move into place and literally grab our attention all the way through the performance, especially since the set seems to have nothing more than a purely decorative function .The fact that the director opens up the wings and allows us to see all the backstage mechanics of the show with people changing costumes means nothing because no distanciation is necessary here. It is all performed in an imaginary world of puppets where human beings usually pull the strings backstage or wield the bodies and  puppet  sticks themselves. We see that on stage that  indicates the staging process is already an explicit part of the performance. There is no need to labour the point. It just becomes overkill.  That is a curious error of stage esthetics which left me very perplexed.
Then there is a sense that the director has accumulated all the gags possible to get laughs. Often with the help of the puppet makers who attatch legs and arms and heads and torsos to create funny creatures and give human bodies a cartoon stance as they race across the set, splash in the bathub, dance in front of the windows, slip around backstage and just make themselves the figures of quirky and mysteriously funny moments. Ingeneous stage business but to what end?
And there is a choice of actors whose levels of Shakespearean experience appear to be so unequal that it is hard to fit them together at times except that they all melt together as cartoon characters doing their thing with more or less success, especially where the spoken word is concerned. The Shakespearean fool was very popular with his cod piece and guitar that titillated the audience and elicited applause when he played and sung contemporary songs at the most unexpected moments. One could say that this all corresponds to Shakespeare's purposely grotesque style of comedy , when actors appear as overblown individuals who look like deformed walking puppets with painted heads, along side aristocratic characters such as the Duke of Orsinio, Olivia , Sir Toby Belch and Andrew Aguecheek , dressed in 17th century costumes..
Then there were  outright funny moments that worked because Shakespeare fought his way to the top, and because the actors got involved and showed more presence.  There was a  serious source of concern due to the fact that the story, which holds it all together, became impossible to follow for multiple reasons. Then,  the question of Sebastian and Viola as two versions of the same lover becomes clear as they sort it all out.  At that point the narrative started to emerge.   Viola (Janelle Coooper) disguised as the Eunuch Césario (who loves the Duke Orsino) and her long lost brother Sebastian (Tristan D. Lalla) who brought some emotional depth to his role – dressed as twins, meet for the first time to unravel the confusion that quickly comes to an end. The surprise effects on all of them,including Olivia (Amanda LeBlanc) were well handled. The loveably drunken Sir Toby Belch (Paul Rainville) with the alcoholic nose and fluffy wig along with his witless sidekick Andrew Aguecheek (Alex McCooeye ) made the perfect comic duo and . Love-sick Malvoleo (Bruce Dow) with his yellow socks and cross-gartered legs performed a good bit of mime that revealed  a certain pathos. However, nothing can erase the memory of the late Greg Kramer who did a most brilliant Malvoleo at the Ottawa Theatre School 's production of the play, under the direction of Andy Massingham. That was a defining moment of Shakespearean comedy in Ottawa.
Generally speaking however, this was an ensemble of disconnected moments that seemed to function as a string of individual sketches, a theatrical flea market as it were. This might have turned into a hilarious parody of baroque theatre with individuals floating down from on high sitting on clouds like a deus ex machina effect, or applying the acting styles of the period which would appear nowadays to be hilarious. Overacting with their powdered faces , men clearly dressed as women and mechanical sets that moved on pulleys the way this one did but all set in a well thought-out use of the conventions of real baroque theatre to bring some sense of coherence to the show while allowing Shakespeare to breathe a bit more. Many of the ingredients were already there (the appropriate set, the right costumes and generally very good actors ) but for some reason they were just used as attention-getting devices, cartoons emptied of all their meaning. Even Feste the fool ((Kayvon Kelly) became an irritatingly disruptive clown
This Twelfth Night is a sometimes amusing but an essentially irritating show. Note that It did not get a standing ovation but there was a roar of approval as the actors were bowing.
Twelfth Night continues until February 6, 2016.
by William Shakekspeare adapted by Jillian Keiley and the Old  Trout Puppet Workshop
directed by Jillian Keiley
featuring 
Quincy Armorer as Orsino
Janelle Cooper as Viola
Lucinda Davis as Antonio
Bruce Dow as Malvoleo
Kayvon Kelly as Feste
Tristan D. Lalla as Sebastian
Amanda LeBlanc as Olivia
Alex McCooeye  as Andrew
Paula-Jean Prudat  as Fabienne
Paul Rainville as Toby Belch
Alison Woodridge as Maria and Priest
and all the  puppets….
Old Trout Puppet Workshop
Peter Balkwill   Consultant
Pityu Kenderes and Judd Palmer Costumes, set and props
Cimemeron Meyer   Lighting design
John Gzowski            Sound design
John Koensgen         Fight director
it lasts 2 hours with no intermission