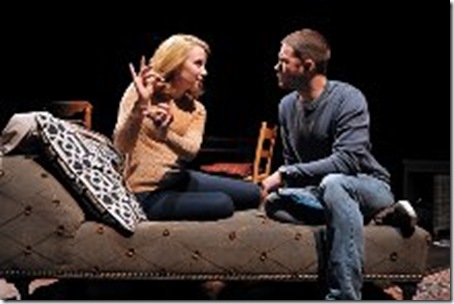 Photo: Craig Bailey. Erika Spyres and James Caverly.
Nina Raine's Tribes, currently playing at Boston's SpeakEasy Theatre, is a powerful drama whose plot revolves around Billy (James Caverly), a deaf young man whose dysfunctional family is in denial about his deafness. Under the guise of helping Billy experience a richer life, his overbearing father (Patrick Shea) discouraged him from learning sign language. The scheme backfires with Billy living on the fringes, even in his own home, unable to fully comprehend what is going on, despite his ability to lip read.
His voluble, egocentric family, forever involved in ongoing, high-speed raucous arguments, forgets to look at him while speaking. Billy's accommodating personality – so different from that of his siblings – is another mark of his forced adaption. Brother Daniel (Nael Nacer), who is writing a thesis on the meaninglessness of language, baits his father Christopher – an academic turned critic – as does the third sibling, Ruth (Kathryn Myles), who is pursuing an operatic career, despite her lack of talent.
The children look to their mother Beth (Adrianne Krstansky) for warmth and comfort. Yet, while apparently caring, Beth supports her husband's views. She announces proudly that she taught Billy to speak, i.e., to strive for "normalcy." This disparate family colludes to maintain the illusion of Billy's happiness.
However, no one in the strangely close-knit family is happy. Ruth drifts from one interest to another in an effort to find a career, bemoaning her manless state. Daniel is competitive with the entire family, except his mother. More seriously, we discover over the course of the play, he suffers from auditory hallucinations, ignored by the household. Ultimately, as he becomes more frantic, Daniel's speech breaks down into an incomprehensible guttural stammer.
Striking and varied sound images bring the audience into Billy's world. In Act I, the quarrelsome family dinner over, he sits alone, his mind elsewhere, while Ruth and her mother clear the table without speaking. The clatter of dishes and silverware emphasizes Billy's isolation in a hearing society. As in other moments, when we are made aware of the silence of Billy's life, the sound is ratcheted up. Scenes often begin with music such as arias that represents the tastes of family members.
Billy moves towards autonomy when he secretly attends a deaf art exhibit. There he meets and is immediately attracted to Sylvia (Erika Spyres), who embodies both the hearing and deaf worlds. Born the hearing child of deaf parents, sign was her first language. Now, in early adulthood, she is losing her hearing to her dismay. A poor lip reader, she teaches Billy sign language, to better communicate with him, simultaneously giving him entrée into another culture or tribe.
In one of the play's key scenes, Billy brings Sylvia home to dinner, which devolves into Christopher's attack on sign as a primitive language incapable of poetry and irony. Sylvia gives as good as she gets, forcefully defending the expressiveness and physical beauty of sign. Nonetheless, subsequently, she will leave Billy as her hearing fades, fearful of losing her identity
in the deaf community where previously she was only a visitor. As she painfully admits to Billy, her prized ironic sense of humor would have no meaning among the deaf.
This thought provoking play doesn't give easy answers. The power of language and difficulties of communication are investigated at length within the context of a fascinating story filled with twists and turns.
Tribes is well acted by a strong ensemble who convey both its wit and drama. James Caverly, a deaf actor, plays Billy with a special level of concentration. The attractive and spirited Erica Spyres inoculates the family with a dose of reality. Patrick Shea turns in a believable performance as the smug, snobbish, foul-mouthed and thoroughly unlikable father. Kudos to Nael Nacer for his handling of the complex character of Daniel.
Director M. Bevin O'Gara turned SpeakEasy's black box into a theatre-in-the-round, bringing even more intimacy to the small space. The stage is configured so that the audience is almost sitting in the crowded family living-dining room. While this set-up packs an emotional punch, it sometimes makes it difficult to understand or even hear the actors. It may be that this was an intentional effect by the director to have the audience identify more closely with Billy.
Christine Todesco's clever setting reflects the parents' values. It underscores their concern for the intellectual life, somewhat Bohemian tastes, and status. The living-dining room has a large table surrounded by mismatched chairs. An overstuffed chair and a chaise longue are positioned opposite each other, while bookcases and book laden tables abound. In a prominent and well lit spot stands a baby grand piano, an example of their emotional carelessness. A laundry basket next to the chair demonstrates their physical carelessness.
Supertitles and projections by Garrett Herzig add another layer of meaning, at times taking us into the character's minds, at others creating visual images of deafness, and, of course, translating sign.
This show is a must-see.
Playwright: Nina Raine
Director: M. Bevin O'Gara
Set: Cristina Todesco
Costumes: Mary Lauve
Lighting: Annie Wiegand
Sound: Arshan Gailus
Projections: Garrett Herzig
Cast
Daniel: Nael Nacer
Beth: Adrianne Krstansky
Christopher: Patrick Shea
Ruth: Kathryn Myles
Billy: James Caverly
Sylvia: Erica Spyres