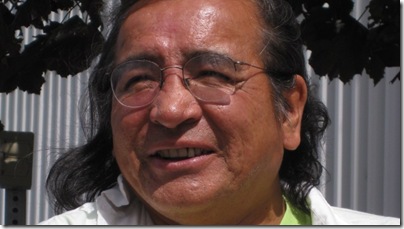 Tomson Highway, 2009 file photo "Northern Life.ca". 
http://www.tomsonhighway.com/biography.html
Tomson Highway, playwright, musician, novelist and former artistic director of Native Earth Performing Arts, has been chosen as the winner of the 2015 Herbert Whittaker-CTCA Award. The award, which is given by the Canadian Theatre Critics Association, honours individuals for their outstanding long-term contributions to Canadian theatre.
Named after the distinguished Canadian theatre critic and author Herbert Whittaker (1910-2006), the award has been given out since 1975. Past winners have included playwrights Judith Thompson and George F. Walker, Shaw Festival artistic director Jackie Maxwell, director Robert Lepage and puppeteer Ronnie Burkett.
"Oh deer!" responded Highway by email when he learned he had won. He then hastened to add: "You have to understand that I do come from a hunting and gathering society."
Born a full-blood Cree on the Manitoba-Nunavut border, to a family of caribou hunters, Highway went on to establish himself as both a major playwright with his landmark works The Rez Sisters and Dry Lips Oughta Move to Kapuskasing, and as a leading figure in Canada's First Nations theatre movement. He served as artistic director of Toronto's Native Earth from 1986 to 1992, during which time the company's productions of his plays won Dora Mavor Moore and Chalmers awards and toured internationally. His autobiographical first novel, 1998's Kiss of the Fur Queen, helped break the silence on Canada's residential school system.
Also an accomplished pianist and songwriter, Highway has written the libretto for Pimooteewin (The Journey), the first opera in Cree, as well as the musical The (Post) Mistress, the recording of which was nominated for a 2015 Juno Award. In 1994, he became the first aboriginal writer to be made a member of the Order of Canada.
Highway was chosen to receive the award by members of the Canadian Theatre Critics Association, which is made up of professional critics and arts writers from across Canada. "Tomson has been an enormous influence and inspiration to Canada's First Nations theatre artists," said Martin Morrow, President of the CTCA. "He also happens to be a delightful writer. It's a great pleasure for us as critics to be able to honour him formally with this award."
The biennial Whittaker Award is one of two prizes given out by the CTCA, along with the Nathan Cohen Award for excellence in critical writing. For more information, visit the CTCA website: http://canadiantheatrecritics.ca/
Media Contact: Martin Morrow, President, Canadian Theatre Critics Association, martinmorrow1@gmail.com