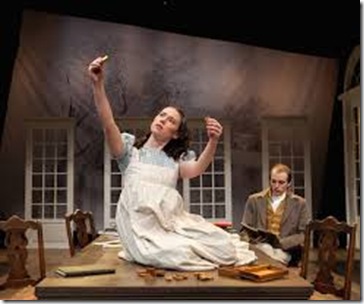 Photo: A.R. Sinclair.
The Nora Theatre Company and the Catalyst Collaborative at MIT are presenting Tom Stoppard's Arcadia (the 1993 Critics' Circle Award winner) at the Central Square Theatre in Cambridge. MIT and the company collaborate yearly to bring plays to the public which promote a greater understanding of science, technology, and theatre.
Arcadia, like other plays in Tom Stoppard's considerable oeuvre is primarily a comedy, dealing with intellectual topics in witty, stylish language. This play has a little magical realism thrown in for good measure. As is often the case with Stoppard, it is difficult, but entertaining to untangle the plot. Science, math, poetry, landscaping, history are the scholarly issues covered. Although you can enjoy the show without much comprehension of chaos theory, you might want to prepare by checking it out.
Arcadia takes place in two time periods, 1809-1812 and the present, in a room at Sidley Park, a luxurious British country house. In the first story, it is used as the school room for the inquisitive Thomasina Coverly a precocious mathematician and scientist, studying with Septimus Hodge, her brilliant tutor. However, Thomasina has a breadth of vision and imagination well beyond Septimus's that allows her to reject Newtonian free will and grasp determinism as a result of stirring jam in her rice pudding.
That the play is not only about the mind is revealed in the opening line when thirteen year-old Thomasina asks Septimus, "What is carnal embrace?" Thomasina's mother Lady Croom and Septimus are romantically involved, not only with each other, but with unseen characters as well – Septimus with a Mrs. Chater and Lady Croom with Lord Byron, a house guest. Mrs. Chater's husband is a dreadful poet who believes in his own talent. Septimus leads him on to assuage Chater's anger about being cuckolded.
A subplot involves Richard Noakes a landscape architect (modelled after Capability Brown) who, against Lady Croom's wishes, is turning the classical garden of Sidley Park, into a faux wild reserve with a "gloomy forest" and "towering crags" in the name of Romanticism. Time moves on, styles change, knowledge advances by fits and starts.
The next scene introduces the second story in which today's Coverly family including fifteen-year-old, pathologically shy, mute Gus, flirtatious eighteen-year-old Chloë, and the eldest, Valentine, a computer science student, host Hannah Jarvis, a best-selling author and Bernard Nightingale, an unpleasant aggressive academic. He turns out to have written a nasty review of Hannah's latest book. She is presently researching the Sidley Park hermit whose identity is unknown. Nightingale intends to write a monograph on Chater's long forgotten poetry. Hannah finds an old picture that she takes for the Sidley Park hermit. In reality, it is a sketch that Thomasina drew idly. Nightingale's research has led him to incorrect conclusions as well.
Running through Arcadia is the idea of gain, loss, and regain. In the third scene, which takes place between Thomasina and her tutor, she expresses sadness at the loss of the library of Alexandria. Septimus consoles her saying that what knowledge is lost will be found again as time goes on, perhaps not in the same form, but still having the same worth. The next scene, which returns to the present time, validates Septimus's belief. Hannah is reading sections of Thomasina's math primer in which the girl wrote that she has discovered nature's mathematical secrets. Valentine realizes that Thomasina had hit upon the concept of an algorithm.
Bernard Nightingale and Valentine Coverly get into an altercation about the relative importance of science and literature. Desperately, Valentine argues that scientific discoveries have more relevance than "personalities," i.e. writers. The aggressive Nightingale drives Valentine out of the room. Their dispute is reminiscent of the quarrels of the 1990s between humanists and scientists for preeminence.
Sexual interest also plays a role in the contemporary world. Rejected by Hannah, Nightingale has an affair with the all too willing Chloë. Valentine is in love with the staid, but attractive author whose thoughts and feelings are invested in her research and writing. Ironically, her bestseller is about the passionate love affair of Caroline Lamb and Lord Byron.
In the seventh and last scene the time periods merge. Thomasina, dressed in her nightgown, asks Septimus to teach her the waltz. Despite his qualms, he obliges after she kisses him. To emphasize the time convergence, Stoppard has the contemporary characters participate in a regency era costume ball. Gus, splendidly dressed, gives Hannah Thomasina's drawing of the hermit. He bows to her, his way of inviting her to dance. Touched, she accepts. The play ends with the two couples dancing. Unfortunately, none of the actors waltzed well.
Arcadia is well worth seeing both for Stoppard's writing and the production. On the whole, the acting is very good. Celeste Oliva is a forceful, yet attractive Hannah. Will Madden is sympathetic and funny as Septimus Hodge. Matthew Zahnzinger has a passionate moment in his monologue on algorithms. Ross McDonald's Nightingale is appropriately annoying. Jade Wheeler is delightful as Chloë. Kira Patterson, making her professional début as Thomasina, is a bit too pert in her opening scenes as the thirteen-year-old. As the character matured, she became more believable.
Janie E. Howland's simple, but effective set consists of the table with chairs around it, a lectern, a door on either side of the stage used for entrances and exits, upstage floor-to-ceiling windows, and beyond them a tilted pale unchanging backdrop that represents a garden. As the play continues, the table acquires more and more props, another way in which the time periods merge. An oil lamp, modern books, nineteenth-century teacups, contemporary mugs, Thomasina's geometrical blocks and their box all sit together, the anachronisms unnoticed by the characters. Lightning, Septimus's tortoise used as a paperweight in the earlier era is the Coverly's tortoise in the second and renamed Plautus.
Play by Tom Stoppard. Directed by Lee Mikeska Gardner. Presented by Nora Theatre Company.
Scenic Design ………………. Janie E. Howland
Lighting Design …………….. John R. Malinowski
Costume Design …………….. Leslie Held
Cast
Kira Patterson ……………….. Thomasina Coverly
Will Madden ………………… Septimus Hodge
Elbert Joseph ………………… Jellaby
Alexander Platt ………………. Ezra Chater
Harsh J. Gagoomal ……………. Richard Noakes
Sarah Oakes Muirhead ……….. Lady Croom
Jesse Garlick ………………….. Captain Bryce
Celeste Oliva ………………….. Hannah Jarvis
Jade Wheeler ………………….. Chloë Coverly
Ross McDonald ……………….. Bernard Nightingale
Matthew Zahnzinger ……………Valentine Coverly
Max Jackson …………………….Gus/Augustine Coverly
Tank, the Turtle ………………… Lightning/Plautus
Arcadia plays through May 15, 2016.