Three Chekhov Shorts: 33 Swoons at Algonquin College.
Reviewed by Patrick Langston
23
Mar
Posted:
March 23, 2013 Saturday at 1:31 am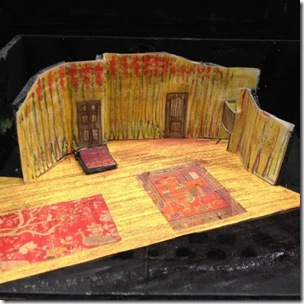 Photos of set by Judy Deboer
Hard to say whether it's exactly 33, but there are a heck of a lot of swoons in these three sharp-clawed swipes at pretence, greed and general bourgeois unpleasantness in Anton Chekhov's Russia circa 1890.
Seems there's always someone overcome with the vapours – a surfeit of foolishness apparently being as detrimental to brain function as a lack of oxygen – in these deliciously savage plays: The Proposal, The Bear and The Jubilee.
Directed by Mary Ellis and delivered with enthusiasm if not always texture, the show features students from Algonquin College's theatre arts program.
Of the three productions, The Jubilee works best. It showcases a puffed-up bank chairman (Jonah Lerner), his misogynistic, hypochondriacal assistant (Phil Hughes), the maddening wife of a public servant (Erin MacDonald), and other characters. Heedless of anything but their own narrow needs, these are not people with whom you'd willingly share the planet. The five actors deliver a funny, cutting ensemble piece.
The Bear is almost as good, its tale of a widow, a creditor and blossoming love well-paced if not as strongly acted as The Jubilee.
Less successful is the opener The Proposal. A story in which pride and acquisitiveness trump not just decency but also love, the show operates at fever pitch from start to finish. The play is meant to be frenetic, but, unlike the characters, it shouldn't be shallow. This production, however, rarely penetrates any depths. Result: it's funny but unsatisfying.
One Response to "Three Chekhov Shorts: 33 Swoons at Algonquin College."