This Flight Tonight: Joni Mitchell remembered in song
This Flight Tonight: Joni Mitchell remembered in song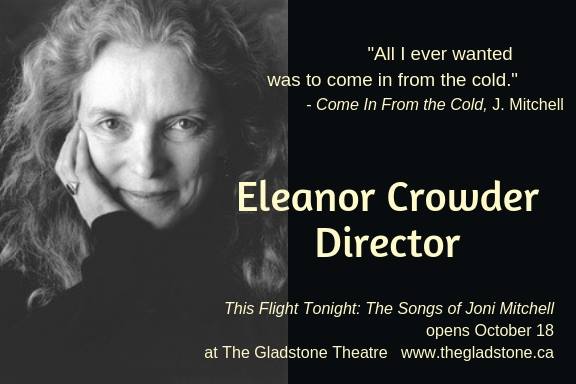 This Flight Tonight, Songs of Joni Mitchell, Bear & Co. Directed by Eleanor Crowder
The single most impressive aspect of This Flight Tonight is the number of musical instruments that the four-member cast play with ease. Each one handles a minimum of three different instruments from piano, drums, electric or acoustic guitar to mandolin, banjo, harmonic, flute and Irish harp, as well as such rhythm emphasizers as a tambourine and maracas.
The 20+ songs selected from the more than 200 in Joni Mitchell's huge repertoire include some of her best-known works, such as Both Sides Now, Chelsea Morning and Big Yellow Taxi, and several that pinpoint significant moments in her life, such as Blue Motel Room, or of an era, such as Woodstock.
The scene is set to create the ambience of a coffee house of the 60s and 70s and something of the sense of a casual jam session among the performers (belying the fact of carefully planned staging).
Because Mitchell's lyrics always tell the story of a time in her life, it is unfortunate that some are periodically lost because of background noise or the few occasions when the piano overwhelms the vocalists. It would also be preferable if all three of the other performers remained still during solos so that there are no distractions from the singer of the moment.
In general, however, This Flight Tonight is pleasant entertainment that demonstrates the varied talent of the performers and fulfills its purpose of honouring an icon of her era.
This Flight Tonight continues at the Gladstone to October 27.
Director: Eleanor Crowder
Set and stage management: Jane Vanstone Osborn
Lighting: David Magladry
Costume consultant: Michelle Ferranti
Cast
Pierre Brault
Rachel Eugster
Robin Guy
Scott Richardson