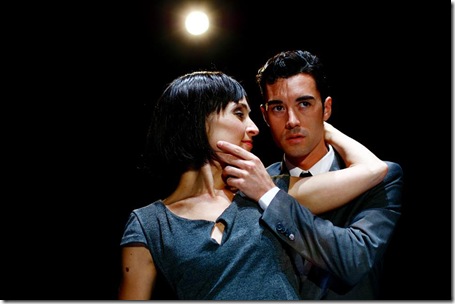 Photo: Jay Kopinski
German playwright Marius von Mayenburg has written an angry little Hegelian parable which is tightly staged, highly stylized, prone to split second reactions that generate enormous excitement. He shows us that the human being's awareness of himself /herself comes from the way he sees himself through the gaze of those around him. A certain Lette (Alex Poche-Goldin) working for a corporation where he has just discovered a new technological mechanism, will not be allowed to present his product at an international meeting because his boss Scheffler (Hardee T. Lineham) says Lette is too ugly and he will just turn potential buyers off. Lette is horrified. He was never aware that he was ugly because no one let on, no one told him, and even his wife Fanny was not able to look at him so he never noticed the horror reflected in her gaze. Of course none of this is visible but that just emphasizes the state of mind at the basis of such thinking.
That is also where the author takes this notion of "double subjectivity  " further by concluding that as soon as Lette realizes he is a human catastrophe because of the way others see him, he wants to change his face. He meets with a bombastic plastic surgeon and gets a perfect face. However, the change solves nothing because we quickly see (the play is only one hour) that the surgeon is now in demand. Since he also wants to make money, he is glad to oblige everyone who wants the same face. The conclusion is inevitable. In our society of highly sexualized advertising and consumerism where notions of "beauty" ignite all our desires, this desire by all for the ultimate beautiful face leads us to an inevitable rejection of "difference" , thus making us lust after the one and only perfect creature , oneself! The one who looks like oneself, who thinks like oneself, who loves oneself. Thus transforming us all into a civilisation of empty headed, narcissists who are all the same! The conclusion is devastating, cruel, funny and yet uncomfortable because it ignites something very profound which is at the bottom of all the conflict that haunts the world these days.
It's not by chance that this play has struck a chord with certain artists.
Director Ashlie Corcoran has orchestrated her cast like a group of impeccably tuned instruments, whose gestures suggest humanoid robots, choreographed puppets, highly strung human beings all fine tuned to the clipped language of the play. Corcoran's work is beautiful and extremely meticulous. The surgery is accompanied by an eerie soundscape of scrunching, splitting, and squishing as the doctor dives under the sheet and into the face of poor Lette, as he chops it up and reshapes it all. As Lette adapts to his new identity, under the admiring gazes of long lines of women, he finds himself switching between the lustful encounters with the 70 year old rich director of his company, still in excellent shape after much surgery, and his own wife, now a nervous wreck. Lette's handsome colleague, played by Jesse Aaron Dwyre, also morphs into the rich old lady's son where a newly perverse exchange of gazes takes place as the son watches his rich old mommy taking on her young men. All these scenes switch in an inkling of a second as the perfectly timed lights blink and the actors suddenly change their bodily stance and go back to their other roles, as if they had come out of a trance. And it all plays out on a long white table elevated in the middle of the theatre where the audience is sitting on either side of that raised surface. It is all crystal clear and impeccably staged, right down to the detail of the forbidden fruit. The only woman in the play, the new Eve, sits there peeling her apples, as they turn up around the theatre, infecting all the characters of this little microcosm with her new knowledge of narcissistic  idiocy.
An excellent production of a fascinating play. The Ugly One is a special event that should be invited to the National Arts Centre! The small cast and minimalist set would make it a perfect candidate for the Studio. The Ugly One continues in the Firehall Theatre at The Thousand Islands Playhouse until September 20.
Directed by Ashlie Corcoran
Set and costumes by Camellia Koo
Sound design by John Gzowski
Lighting by Jason Hand
Cast:
Karlmann, son Jesse Aaron Dwyre
Scheffler (surgeon) Hardee T. Lineham
Fanny and rich lady Tracy Michailidis
Lette Alex Poche-Goldin