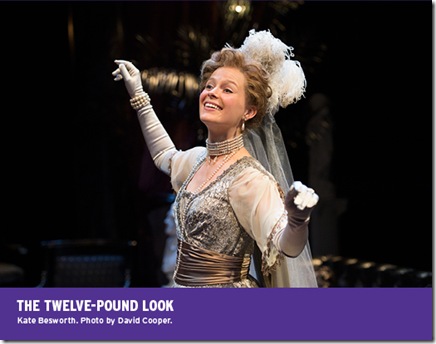 Photo: David Cooper.
When it comes to live theatre, some of the nicest surprises come in the smallest of packages.
This year's Shaw Festival lunchtime presentation is an absolute gem — a 105-year-old playlet from Peter Pan creator J.M. Barrie who reveals himself here as a sympathetic advocate of women's rights.
This funny and provocative one-actor, The Twelve-Pound Look by name, is not overtly political, but it was written at a time when Britain's suffragettes were actively campaigning for a woman's right to vote. And the suffrage movement has clear parallels to the play's preoccupations — the right of a woman to think and behave independently and to be an equal partner in a relationship.
One of the joys of Lezlie Wade's lively and observant production at the Court House Theatre is the dexterity with which it honours the play's main intent — which was to give the needle to the kind of male chauvinism that was so smugly entrenched in the upper-class Edwardian England of the day.
So we have Patrick Galligan portraying the soon-to-be-knighted Harry Sims with a strutting, self-absorbed sense of entitlement — treating his trophy wife, an excellent Kate Besworth, with self-satisfied condescension and the expectation that she will always respond to him with the fawning subservience he deserves.
What sends the future Sir Harry's world topsy-turvy is his decision to hire a typist to deal with all the letters of congratulation that have been flowing into his home. However — horror of horrors — she turns out to be the former wife who had walked out on him years before. Moya O'Connell portrays his ex, Kate by name, with a maddening self-assurance that rattles him even more as he is confronted with a phenomenon alien to his sensibility — the phenomenon of a woman capable of being her own person.
The ensuing confrontation, in which Kate finally explains to Harry her reasons for leaving him, is a study in contrasts. There's O'Connell's Kate, calmly but firmly demolishing her former spouse's assumptions. And there's Galligan's Sir Harry, almost pitiable in his sputtering lack of comprehension.
There are tinges of Nora in Ibsen's sombre Doll's House here, but Barrie was able to leaven his biting social observation with a comic awareness of the frequent ridiculousness of human behaviour. Sir Harry may assume that his is a world of upholstered certainties — an assumption reinforced by designer William Schmuck's decision to give him a study whose traditionalism is in gleaming harmony with his own sensibility — but these certainties are disintegrating by the end of the play.
Questions pertaining to women's place in society are the driving force in all three plays featured in the festival's late June round of openings. Caryl Churchill's Top Girls and Bernard Shaw's Pygmalion are known commodities. J.M. Barrie's almost forgotten playlet is the dark horse — and it's a delightful surprise.
(The Twelve-Pound Look runs to Sept. 12. Ticket information at 1800 511 SHAW or shawfest.com)