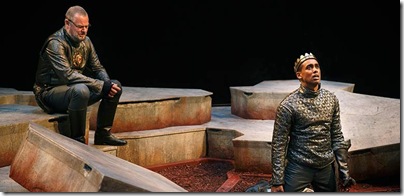 Photo.David Hou. With Geraint Wyn Davis and Ayala Mengesha
The first point to be made about the Breath Of Kings duo, now at the Stratford Festival, is that they bring Shakespeare's history plays to renewed, freshly burnished life.
The histories can be a hard sell these days, despite the fact that they contain some of Shakespeare's finest writing. Richard lll, with its irresistible villain, is of course the exception. But in general the history plays, although indispensable parts of the canon, can often seem problematic when it comes to attracting audiences.
One immediate virtue of Graham Abbey's masterful distillation of four major works — Richard ll, the two parts of Henry lV, and Henry V — into two epic evenings of entertainment is that they should win over the must reluctant playgoer. That's because they provide narrative clarity, honour some of the greatest moments of Shakespearean verse,  and bring immediacy to a particularly turbulent period in English history. They also make for exciting theatre, thanks to a powerful ensemble cast, which includes Abbey himself in a crucial role, and to the incisive direction of Mitchell Cushman and Weyni Mengesha.
Abbey has created two plays here. The first, Rebellion, deals with the troubled reign of Richard ll and his inevitable downfall and death at the hands of the usurping Bolingbroke who succeeds him as Henry lV.
The second play, Rebellion, zooms in on a familiar Shakespearean theme — the consequences of lusting for power and succeeding. Henry lV's kingdom is wracked by recurring turbulence and the monarch's own mental torments over his manner of securing power. And even a secure succession is in doubt, given the irresponsible behaviour of his  pleasure-loving son, Prince Hal. But the possibility of redemption for the troubled soul of England comes with Hal's evolution into the heroic Henry V and the victory at Agincourt.
There are those who will argue that Shakespeare, acting within his own best interests, always ensured that his histories would cause no offence to Queen Elizabeth. Nevertheless, he did have an Elizabethan's horror of the cosmos being ripped asunder — a horror also reflected in the great tragedies. As with the originals on which they are based, Abbey's adaptations give utterance to these concerns, and indeed provide an eerie reflection for events happening in the world today. But they also provide, as Shakespeare did,  a dramatic arc leading to catharis and redemption, which of course provides the title for the second of these plays.
Each play works as its own as a stand-alone piece. But if you chance to see both, and in a single day, you'll be caught up in a formidable narrative sweep. Beyond this is the success achieved by Breath of Kings in offering a succession of beautifully defined character studies that help bring ballast to an adaptation where some sections might otherwise seem too sketchy in incident.
Graham Abbey himself is there at the beginning as Bolingbroke, and here we have the self-righteous and not especially likeable bully who destroys Richard ll. And Abbey continues to grip us as he  morphs into the increasingly troubled and despairing monarch of the two Henry lV plays; here his vulnerability is evident —  also the disintegration,both physical and psychological. Meanwhile, Araya Mengesha, whose high-living Prince Hal has brought misery to the king's declining years, is also making a splendid transition from adolescent irresponsibility to the youthful monarch of the Henry V section. You can applaud the lithe athleticism and spontaneity, the sheer charisma, of the "once more into the breach" moment, even though you're aware that this symbolizes  an idealized vision of kingship. That's what Shakespeare knew he must deliver — but the playwright isn't totally starry-eyed, and neither is Mengesha's interpretation.  Witness the chilly efficiency with which this young monarch dispatches his old drinking buddy Bardolph, superbly portrayed by Nigel Shawn Williams, to his doom. And we do feel a pang of compassion for the dissolute Sir John Falstaff when the newly crowned king coldly rebuffs the corpulent knight during the coronation celebrations.
Geraint Wyn Davies is Falstaff, and it's an endearing performance, one of the best Sir Johns ever seen at Stratford.  All the comic outrageousness is there in spades — the boastfulness, the cowardice, the hypocrisy —  but so is the tattered humanity. Performances of Shakespeare's  most famous comic creation often offer the shape but not the substance. But this Sir John is fully realized — and his affection and love for Prince Hal are palpable. So is his ultimate tragedy.
There are  less than 20 actors carrying some 65 roles in these two plays, and their contributions are a testament to the ensemble discipline of the company and also to its versatility. There are a few moments that don't ring true — the scenes in the French court for example. And the need to cast women in certain male roles stretches the viewer's credulity. Despite the ecclesiastical robes and the pectoral cross and her skill with the poetry, Carly Street is not a persuasive Archbishop of York. She is even less persuasive when we see her in quintessentially masculine conspiracy against the king, and  in the feminine company of Mikaela Davies, an appealing actress but equally unbelievable as Lord Mowbray, and the obviously talented Anusree Roy struggling with the role of Lord Hastings. There are those who argue that gender-neutral casting is no different from colour-blind casting, of which there is a great deal in these productions, all of it successful, but a different dynamic is in fact at work, and it is perilous to disregard it.
However, none of these detracts from the over-all strength of the performances.
Tom Rooney, quietly attentive to the rueful beauty of Shakespeare's verse, is  haunting as the doomed, uncomprehending Richard ll, and quietly heartbreaking as Justice Shallow. Jonathan Sousa brings a terrier-like ferocity to the role of the hot-headed young rebel, Hotspur. Michelle Giroux's Doll Tearsheet is an affecting Boar's Head whore, her performance a striking example of a production anchored in a warm, rough humanity. And it's a pleasure to see so many company veterans adding to the lustre — Stephen Russell, outstanding as John of Gaunt, Wayne Best offering neatly etched characterizations as various noblemen; Randy Hughson bringing gravelly reality to the ancient Pistol.
The intimate Tom Patterson Theatre, converted this season to an in-the-round configuration, provides the emotional and physical terrain for the plays. Designer Anahita Dehbonehie's settings are spare but powerful. Is it mulch or peat we're supposed to be seeing on stage in Rebellion? No, matter, really, because still it brings a raw, earthy immediacy to what's transpiring; it also proves to be a surprisingly versatile prop device. And when it comes to Redemption and the big battle scenes, it's astonishing what can be done in these deceptively spartan surroundings. The look of the production is astounding — two visionary directors working in harmony with other gifted colleagues — Dehbonehie, Yannik Larivee (costumes), Kimberly Purtell (lighting) and John Stead (fight director). And the Agincourt sequence, which has every stage production of Henry V competing against  the legendary images of the Olivier film, proves to be one for the memory books in this summer of 2016.
(Breath Of Kings: Rebellion and Breath Of Kings: Redemption continue at the Stratford Festival until Sept. 24. Ticket information at 1 800 567 1600 or stratfordfestival.ca)