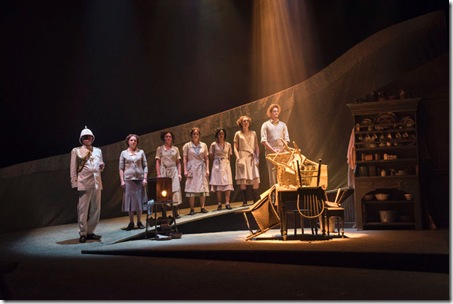 Photo. David Cooper
NIAGARA-ON-THE-LAKE, Ont. — There's Fiona Byrne, poignantly convincing as Kate, the oldest of the sisters and a bundle of laced-in repression. She's a school teacher, painfully aware of being the only real wage-earner of the household at a time of gathering economic travail, devout in her Roman Catholic faith, and fiercely devoted in her own humourless way to her family.
There is Serena Parmar, a mixture of resilience and vulnerability as Chris, the youngest of the sisters. She's the mother of seven-year-old Michael and unemployed — her life on hold because of Michael's vagabond father, Gerry, who is more absent than present in their lives.
And then we have two particularly close sisters  who earn a bit of money by knitting gloves at home and selling them: the quiet and reflective Agnes, whose silences, in Claire Jullien's intricately embroidered performance, tell their own tale. Agnes in her own way is the chief carer for Rose, the sister who has never really grown up: she's portrayed by Diana Donnelly with a joyous, child-like innocence that also leaves you aware of her emotional fragility.
And finally we have Tara Rosling — outstanding as Maggie, the extrovert sister who keeps the household in order, while maintaining a cheeky resilience and defiance in the face of adversity.
These five provide more than enough justification for seeking out the Shaw Festival's current production of Dancing At Lughnasa, Brian Friel's masterful memory play about a household of sisters struggling to survive amongst the economic miseries of Ireland in the 1930s. The festival's acting company is blessed with some exceptional actresses, and Friel's memorable characterizations give them the chance to respond with care and intelligence to some of the juiciest roles in the modern repertoire.
However, further reasons to see this show are provided by the males in the cast. Peter Millard brings a fragile nobility to the character of Father Jack, the elderly missionary suddenly removed from his service in an African leper colony and now back with his relatives to struggle with matters of faith.
In the tricky role of that feckless charmer, Gerry, Kristopher Bowman seems almost a dream figure as he pursues the latest big chance — be it as a ballroom-dancing instructor or fighting in the Spanish Civil War — while making fleeting appearances in the lives of Michael and Christina, who keep nursing the pathetic hope that he will return to their lives permanently.
Finally there is Patrick Galligan superb as the adult Michael, looking back with ruefulness and affection on a childhood beset with tears and trauma and unfulfilled longing — but also love.
Indeed, the richly-hued ensemble work of the cast repeatedly conveys the overwhelming power of love and caring in a household that is both emotionally and economically fragile. And are mythic forces entwined in their culture as well? Well, consider that stunning scene when the sisters experience a moment of liberation by breaking into dancing of such intensity that it seems capable of summoning the very gods out of their torpor.
But are performers and play really that well served by Krista Jackson's production? The first act, which requires special attention in dealing with matters of exposition and in introducing us to the Mundy household, keeps going slack. Furthermore Jackson and designer Sue LePage have given us a set that confines the family kitchen, which essentially is where the action takes place, to the rear right-hand corner of the Royal George Theatre stage, thereby creating an unnecessary remoteness
Obviously, Jackson is making some kind of statement in encouraging this design concept. What's less obvious is what that statement is supposed to be. The text of Friel's 1990 play is sufficient to inform us that this a family enclosed in a stifling culture — economically, socially and spiritually. Indeed, in a sense, that unreliable, static-ridden Marconi radio proudly installed in the kitchen offers a tragi-comic reminder of a more liberated outside world. But the action in this production is largely confined to maybe one-third of the playing area, and the rest of the design is peculiar enough to suggest that the family is living under some kind of concrete underpass, occupying some kind of metaphysical void.
Yes, Dancing At Lughnasa is a memory play, but its naturalistic underpinnings are secure. Why try to kick them away? We should thank our lucky stars for a cast with the artistry and the will to re-assert this play's enduring strength.
(Dancing At Lughnasa continues to Oct. 15. Further information at 1 800 511 7429 or shawfest.com)