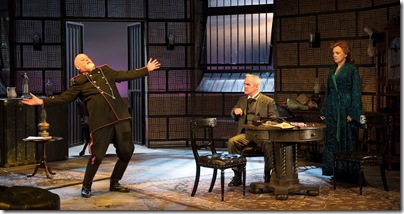 Photo: Emily Cooper.
There's a peculiar moment in the Shaw Festival's production of The Dance Of Death when a character arrives on stage carrying a head of cabbage.
But that moment has purpose. And it does have a connection to the emotional mayhem engulfing the stage. It's also a reminder of director Martha Henry's crafty approach to this potentially troublesome play. Given its volatile sensibility, why not introduce an an element of absurdity into a dramatic situation mired in marital discord? But no — perhaps "discord" doesn't really describe the scalding enmity existing between Edgar, this perpetually soured artillery captain, and his resentful spouse, Alice, on the eve of their silver wedding anniversary.
August Strindberg's 1900 play, fuelled by its author's own disastrous experiences with marriage, seems to have the inevitability of a train wreck — and train wrecks, whatever their nature, can seem like a wicked but irrestistible form of spectator sport for many of us. Actors recognize this potential, so it's scarcely surprising that — despite its hazards — Dance Of Death has tempted a host of legendary performers to pass through its storm-torn portals and attempt to make sense of it — Laurence Olivier and Geraldine McEwan (1967), Robert Shaw and Zoe Caldwell (1974), John Neville and Gemma Jones (1995) and Ian McKellen and Helen Mirren (2002). So, at the Shaw Festival's intimate Studio Theatre, we have two seasoned professionals — Jim Mezon and Fiona Reid — stirring up a cauldron of emotion and ensuring that we feel the sting.
Still, players do court peril in taking on the kind of challenges that Dance Of Death poses. At the same time, it's easy to understand why they do it. Marital warfare and a dysfunctional household can be heady dramatic stuff, and Strindberg's play can be seen as a forerunner to other seminal 20th Century plays — most obviously Edward Albee's Who's Afraid Of Virginia Woolf. Its influences also extend to the existentialism of Jean-Paul Sartre and No Exit, with its thesis that true hell exists in personal relationships from which you cannot escape. And Noel Coward once acknowledged that Strindberg weighed on his mind when he crafted Private Lives.
The problem facing this Shaw Festival production, as with every staging of this play, has to do with a shifting tonal texture so extreme that it can seem unmanageable. Director Martha Henry does benefit from a surprisingly nimble adaptation by Irish playwright Conor Mcpherson — a version bold enough to trim the normal running time, shun the lumbering naturalism of many Strindberg translations, bring a lethal quicksilver quality to the mood variations, and concentrate more realistically on character. But the stylistic lurches remain, still there to trip up even the most attentive production.
This Niagara revival benefits immeasurably from performers who are always worth watching. Jim Mezon, an actor adept at making  his characters larger than life, does it again here — but in a more insidious way. He gives us an Edgar who's a crumpling hulk of a man, his very excesses merely underscoring his pretensions and his vulnerability. This Edgar is a fading tyrant in a state of festering resentment against his circumstances — the dank island tower which seems more like a dungeon than a home thanks to designer William Schmuck's vision of domestic misery; the unseen military superiors whom he despises; the hatred of a system that has spewed him out in his middle-age as unimportant; the wife with whom he has been engaged in wounding warfare for God knows how long. In brief, he emerges as a pathetic joke — rather like the play's perception of life itself.
You can believe that Mezon's Edgar is sodden with booze, that he's paranoid, in ill health, terrified of his approaching mortality, in pathetic self-denial, and in an unending search for enemies to blame for his misfortunes.
At the top of his enemy list is his spouse of many years, portrayed by Fiona Reid with glimmerings of the refinement that Alice continues to consider her proper entitlement in life, plus a quietly burning malice over the price she has paid by marrying a bombastic tyrant and thereby abandoning a promising career as an actress.
So why does this production make us laugh, albeit uneasily? Even an early game of cards, peppered with insults between these two, has a touch of the comic about it — and here, some playgoers will reminded of the smouldering undercurrents of D.L. Coburn's 1976 play, The Gin Game. There's a touch of absurdity in the paranoid Edgar's insistence on having a telegraph on the premises rather than a telephone, and in the circumstances under which the latest in a succession of discontented servants is forced into fleeing this unhappy home.
Then there's the bizarre moment when Alice goes to the piano and accompanies Mezon's elephantine dance to the strains of Johan Halvorsen's Entry Of The Boyars — a performance which leads to Edgar's subsequent collapse in an apoplectic stupor. Does this moment instil throat-clenching anxiety in the watcher? Quite the opposite.
What brings matters to the head is the arrival on the scene of Kurt, Alice's cousin, who has taken up a medical appointment on the island. He's the catalyst for the mounting emotional carnage that ensues, and he's played with style and emotional conviction by the always dependable Patrick Galligan, despite the fact that this actor seems too dapper and too young to be a contemporary of his decaying hosts.
Kurt and Alice also seem to have a past history of some kind and this leads to perhaps the production's most riveting and disturbing moment, brilliantly brought off by Reid — a sudden and persuasive outburst of middle-aged carnality on Alice's part towards the man who might have proved a better lifetime proposition than Edgar. There is a particularly tough emotional gamut that must be navigated in this scene, and Reid manages it with authority and conviction.
With The Dance Of Death, Strindberg was moving away from the naturalism of his earlier period, yet that element still lurks in this play. But the emotional climate is dangerously heightened here — and this raises questions about how substantial a work The Dance Of Death really is. The role of Edgar marked the final appearance on the London stage of the late John Neville, former artistic director of the Stratford Festival. Neville was to say afterwards that finding the right tone was elusive. He was also frustrated by a lack of subtext in the play.
Who knows whether Martha Henry was guided by such considerations in her approach to this work? What does seem certain is that she did discover a sustaining thread: for her The Dance Of Death is a grotesque comedy of life, for which there is no
exit save mortality. Which is why this show, in its own perverse faction is eminently watchable — head of cabbage and all.
(Dance Of Death continues at the Shaw Festival to Sept, 10. Ticket information at 1 800 511 SHAW or shawfest.com)