¸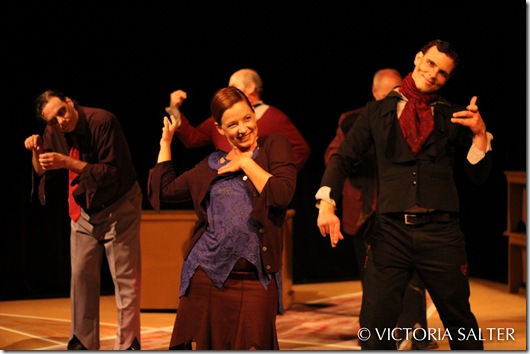 Photo.Victoria Salter.
They say we all have our demons to fight against. Of course, rarely does anybody believe in such creatures as  demons, ghosts, devils, products of someone's imagination, like , CS Lewis'  for example. Still, who knows? After seeing 9th Hour Theatre Company's version of CS Lewis's "Screwtape Letters," one begins to wonder.  But, let's start from the beginning.
It all started on Sunday afternoon, in the Irving Greenberg Theatre Centre's  Studio space, where Lewis' imaginative and philosophical narrative about good and evil, seen from the devil's perspective and told through Screwtape's Letters to his nephew Wormwood, came alive.
In Nigel Forde's adaptation, the action is wisely transported to the classroom, where professor Screwtape mentors two young tempters, giving them a thorough lecture on numerous methods of destabilizing faith and promoting sin in their human subjects. His reputation and, along with it, his position in Hell, depends on his willing but very incompetent apprentices. When the chosen subject falls in love with a Christian girl, Screwtape is outraged and fearful for his position, but his final fall and destruction comes when the subject they are trying to lead into sin, dies in war and goes to Heaven.
As usual, 9th Hour Theatre Company deals strictly with ideas. In the "Srewtape Letters," they have a concept that they follow, their execution is very elegant, and their interpretation intelligent. This satirical approach captures the sense of this highly chaotic morality lesson, perfectly conveying Lewis's philosophical insights into human nature.  Above all, thec ompany creates true theatre magic, uninterrupted by the, so often used, "spoon-feeding the audience" method. 9th Hour Theatre Company presents a well measured play: highly entertaining without going overboard, funny without cheap  effects, and intellectual without being pretentious. It finds its way deeply under the surface of the good-evil issues, probing into our very souls and minds. The effort of the whole team is obvious in the effectively used stage, imaginative costumes and make-up, incorporated music, and story-like lighting. The superb direction and excellent acting produce a profound experience: it is amusing, engaging and tormenting at the same time. The play is performed with a perfect pace- never rushed or too languid, but just fast enough to let the messages sink comfortably into your mind. The transitions between the scenes flow impeccably and naturally. All elements are meaningful and incorporated so well that they melt together into a perfect whole.
George Dutch in the role of Screwtape leads us through a series of hellish, witty and humorous misadventures of his apprentices in a commanding performance. His Screwtape is real, alive, dangerous, and entertaining. His body language and animated facial expressions build the character (or characteristics) of evil as much as does the variations in the tone of his voice – very often, he is at his strongest and most intimidating when using the lowest register. Although a truthful impersonation of the malevolent devil's officer, he also constructs a very lovable personality. In Dutch's interpretation, Screwtape has the appeal of mischievous seducer.
9th Hour Theatre's The Screwtape Letters is a witty, biting satire about the human race, believers and non-believers alike. This very artistic production is filled with a few unexpected twists and turns, all while putting a smile on the viewer's face. It is an absolute "must" for every serious theatre lover.
The Screwtape Letters plays in Studio at The Greenberg Theatre Centre until August 9, 2014.
The Artistic Team
Production: 9th Hour Theatre Company
The Screwtape Letters
Written by: C.S. Lewis
Adapted by: Nigel Forde
Artistic Director : Jonathan Harris
Costume Designer: Amanda Logan
Lighting Designer: John Solman
Hair & Make-up Designer: Mishelle Stott
Cast:
Nicholas Amott
Elizabeth Chant
George Dutch
Robin Guy
Jeff Lefebvre
Ellen Manchee
Paul Washer