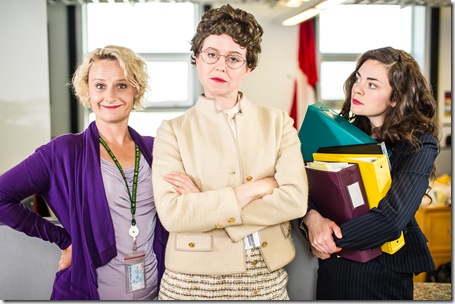 Photo:  Courtesy GCTC.  Sarah McVie,Amy  Rutherford and Haley McGee
"The Public Servant" written collectively by Jennifer Brewin, Haley McGee, Sarah McVie and Amy Rutherford and directed by Jennifer Brewin, is a comedy that depicts the often frustrating lives of those who work in government. You don't have to be Canadian to empathize with the frustration of dealing with bureaucracy. Unfortunately the three strong ladies in the cast and first rate direction can't hide the rather pedestrian script.
Madge, played by Haley McGee, is beginning her first day of work and writing her first memo which of course requires 35 signatures. Her initial challenge is her entertaining struggle to set up a bi-lingual voice-mail message. The always solid Sarah McVie plays both Lois and Janice. She's the knowledgeable old hand who leads Madge through the office labyrinth to her cubicle, advising all the way. Amy Rutherford plays a number of roles, but primarily that of the protocol-conscious supervisor of the other two.
The costumes, designed by Anna Treusch, are good and allow for quick character changes. Her set, a series of beige and translucent panels, three desks and three chairs that all roll and slide, perfectly represent a labyrinth of office cubicles. Martin Conboy designed the excellent lighting and Michael Rinaldi the equally good sound. I particularly liked the opening music.
Director Jennifer Brewin has staged the play with great imagination and wit. Madge's almost endless opening journey to her cubicle through the constantly moving partitions, as well as the paper-pushing dance of the three ladies accompanied by a recorded conversation are both very funny and very clever. Madge's balletic costume change is a hoot and the double-talk firing scene is directed with a sure hand.
The entertaining staging and good performances, though, can't disguise the fact that the script doesn't really go anywhere. We don't understand anything more about public servants or these characters than we did at the beginning.
THE PUBLIC SERVANT – produced by GCTC in association with Magnetic North
Runs through June 21 tkts: 613-236-5196
CREATIVE TEAM
Writers: Jennifer Brewin, Haley McGee, Sarah McVie, Amy Rutherford
Director: Jennifer Brewin
Set & Costumes: Anna Treusch: Anna Treusch
Lighting: Martin Conboy
Sound: Michael Rinaldi