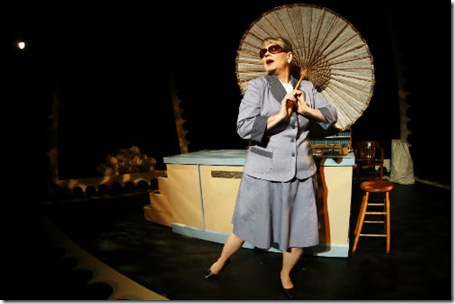 Martha Irving. The (Post) Mistress at the Thousand Islands Playhouse, 2013. Photo:  Jay Kopinski.
The second production of the season in the Firehall, "THE (POST) MISTRESS" written by Tomson Highway, has opened at the 1000 Islands Playhouse. A one-woman musical, it features Marie-Louise Faucon, a small town post mistress who seems magically able to read the letters from local friends that she sorts and files. Along the way we learn a little about Marie-Louise herself. Unfortunately we don't learn enough to care much about her.
As played by Martha Irving, she seems more like an MC in a cabaret act who has little personal involvement in the stories she's telling, a large part told in song. This is partly because the character is played with direct address to the audience with lots of wink-wink nudge-nudge, but there's no consistent three-dimensional character at the core of the piece. When the narrative takes a surprising and serious turn late in Act II, our reaction is "What?!?"
There's also confusion in some of the songs as to whether Marie-Louise is singing about herself or the letter writer. For example, there's a long Latin number at the top of Act II that is not set up at all and we think it's about herself. We only find out after the song that it's not.
That said, Martha Irving who plays Marie-Louise is a wonderful singer and has good comic timing. We get a clearer picture of the characters when she's singing. She does a really nice job on the French ballad in Act I. The "Little Bear" song is very effective and "Some Say," which has a very difficult range, is beautiful.
Music Director Holly Arsenault has done a fine job and is a terrific pianist, providing a strong but sensitive accompaniment. The music itself is fun, using a variety of styles – bossa-nova, tango, patter song, pop and blues. The "Ghost Song" really captures the feel of Jacques Brel. I especially liked watching Katie Legere, who was obviously enjoying herself. She's a very good musician, doubling on the unlikely combination of baritone sax and bassoon. Whoever did the arrangements, they're great.
Andrew Murray's simple set of a desk, stool, chair and mailboxes is nicely framed by outlines of three giant postage stamps, one with a pile of mail bags, one framing the musicians, and the one in the center backed by a scrim. Krista Levy's uniform-like costume provides variation with an elegant blouse under the jacket. The lighting by Paul A. Del Motte is generally good and great fun in "One Sunny Day." I question the decision to have the stars and the scrim lights just pop on rather than fading up – also a couple of "What?!?" moments.
Director Andrew Lamb seems to have been unable to focus the piece to tell a cohesive story, although the staging, especially of the songs, is good. The staging of the ending, though, was so predictable and hackneyed it was all I could do not to giggle.
I guess what I'm saying is that, despite some very entertaining moments, fun music and excellent singing, THE (POST) MISTRESS doesn't hold together as a dramatic piece. It's a lot of tasty frosting on very little cake.
THE (POST) MISTRESS – Firehall Theatre, 1000 Islands Playhouse through Sept. 14 tkts: 613-382-7020
THE (POST) MISTRESS- Ship's Company Theatre, Parrsbaro, Nova Scotia/Firehall Theatre, 1000 Islands Playhouse
Director: Andrea Lamb
Music Director: Holly Arsenault
Set: Andrew Murray
Costumes: Krista Levy
Lighting: Paul A. Del Motte
Associate Lighting Designer: Ingrid Risk
Musician: Katie Legere
CAST
Marie-Louise Faucon: Martha Irving