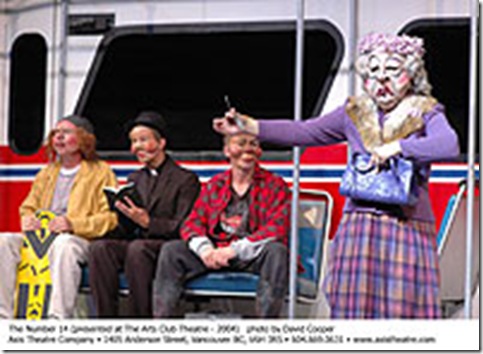 Photo: courtesy Axis Theatre Company
On one level, The Number 14 represents a brand of populist entertainment that finds humour in demented street people, fart jokes, picking your nose in public, peeing your pants, randy clerics, mooning and the use of a Cheesy as a phallic symbol.
So notwithstanding the hyperbole surrounding this 20th anniversary production from Vancouver's celebrated Axis Theatre Company — including the "classic" label applied to it by Eric Coates, artistic director of GCTC, which under whose umbrella the Ottawa engagement is happening — it seems sensible to keep things in perspective.
Under normal circumstances, much of the material in this zany catalogue of happenings on an imaginary Vancouver bus route could be dismissed as painfully sophomoric, dominated by the sort of calculated, nose-thumbing bad taste associated with mindless adolescents who refuse to grow up. In brief: entertainment for the Jackass crowd.
Furthermore, since this was the creation of nearly a dozen performers and writers, it might seem easy cite it as an example of the deficiencies of collective theatre. But to do so would deny The Number 14 its brilliance in execution.
Just as Chaucer's Miller's Tale and Rabelais's Gargantua and Pantagruel symbolize triumphs of mind over matter, so does The Number 14 thanks to the way way Axis director Wayne Specht and his gifted ensemble deliver the goods.
This frequently hilarious show operates from the premise that the nuttiest things can happen on public transit, and it's a premise supported by the personal research and observation of the people who created it. When troupe member Morgan Brayton makes a dowdy entrance and then struggles to change for work while yelping frantically into a cellphone might strike you as preposterous, were it not for corroborating evidence from bus drivers that this sort of thing — an on-board change of wardrobe — does happen in real life. In any event, Brayton's command of the stage is such that she forces you to suspend your disbelief in what happens: instead you applaud her for managing to get into that pesky pantyhose and — in the course of getting dressed for the job on this jiggling bus — to be literally hanging from the rafters at one memorable moment.
Brayton is but one superb member of an indefatigable case that also includes Chris Adams. Stefano Giulianetti, Neil Minor, Tracey Power and Scott Walters. In portraying some five dozen characters, they excel in meeting the show's essential requirements of physical and mental dexterity, an instinct for comedy both low and high, mime technique, awesome athleticism and the ability to shift identities in the blink of an eye. Consider, for example, the metamorphosis of a load of snuffling, bingo-bound seniors into a monstrous party of school kids.
There's little that is sacred in this bus trip, and there's no denying that the low-grade slapstick is a sure-fire away of encouraging young audiences to come along for the ride. But neither can one deny the sharpness of the social observation even when deliberately heightened into the type of absurdity which at one point places those misbehaving school kids under the care of an androgynous neurotic on stilts. The passenger who behaves so strangely that you can't wait to move away from him, the scowling hood whose arrival has fellow passengers anxiously eying the exit doors, the nervous passenger who holds up the line because he can't find the right fare — these are familiar ingredients of the transit-riding experience, and we recognize them and relate to them.
So yes, The Number 14 does deliver some heady entertainment, with these terrific performers further benefiting from Wayne Specht's lickety-split staging, Douglas Macaulay's often cheeky music, and Melody Anderson's wonderful masks. Some might argue that it is less theatre than performance art and may quarrel with the assumption that its two-decade success story automatically qualifies it as a classic work of art. But then you're drawn to the bottom line, which is that The Number 14 does work on its own terms and that the theatrical troupe serving those needs is indeed remarkable.
The Number 14 continues at GCTC to December 16.
By collective: Melody Anderson, Peter Anderson, Gina Bastone, Colin Heath, David MacKay, Wayne Specht, Roy Surette and Beatrice Zeilinger
Axis Theatre Company at Great Canadian Theatre Company
Director: Wayne Specht
Set: Pam Johnson
Lighting: Gerald King
Masks: Melody Anderson
Costumes: Nancy Bryant
Cast:
Chris Adams, Morgan Brayton, Stefano Giulianetti, Neil Minor, Tracey Power, Scott Walters