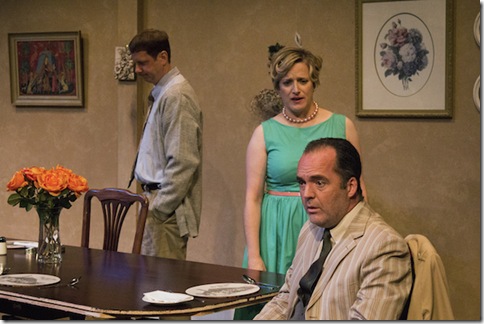 Photo: Julie Le Gal : Table Manners with David Whiteley, Margo MacDonald, Steve Martin.  (Apartment 613)
Robert Lepage's (Les Sept Branches de la Rivière Ota) in Quebec city lasted six hours; the Belgian production Rwanda 94, at the Festival TransAmérique in Montreal went beyond 6 hours . These were both in French. In English Canada, such an event is almost unheard of and yet such a production has come to the Gladstone Theatre in Ottawa. Director John P. Kelly, is staging British author Alan Ayckbourn's trilogy The Norman Conquests, based on a weekend in a middle class household in the British countryside where a family has come together because their aging mother is ill. Each of the 2 hour episodes which continue through the whole weekend, takes place at the same time but in a different room of the house, so the perspectives change and the audience is privy to different reactions and additional information which add depth and detail to this microcosm of British society that unfolds before our eyes. Thus, a great theatrical moment awaits you. Bring a sandwich and a drink and settle in.
I had a glimpse of the trilogy this week for the first time, as a result of seeing back to back performances of the three shows in repertory during three consecutive evenings : Table Manners (in the dining room), Living Together (in the living room) and Round and Round the Garden (in the Garden). It was important to see them close together because each show brings out so many details that could be forgotten from one show to the next but which illuminate the performances. Each comedy adds information about the characters , explains their neurotic reactions, their secret motives , their strange emotional situations, the "dirty weekend" that Annie and Norman have planned and that falls apart for many reasons. We quickly realize that Ayckbourn is actually tearing apart the practices, the prejudices, the social niceties and falsehoods maintained by the somewhat repressed British Middle class as he goes for the jugular with an immense cruelty and great joy. All this is especially violent in the first episode Table Manners. After that first one, things spread out, become chaotic, and one becomes fascinated with the individual portraits as the performance delves into a more psychological understanding of their complicated relationships. These are not caricatures. This is a collection of individuals with their own ways of speaking, of seeing the world and their own values that are both hilarious , at times distorted, self-centred, unsettling and even alluring.
What also makes this production so alluring is director Kelly's attention to detail, his minute orchestration of the stage business, the way the whole cast has sustained the performances throughout. It was a joy to watch. This is certainly the stage event of his life. The continuity is impeccable. There are no slippages. No blunders. . The stage business in the garden with the nettles, the cat in the tree, and other moments that upset the family members, flows beautifully as do the entrances and exits, the passions and the disappointments, the drawling slowness of Tom (David Whitelely) who has found the role of his career as this dense lover whom a very matter of fact and sweet but down to earth Annie (Michelle LeBlanc) cannot seem to excite. Tom is the brunt of cruelty and the site of misunderstandings which make for hilarious encounters.
Margo MacDonald plays Sarah. Her neurotic setting and resetting the table, show us the obsessive rituals of this fascinating control freak, insisting that all the gestures around the dining table be carried out exactly to her wishes…or else she falls into a tantrum. MacDonald reminded me so much of that creature on British TV played by Patricia Routledge (from the British TV Series Keeping up Appearances) who struts around like the Queen mum wearing her fancy hat, bossing her poor husband around, bad mouthing her slovenly relatives and performing like the one in charge whereas she is even more fragile than most of the other women who all have to deal with Norman as he strives to "make everyone happy", especially the women. Norman is played by an exquisite Al Connors who reveals his unlimited talents as a funny man with stamina, energy and a gift for smooth physicality. Steve Martin was so perfectly convincing as Reg, the beleaguered husband of the pushy Sarah who feels somehow he needs to be pushed around by her, otherwise he might not ever accomplish anything so he shifts his energy to the development of board games that no one wants to play. Ruth (Julie Le Gal) was particularly revealing in Round and Round the Garden where she confesses how she has adjusted to Norman's behaviour. They have all somehow adapted to a painful reality and as they reveal their secrets, they keep us transfixed during every one of those episodes.
We must also mention David Magladry's beautifully executed and intriguing set design that has created flats that become such surprising sites of three spatial transformations. Vanessa Imeson's costumes were fitting, the choice of music (sound design) was provocative, appropriate and often tickled the funny bone.
This is an excellent production that goes beyond anything we have ever seen on the local theatre scene and should definitely not be missed. The final 6-hour marathon takes place on October 10 and begins at 12h30.
The Norman Conquests by Alan Ayckbourn
A Plosive and SevenThirty Productions
Directed by John P. Kelly
Set and Lighting: David Magladry
Costumes: Vanessa Imeson
Sound: Steven Lafond
Props: Jess Preece
Cast:
Norman Al Connors
Sarah Margo MacDonald
Annie Michelle LeBlanc
Reg Steve Martin
Tom David Whiteley
Times:
Saturday, Oct. 3, 2:30: Living Together
Saturday, Oct. 3, 7:30: Round and Round the Garden
Sunday, Oct. 4, 2:30: Round and Round the Garden
Tuesday, Oct. 6, 7:30: Round and Round the Garden
Wednesday, Oct. 7, 7:30: Table Manners
Thursday, Oct. 8, 7:30: Living Together
Friday, Oct. 9, 7:30: Round and Round the Garden
Saturday, Oct. 10, 12:30: Table Manners
Saturday, Oct. 10, 4:30: Living Together
Saturday, Oct. 10, 8:30: Round and Round the Garden