NEWS RELEASE  from the NAC.  OTTAWA (Canada) – The National Arts Centre, Canada's home of the performing arts, lowered its flag in honour of Canadian opera great Jon Vickers today. Vickers was the winner of the Governor General's Performing Arts Award, Canada's highest honour in the performing arts, and performed at the NAC on numerous occasions over the years. His portrait is in the Governor General's Performing Arts Awards hallway of the NAC in Ottawa.
"He was one of Canada's greatest gifts to the world of opera," said Peter Herrndorf the President and CEO of the NAC. "We were honoured to have Jon perform with the National Arts Centre Orchestra on many occasions over the years, his performances were always memorable."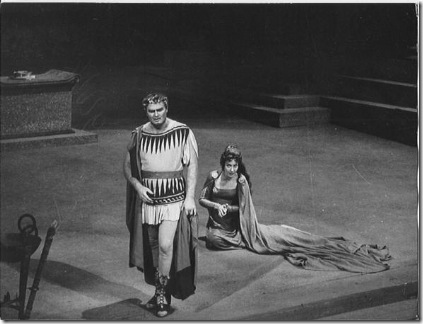 Photo from the collection of Sandy Steiglitz.Vickers with Maria Callas.
Vickers was born in Prince Albert, Saskatchewan, and studied at the Royal Conservatory of Music in Toronto and made his Royal Opera debut in London in 1957. From 1960 onwards he performed regularly with New York's Metropolitan Opera. Over his lengthy career critics described Vickers' voice as "towering" and "achingly beautiful."
The National Arts Centre extends its condolences to Vickers' family and friend
Remembering renowned Canadian tenor Jon Vickers
FOR IMMEDIATE RELEASE – Ottawa, ON – July 13, 2015
Opera Lyra joins the operatic world in mourning the passing of renowned Canadian heldentenor Jon Vickers.  Mr. Vickers was leading artist of his generation, singing major roles in the great opera houses of Europe and North America.  He blazed an artistic path for subsequent generations of Canadian artists to follow. 
Author and former member of the Board of Directors of Opera Lyra, Sarah Jennings,  recalled an appearance for the great singer in Ottawa, "One of Vickers' most outstanding roles in Canada was  as Hermann in a stunning 1976 production of Tchaikovsky's The Queen of Spades presented at Festival Canada, the National Arts Centre's summer opera festival. Ever the perfectionist, Vickers arrived for rehearsal with a slight cold and warned conductor Maestro Mario Bernardi that he might not be able to sing.  As Bernardi later related, he was aghast and told Vickers that if he did not appear at the highly-anticipated premiere 'they would both be lynched.' Vickers, onstage for the entire opera, did go on and was brilliant in the intensely difficult role."
John Peter Jeffries, General Director of Opera Lyra said, "Mr. Vickers portrayed his roles with legendary physical stamina, vocal power and emotional intensity.  He was famous for his attention to lyrical detail, striving to impart every word with dramatic impact.  His brilliant and forceful performances along with his sometimes perplexing personality, left lasting impressions on audience members and colleagues alike.  He left a lofty legacy of vocal and dramatic excellence.  He will be missed."