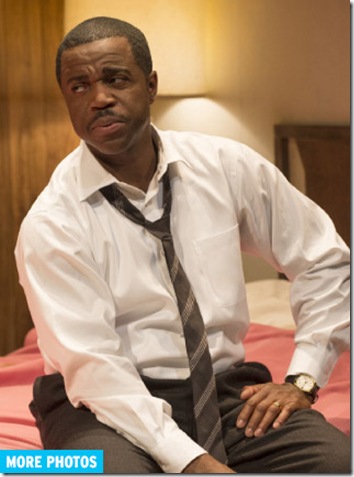 Kevin Hanchard as Martin Luther King.  Photo: David Cooper
NIAGARA-ON-THE-LAKE, Ont. — We're in a run-down motel room in Memphis. It's the night of April 3, 1968, and we're watching Martin Luther King, a few hours after he has delivered his "we've been to the mountaintop" speech and has reaffirmed his vision of the promised land.
It's also a few hours before he will be assassinated on the motel balcony.
The Shaw Festival's tiny Studio Theatre provides the venue for its gripping production of Katori Hall's award-winning play, The Mountaintop, and it helps contribute to a sense of claustrophobia and containment. There's a startling moment when King, beautifully portrayed by Kevin Hanchard, attempts to leave the room — but when he throws open the door, he finds his way blocked by a monstrous snowdrift. Are we getting a dose here of the magic realism that encircles Hall's brilliant re-imagining of the events leading up to a real-life tragedy? Perhaps. On the other hand, as Alana Hibbert's cheerfully resilient chambermaid reminds King, Tennessee is prone to snowfalls, even in April.
Let's just accept that a seamless fusion of the naturalistic and the fantastic is a hallmark of the play, and it's managed with sensitivity and assurance in this production by director Philip Akin and his two cast members.
The setting is drab — set and costume designer Judith Bowden is not prettifying history here, and Kevin Lamotte's lighting is harsh. Such starkness contributes to the stripped-down intimacy that is perhaps the evening's greatest strength. But that quiet strength works against a jarring climax: despite closing with words of soaring eloquence from Alana Hibbert, the jazzy juxtaposition of fact-based back projections seem like an overbearing and unnecessary intrusion. The play is too good to need this kind of conspicuously orchestrated polemic.
The King presented to us in Kevin Hanchard's detailed characterization is not the mesmerizing orator of civil-rights legend. Rumpled and fatigued, he returns to his motel room weary of body and spirit. He's also on edge. In fact he's terrified and trying to maintain his self control.
There's nothing Olympian about him. He needs coffee. He needs cigarettes. He pulls off his shoes and wrinkles his nose at the odour.
The fact that his wife forgot to pack his toothbrush poses a momentary crisis, but then there's the sense that it doesn't really matter any more — after all, he has just delivered a speech in which he not only sees the mountain top but also seems to have portents of his own imminent death.
It's the ordinariness that compels in Hanchard's performance. He's just a man, a fallible human being — consumed by guilt, self-doubt and a crushing fear of failure — who has had greatness thrust upon him. The goodness is there — along with the sin of pride and a roving sexual appetite.
There's also paranoia — which is why there's an explosive moment when he suspects the true motivations of the chirpy chambermaid, Camae, who has come knocking at his door — the bearer of coffee, tobacco and an aura of perky optimism. Alana Hibbert's performance is a joy — funny, sexually insinuating, the perfect solace for a solitary traveller in need of companionship. We also learn that she's full of surprises — but we mustn't be a spoiler here. Let's just say she has unexpected restorative resources for a man doubting the reality of his promised land. No wonder these stunning performances are receiving sustained standing ovations every night.
(The Mountain Top continues at the Shaw Festival until Sept. 7. Ticket information at 1800 511 7429 or shawfest.com)