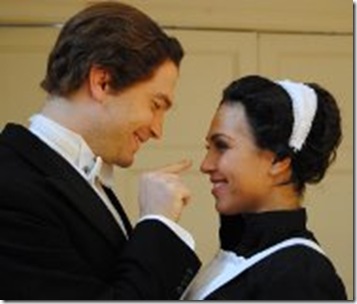 Photo: Barb Gray. John Brancy and Sacha Djihanian
It's pretty obvious that Opera Lyra is making a pitch to the Downton Abbey fan club by attempting an early 20th Century take on The Marriage Of Figaro.
Halfway through the overture, we get a glimpse of servants being assembled in front of the stately English exterior of "Highclere Castle" and inspected by a dignified butler. The scene is a somewhat tiresome contrivance, and not really in synch with Mozart's music. And, let's face it — the the music is what counts in this production, and, happily, the playing of the overture already has us appreciating the silken elegance of the National Arts Centre Orchestra's contribution to the evening under conductor Kevin Mallon.
So when it comes to honouring the Mozartian soundscape, the delights the production provides are manifest. For the most part, this is a beautifully sung Figaro, featuring some stellar work from the principals, and in particular a notably engaging performance on all fronts from Wallis Giunta in the trouser role of the lovelorn pageboy, Cherubino.
True, the traditional contribution of a harpsichord or forte-piano is absent from the production currently running at Southam Hall. But those somewhat modern keyboard sounds we occasionally hear from the pit seem like a relatively harmless affectation, as does the decision to reset Mozart's opera in Edwardian England. True, the free-wheeling interplay between master and servant, so characteristic of the Beaumarchais source material for The Marriage Of Figaro, does suggest a particular culture, one that really doesn't have that much in common with the more rigid upstairs-downstairs sensibility of the Julian Fellowes scripts for Downton Abbey. But no matter — director Tom Diamond's updated vision does no real damage.
Diamond commendably wants to avoid the musty artifice that bedevils some productions of Figaro, and there's a quicksilver vitality here, also a genuine humanity piercing the various silly entanglements. But it's not always easy sailing for this director. He has to contend with Constantinos Kritikos's set: coming to us by way of the New Orleans Opera Association, it's a generally glum creation dominated by a Bastille-like greyness. And the complicated shenanigans of the fourth act don't really give John Brancy's Figaro the chance to hide himself credibly when he needs to do so. At one point Figaro must crouch behind an object which would scarcely provide concealment for a cat. To be sure, the plot has become totally nonsensical at this point with its intrigues and subterfuges and silly disguises, but surely we should try to maintain at least a shred of plausibility.
In directing the show, Diamond also seems to be contending with two types of operatic acting. One is the progressive brand which embraces the dramatic and character requirements of the material — which is all to the good. But there is also unhappy evidence here of old-school operatic attitudes clinging to the decaying belief that all that's necessary is to strike a few poses and sing.
Fortunately, however, solid acting coupled with splendid singing is the main characteristic of this production. Wallis Giunta's Cherubino seizes our attention whenever she lands on stage, beguiling us with a loose-limbed charm that serves both her own comic instincts and Cherubino's adolescent vulnerability. And, although more soprano than mezzo, she meets the musical demands confidently — juggling fire with ice in that irresistible rouser, Non So Piu, and later soaring with serene eloquence over the high-range yearnings of Voi Che Sapate.
The production overflows with moments of sheer vocal delight. Act Two opens with Nathalie Paulin's velvet-voiced Countess, compelling in that heartfelt aria mourning the loss of affection in a husband who is more intent in seducing the servant, Susannah, only hours before marrying Figaro. And it concludes with a scene that meets the test of any good production of this opera — a multi-faceted 20-minute free-for-all that reflects the care Opera Lyra has taken to ensure the kind of interdependence — the conductor on the podium, the musicians in the pit, the singers on stage, the characters they are portraying — that a sublime score demands. And there's more ensemble excellence in the memorably playful Third Act sextet.
There have been more boisterous Figaros than the one offered here by John Brancy, but he helps set the infectious tone of the production with the opening sequence in which he and his bride-to-be, Susanna, take stock of the bedroom they will share after they are married. This is an engaging, nimble-witted characterization, one that complements Brancy's secure baritone. As for Susanna, she emerges as a feisty delight thanks to Sasha Djihanian's attention to character detail, although on opening night there were occasional moments of uncertainty in vocal projection and intonation As the lecherous Count Almaviva, James Westman is rather stodgy dramatically — in fact, he can be a bit of a drag during what should be some sublimely comic moments — but he is commanding vocally.
Others sharing in the evening's success include Peter McGillivray (Bartolo), Lynne McMurtry (Marcellina), Aaron Ferguson (Basilio), Sean Watson (Antonio( and Johane Ansell (Barbarina). Opera Lyra has ensured us a lively musical romp — albeit a nonsensical one — but it also brings out the work's endearing humanity.
The Marriage OF Figaro by Wolfgang Amadeus Mozart
An Opera Lyra Ottawa Production
National Arts Centre: May 21-28
Conductor: Kevin Mallon
Stage Director: Tom Diamond
Lighting; Jason Hand
Chorusmaster: Laurence Ewashko
National Arts Centre Orchestra
John Brancy: Figaro
Sasha Djihanian: Susannah
Peter McGillivray: Bartolo
Lynne McMurtry: Marcellina
Wallis Giunta: Cherubino
James: Westman Count Almaviva
Aaron Ferguson: Basilio/Don Curzio
Nathalie Paulin: Countess Almaviva
Sean Watson: Antonio
Johane Ansell: Barbarina