The Hockey Sweater at the NAC is a Yuletide delight
The Hockey Sweater at the NAC is a Yuletide delight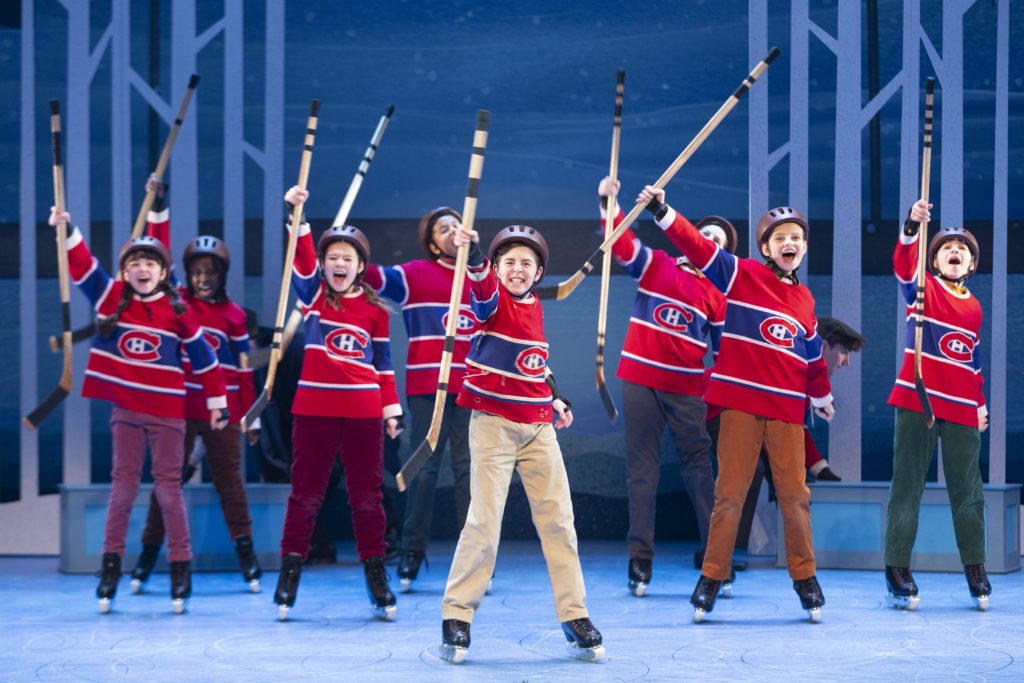 You can't deny the warmth and love that infuse the exhilarating production of The Hockey Sweater now at the National Arts Centre.
Indeed, one of the strongest features of this new musical, based on a beloved Roch Carrier story, is the affection that underlies it. It's reflected in the insightful approach of Stratford Festival stalwart Donna Feore whose lively  direction and choreography keep events in engaging over drive while also honouring the beating heart of Carrier's evergreen memory piece about a young Quebecois boy (and devout Habs fan) whose world is shattered when the Eaton's Catalogue people send him a Maple Leafs hockey sweater by mistake.
The show's creators, Emil Sher and Jonathan Monro, have taken Carrier's 1979 children's classic and expanded it beyond the point where the young Roch kneels
in church and prays for the destruction of the blue and white sweater that has been viewed with such horror and derision by his fellow players on the Ste Justine Rockets. So now, the story has an extended narrative arc that is as charming as it is persuasive. And, on its own terms, the new ending is deeply satisfying and — dare we use the word — uplifting.
Furthermore, there is a clear attempt here to evoke a particular culture that existed in the Quebec of 70 years ago — a culture in which small-town life revolved around such certainties as community, church, the local skating rink, and the Saturday night hockey broadcast on Radio Canada. (The production's props people deserve a special medal for tracking down the assortment of old-fashioned radios that show up on stage for one of the show's most enjoyable numbers.) Those certainties extended to the existence of the Montreal Canadians as the greatest hockey team in the world and to the place held by the legendary Maurice "Rocket" Richard as the greatest living hockey player. No wonder young Roch and his fellow players worshipped the Rocket and insisted on wearing Habs sweaters that proudly bore his fabled number 9. And no wonder that young Roch was so devastated by Mr. Eaton's replacement for the tattered Canadiens sweater that he had outgrown.
This sense of community — sometimes intensely human, sometimes messy — enlivens
the script and songs. More importantly it is sustained by the production itself. Set designer Michael Gianfrancesco works in happy collaboration with his lighting colleague, Luc Prairie, and the visual design wizards at Montreal's Normal Studio to provide a shifting tableau of visual beauty that also aids in the show's desired evocation of time and place.
Meanwhile, Donna Feore has drawn on her years of directing musicals on Stratford's daunting Festival stage to stick-handle her way through a show that in performance is virtually seamless in its narrative drive. And, predictably, her musical numbers are staged with verve and imagination. As in the past, Feore shows that she has a way with youngsters. The opening number, with Roch and his team mates on the ice (and yes, there is "ice" of sorts on the stage of the Babs Asper Theatre) will subject the evening to an immediate credibility test. But these spirited kids pass triumphantly: Feore and her young charges show what can be done with skates, sticks, red and white Hab sweaters, lively music and oodles of talent and energy. The show gets the rousing launch it needs.
Furthermore, it showcases some outstanding talent, beginning with Wyatt Moss's
performance as 10-year-old Roch. It's a portrayal that meets the dramatic needs
of the role: this is a kid who goes through humiliation, anger, shame and outright rebellion before landing safely on the other shore. But best of all is his astonishing dance talent: by the time the second act arrives and you're gasping at his nimble footwork, not to mention his effortless pirouettes and back flips, you're also understanding why Stratford has snapped him up for its production of Billy Elliot next year.
Further kudos are in order for Claire Lautier as Anna, Roch's loving but
uncomprehending mother. This is a musical performer who can move confidently from a comic number like I Hate Hockey, which assumes the texture of a mock aria, to the soul-searching poignancy of a later song — Is it Me? —about her relationship with her son. There are also further delights from Kate Blackburn as Mademoiselle Therrien, a schoolmistress driven to despair by her youngsters' preoccupation with hockey, and from Ian Simpson as the parish priest.
The material is so deftly executed that one doesn't immediately notice how few fully realized characters there are. Is this a problem? Perhaps not. But again, it's worth asking whether the show itself has reached its full potential despite the polish and imagination that have been put into it.
The Hockey Sweater comes to us from Montreal's enterprising Segal Centre for the
Performing Arts, which is dedicated to the creation of new Canadian musicals. Since its premiere there a year ago, it has been further refined and reworked and given three new songs. Most significantly, it has benefitted from the National Arts Centre's new National Creation Fund with its mandate to foster major new stage works for national and international audiences.
The importance of these twin initiatives cannot be over-emphasized. There was a
time when the Charlottetown Festival, in its early glory days, sought to fulfil this dream. Now the torch has been taken up once more.
There is already such a halo of triumph hanging over The Hockey Sweater that a
successful Canadian tour seems more than feasible. But again, has its promise been completely fulfilled at this point? The show has received such an assured production that its strengths may seem firmer than they actually are.
As written, some characterizations are scarcely sustainable. Emil Sher's book, on the whole so enjoyable in drawing us into the world of this story, contains an early scene introducing some of the local townsfolk that is so awkwardly written and stodgily performed that it makes you cringe. Sequences like this require rethinking.
Sher and Monro have supplied the songs with lyrics that reflect the changing sensibility of the material — heartfelt in their emotional truth at one point, wittily inventive at another. And there is no denying the impact of Monro's music, wide ranging in structure, tonality and rhythmic impulse — also in emotion. But the impact seems too much of the moment. The melodies do not linger in the mind despite the musicianship of the performers and the robust work of the seven-piece band under Monro himself. The question persists: has the music been overwhelmed by the ambition of Oran Eldor's orchestrations?
Perhaps of greater concern is one particular song, I Confess, in which the village priest, winningly played by Ian Simpson, reveals that he has long harboured a terrible secret. Simpson throws himself energetically into a number whose lyrics keep implying monstrous conduct — so much so that it will be the rare audience member who will not begin reflecting on the real-life scandals currently ravaging the Roman Catholic Church. The song carries too many risks to remain a part of the score. Yet its pay-off — the good Father's revelation of the actual nature of his sin — is priceless. In other words, the creators simply have to find a less dangerous way of getting to one of the evening's most delightful moments.
Meanwhile, we must welcome what already exists. The Hockey Sweater, as abundant
in its expression of seasonal goodwill as in its creativity, is a winner. And it has given the NAC's English theatre — and the city of Ottawa — a richly deserved Yuletide triumph.
The Hockey Sweater: A Musical
Book and lyrics by Emil Sher
Music and lyrics by Jonathan Monro
Based on the short story, The Hockey Sweater, by Roch Carrier
A production of Montreal's Segal Centre for the Performing Arts
Babs Asper Theatre, National Arts Centre, t0 Dec. 23
Director and choreographer: Donna Feore
Musical director and arrangements: Jonathan Monro
Orchestrations: Oran Eldor
Sets and costumes: Michael GianFrancesco
Costume co-designer: Louise Bourret
Lighting: Luc Prairie
Projections: Normal Studio
Roch Carrier, age 10: Wyatt Moss
Anna Carrier: Claire Lautier
Father DeLisle: Ian Simpson
Roch Carrier at 80/ Mr. Eaton: Richard Jutras
Gaetan Ouellette: Scott Beaudin
Louise Therrien: Kate Blackburn
Yvette Gelineau/ ensemble: Andreane Bouladier
Rejean Langille/ensemble: Omar Forrest
Manon Tremblay/ensemble: Evangelia Kambites
Dr. Robitaille/ensemble: Brandon Howard Roy
Roch's team mates . . .
Ginette Beauchamps: Jaime MacLean
Sylvain Langille: Oliver Neudorf
Estelle Tremblay: Zoe Brown
Andre Robitaille: Lucas Kalechstein
Marie Sirois: Shechinah Mpumlwana
Francine Tremblay/Claudette Carrier: Isabella Stuebing
Oliver Gelineau: Liam Wignall