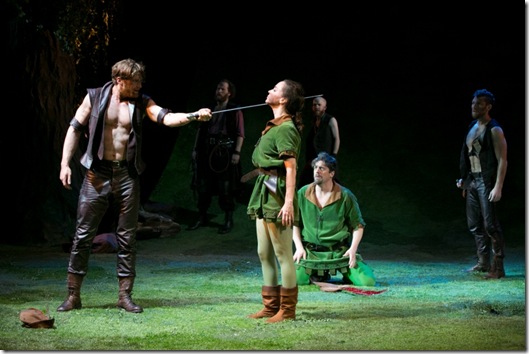 Photo, Evgenia Eliseeva.
The American Repertory Theatre (A.R.T.) is celebrating the holiday season with The Heart of Robin Hood, an updated, highly physical, and comic version of the old chestnut, with a little violence thrown in for good measure. The play, written by David Farr and directed by the innovative Gisli Örn Gardarsson, was first presented at the Royal Shakespeare Company (RSC) in England.
Gardarsson, a founder of the experimental Icelandic theatre and film company Vesturport, has staged a number of its widely renowned productions, which, like The Heart of Robin Hood, have been adaptations. In order to achieve a Vesturport-like quality at the RSC and the A.R.T., Gardarsson imported most of his technical team from the Icelandic Company.
What makes this production outstanding is its visual aspect: the setting, lighting, acrobatics, and aerialism. The Loeb Theatre's flexible stage became a thrust for this production, lending it at once more intimacy and a greater feeling of space. Designer Börkur Jonsonn's Sherwood Forest is stylized as a tall oak tree with spreading limbs, lit by gold, white, and blue lights, making it appropriate for the Christmas season. Upstage is a steep grassy hill, forty-five feet in height, which actors slide down at full tilt for entrances and ascend with the help of ropes for exits. At times, doors and windows pop open turning the hill into a castle wall complete with a balcony. Covering the stage floor is similar green turf, hidden waterholes, and a pond. The effect is festive, fantastical, and fearsome.
Both Farr and Gardarsson wanted to remove the encrustations of novels, plays, films, television series, comic books, and video games. At the same time, they borrowed archetypes and quintessential plot elements. In a moment vaguely reminiscent of King Lear, a character has his tongue pulled out by one of the villains. This Robin Hood (Jordan Dean) is a misogynistic outlaw who, along with his not so merry men, steals for gain, resorting to murder if necessary. Maid Marion (Christina Bennett Lind) falls in love with and is rejected by Robin Hood when in an attempt to escape her fiancé, the evil Prince John, she arrives at Sherwood Forest. In a bid to gain Robin Hood's admiration, she dons breeches à la Shakespeare and becomes part of the band as Martin. By the play's end, she has won Robin Hood's love and transformed him into the generous character of legend. It closes with a show stopping scene as the two lovers, now married, perform a rope ballet, rising higher and higher as their spotlighted bodies entwine.
Several well-known characters such as the Sheriff of Nottingham are missing while new additions like Pierre, Marion's loyal servant (Christopher Sieber) and her wicked sister Alice (Katrina Yaukey) help change the tenor of the story. But the heart of the play is its vigorous action. In the fighting scenes, the actors are proficient with swords, staves, clubs, bows and arrows, and their bodies. In her character of Martin, Maid Marion is singularly strong, while remaining graceful. The cast is made up of extraordinary athletes who vault from tree branches, use ropes like trapezes, and cartwheel and somersault across the stage.
On the whole, the acting is competent or better. The muscular and handsome Jordan Dean is believable as Robin Hood. While Christina Bennett Lind moves beautifully, her voice is shrill and sometimes too loud. Christopher Sieber imbues Pierre with sly humor. Damian Young is duly lascivious and sadistic as Prince John. Laura Sheehy is delightful as Plug the dog.
In a departure from their original production, the playwright and director brought in the young Connecticut roots band Poor Old Shine. The five musicians play the mandolin, banjo, guitar, bass, and drums to introduce the performance and in transitions throughout. Depending on your taste, their lively anachronistic music is either a delight or completely out of tune with this show. Nonetheless, despite the occasional qualm, I found The Heart of Robin Hood a fun evening.
Performances at the Loeb Drama Center in Cambridge, MA run from Dec. 11 to Jan. 19, 2014.
| | |
| --- | --- |
| Written by | |
| Music by | |
| Lyrics by | |
| Directed by | |
| Set Designer | |
| Costume Designer | |
| Lighting Designer | |
| Sound Designer | |
| Fight Director | |
| Associate Director and Aerial Consultant | |
|   |   |
| Cast |   |
| Gisborne's Henchman/Soldier/Prison Guard | |
| Sarah Summers | |
| Jethro Summers | |
| Little John | |
| Robin Hood | |
| Will Scathlock | |
| Guy of Gisborne/George LeBrun/Duke of York/Bishop | |
| Much | |
| Marion | |
| Plug the Dog/Townswoman/Soldier/Rebecca Summers | Laura Sheehy |
| Pierre | |
| Makepeace/Friar/Robert Summers/French Lord/ Confessor/Wild Boar/Lord Falconbury | |
| Alice/Lady LeBrun/French Lady/Lady Falconbury/Soldier | |
| Prince John | Damian Young |