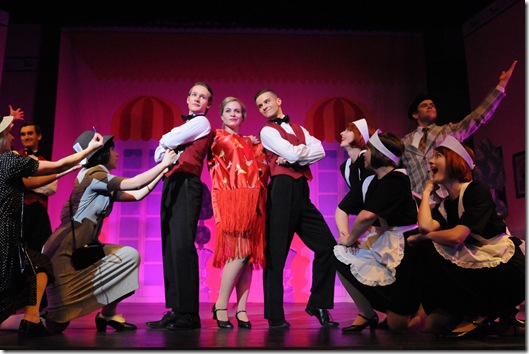 Photo:  Alan Dean
The Drowsy Chaperone, with its story about the trials, tribulations and ultimate triumph of young love, its song lyrics that are at times ridiculous but acutely aware of their own silliness, and its big, bright dance numbers, the show is at once a smart example of musical theatre and a good-natured jab at the genre.
That can be a tricky balance for a production to maintain, but Orpheus does it with panache and good humour.
Andrea Black, a strong singer and frisky performer, plays Janet Van De Graaff, an applause-loving actor and one-half of the show's main love story.
The other half of that story is her fiancé Robert Martin, played by Kodi Cannon. Cannon has a fine voice but often moves awkwardly on stage especially when tap dancing. If he just loosens up and adds some snap, he'll boost his on-stage presence to the next level.
Lesley Osborn as Janet's alcoholic chaperone needs more spring in her step. Her drinking may make her drowsy, but Osborn's delivery when speaking is just plain dull.
Wayne Nolan plays Man in Chair, a musical theatre buff who is also the show's narrator, occasionally stopping the show mid-song to comment on what we're watching. Nolan is terrific in the part, giving us a guy who's a clear enthusiast but with a wry sense of humour about his beloved art form.
The lively-voiced Mary Armstrong is under-utilized in the minor role of Trix the Aviatrix.
Artistic director Michael Gareau allows the pace to droop in Act One, and John McGovern, musical director, falls into the same trap a couple of times. Debbie Millett's choreography is sharp and often funny
Bottom line: a show that, despite some glitches, reminds musical theatre fans why they're fans.
The Drowsy Chaperone
A Production by Orpheus Musical Theatre
Music & Lyrics: Lisa Lambert and Greg Morrison
Book: Bob Martin and Don McKellar
CAST
Man In Chair, The Narrator
Wayne Nolan
Mrs. Tottendale, The Hostess
Christine Drew
Underling, The Butler
Jim Robertson
Robert Martin, The Bridegroom
Kodi Cannon
George, The Best Man
Darren Bird
Feldzieg, The Producer
Sam Smith
Kitty, The Chorine
Christine Moran
Gangster # 1
Andrew Galligan
Gangster # 2
Bryan Jesmer
Aldolpho, The Lothario
Dennis Van Staalduinen
Janet Van De Graaff, The Bride
Andréa Black
The Drowsy Chaperone
Lesley Osborn
Trix, The Aviatrix
Mary Armstrong
The Superintendant
Alex Brunjes
Ensemble, Estate Staff, Reporters, Etc.
Mary Armstrong, France Bastien, Alex Brunjes, Samantha De Benedet, Danielle Denisko, Peter Doherty, Isabella Kondrat, Jacob Roberts, Dave Rowan, Jeremy Sanders, Lisa Wagner