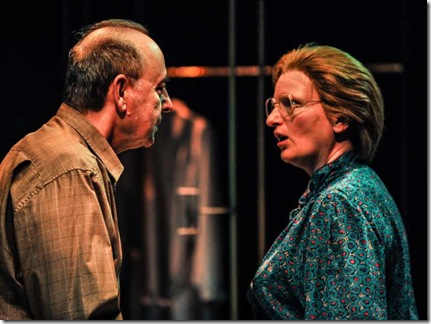 Photo: Andrew Alexander
Colleen Murphy's play, The December Man, comes to the National Arts Centre with its credibility enhanced by a flurry of honours, the most significant of which is a 2007 Governor General's Literary Award for English-language drama. It is a work of decency and integrity, and in its sensitive but lacerating portrayal of a middle-aged Montreal couple that finds no reason to go on living, it offers two rich acting opportunities.
Those excellent performers, Paul Rainville and Kate Hennig, meet their challenges superbly in this production from NAC's English theatre. When we first meet them, we're conscious of the delicate emotional interplay that can come only from the intimacy of a long-term relationship. It's a dynamic that persists in an opening episode which sees them, carefully dressed for the occasion and with the gas turned on, arranging themselves on the sofa with simple dignity to await their deaths.
There's no denying the unforced naturalistic power of these moments — but does the script itself really provide this production with the ballast it needs? One wonders.
It's easy to have a knee-jerk response to a play like The December Man. But because it deals — albeit peripherally — with an Important subject, should it automatically qualify as an Important play?
Its springboard is a horrifying real-life tragedy — the 1989 murder of 14 female engineering students at Montreal's Ecole Polytechnique by Marc Lepine. It's an event that haunts the characters in the play — middle-aged Benoit and Kathleen, but especially their tormented son, Jean, a fellow student whose guilt and anguish over surviving the Montreal massacre will drive him to suicide.
Colleen Murphy has chosen a structural device employed by Harold Pinter in his play, Betrayal, and Elizabeth Jane Howard in her novel, The Long View. It is to tell a story backwards. In the case of Pinter and Howard, each receding episode brought fresh illumination and nuance to the narrative, the purpose being not merely to show how things reached their final resolution — in both cases the failure of a relationship — but also to reveal at the very end how those relationships began. We had to wait to get all the answers.
In the case of The December Man, Murphy has few convincing layers to peel away. Too many episodes seem repetitious rather than revelatory. Murphy is attempting to show how a horrific tragedy can have an appalling ripple effect on the lives of others — but such a thesis is scarcely novel. Of greater potential interest is her examination of the issue of survivor guilt as exemplified in the growing despair of Jean, whose torment finally becomes such that he cannot go on living. Unfortunately, the playwright's use of reverse chronology doesn't serve these concerns either.
Because of the subject matter, we know from the beginning what will inevitably happen by the end. December, 1989, will arrive, and with it a massacre that will continue to leave its scars. Yet, in an odd and somewhat disconcerting way, that terrible event becomes distant and marginalized, its currency repeatedly devalued as a result of the play's focus on the deterioration of one blue-collar Montreal family.
In a less attentive production than that mounted by director Sarah Garton Stanley at the NAC, The December Man could easily seem no more than shrill, exploitive, psychologically dubious melodrama. Here, it is rescued by the performances. When you watch Kate Hennig's Kathleen — a confused but caring Roman Catholic mother who is eventually denied even the comforting anchor of her church — we are watching a believably ravaged life. Paul Rainville brings a gruff, uncomprehending blue-collar sensibility to the character of Benoit: indeed Rainville is so good as a father desperate to understand that he leaves you thinking that he'd be wonderful as one of Beckett's two tramps in Waiting for Godot.
Kayvon Kelly's work as the tortured son is a bit more problematic. His moments of anguish aren't always grounded in dramatic truth — but he is excellent in some of his quieter passages, most notably a memorable sequence in which he tries to explain the laws of physics to his well-meaning but baffled dad. It's also questionable whether those heavily choreographed moments, which see Jean twisting his body into contortions and heaving chairs around the stage, really make a useful contribution to the proceedings.
There are moments when both play and production seem uncomfortably manipulative. Michael Leon's ear-splitting soundscape comes perilously close to overkill; in contrast, the presence of unreadable placards identifying each scene is ultimately pointless.
The December Man continues at the NAC Studio theatre to November 28.
Director: Sarah Garton Stanley
Set, props and costumes: Amy Keith
Lighting: Andrea Lundy
Sound: Michael Leon
Cast
Kathleen…………………………….Kate Hennig
Jean…………………………………Kayvon Kelly
Benoit……………………………….Paul Rainville