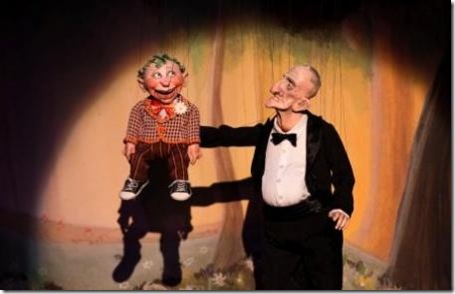 Photo: Alejandro Santiago: Little Woody Lindon and Meyer Lemon.
Ronnie Burkett is back in Ottawa, creating havoc and palpitations as he unleashes his special brand of ferocious humour on our city. This time, our creative genius from Western Canada, has freed himself from a narrative, from a script, from a specific lineup of acts as he puts many of his performance choices in the hands of his favourite audience: menopausal ladies and gay guys!! Yes the audience is offered choices and thus, no one is spared, everyone goes through the Burkett meat grinder this time and one leaves the theatre with one's head twirling!! Such a show!
This time he has created a theatre within his theatre, The Daisy Theatre proscenium puppet arch is set up in the middle of the stage. It features a sequence of performances by his puppet characters drawn from former shows but that appear on their own, putting on their own individual monologues that reveal their naughty secrets, the underbelly of their obsessions, their troubles and their true selves. They are cleansed of any serious narrative that turned them into characters in a play because now, they are on stage as "themselves", that is, as manipulated by Burkett who takes advantage of the situation to confront his puppets, and ultimately to put himself in the foreground. His multiple voices, his flowing monologue, his quick and clever shifting from one situation to another as his characters tumble out nonstop is a marvel to watch and hear. He grabs the various puppets all set up backs stage, hangs over the little puppet stage, gives stage directions to the lighting people to the sound director and off he goes with no apparent prompter of any kind because there is no script as he keeps reminding us.
This time however, he thoroughly enjoys telling us his own personal secrets, interacting with his characters – or himself!! – as well as interacting with the audience…that poor disadvantaged group sitting in the dark that doesn't know what's coming. Since he believes it's much more fun on stage with all the lights and the interesting people bopping about, he brings a few people on stage and lets them play along!!
This new format inspired by vaudeville, burlesque, clown shows and other forms of popular entertainment, also allows the man to take pokes at boring old Ottawa and that "other place" downtown because this is the first time he has ever performed at the GCTC and it obviously was a great experience for whole team. He adds many insightful comments about the theatre and how it works so there is much more depth than you might expect. You just have to listen for it and catch it in between the flow of risky jokes, and sexual innuendo, and frank parody- nothing is sacred in his stage vocabulary and you should have heard the howls from the audience! .
Out they come one after another: Miss Dolly Wiggler, the simple girl from back on the farm who is much more than a stripper, the clowns Happy Pants Franz and delicate little Schnitzel who set off a very clever political critique about what is happening south of the border without mentioning any names. Little Schnitzel has a strange round head which makes him "different", not an easy thing to be these days, an unhappy and pathetic little creature who appears to be the distraught victim of bullying by a larger more aggressive Happy Pants . ! Then there is the appearance of that favourite Christian son who has adopted a contemporary vocabulary and who speaks of his mother in tones that will horrify any true believer. But he leaves us with a wise message of peace and happiness. There is the dramatic opera singer Clara Dribbles eyeballing her classical pianist Tinkler as she interprets a significant vaudeville number, based on an old English Folk Song (?) about a chicken and a duck that symbolizes her hidden passion. Burkett's masterful control of the puppets is the object of this segment with an audience member to whom he gives a lesson on how to manipulate a piano playing puppet and make it look real. Other exceptional appearances were made by hot singer dancer Rosemary Focaccio from Las Vegas who goes gaga for the man in the audience with the lavender sweater as she sways her skinny little bottom in a fetching rhumba. There is Edna from Turnip Corners who brought down the house listing all her accomplishments and there are many more.
All this is maintained by Burkett whose nonstop monologues , his changing rhythms, and accents, his singing that moves from Opera to blues to las Vegas night club entertainment, to the strange little monologue by a puppet whose ventriloquist seems to have dozed off !! A wondrous performance by a man whose talents go way beyond anything one could ever imagine and the stage at the GCTC creates a special intimacy which heightens it all but it's only for the enlightened!! .
We are lucky to have Ronnie Burkett back in Ottawa. Go see him.
Plays at the GCTC until December 18.
The Daisy Theatre written and performed by Ronnie Burkett
Costumes and set designed by Ronnie Burkett and marionettes created by Ronnie Burkett
John Alcorn Music and sound design
Crystal Salverda Stage Manager.
Puppet builders: Angela Talbot, Gemma James-Smith, Marcus Jamin, Jesse Byiers, Gil Garratt. Martin Herbert
Also posted on the web site in Toronto.    http://www.scenechanges.com/reviews.html#daisy