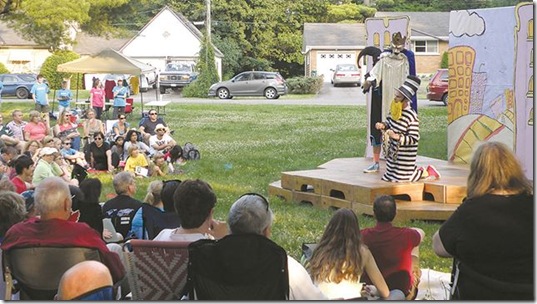 Photo. Andrew Alexander
Our raging Company of Fools is back for another summer of theatrical mayhem, turning the Bard's work into the most unexpected of romps in the park. The Comedy of Errors is Shakespeare's earliest play, according to many historians although the existence of the Folio does not necessarily indicate the original existence of the play itself, since performances were not always recorded in the 16th Century . Shakespearean scholars tell us that two plots taken very likely from the original Latin version of Plautus' most popular plays Menaechmi and Amphitruo are at the origin of this romantic tale of separation and reconciliation of Shakespeare's Greek family.
As well, a 1938 version of the story became a Musical comedy , The Boys from Syracus.. However the Company of Fools, in their wisdom, shows us that in fact, the coloured and madcap visual world of Dr Seuss as well as the story of "Where's Wally", are essential sources of their performance.
The Comedy of Errors tells of Egeon the Merchant of Syracuse (Geoff McBride) , sentenced to death because he has entered the port of Ephesus where no Syracusian may ever set foot. In a long soliloquy that introduces the play, Egeon pleads for his life before the Duke of Ephesus, explaining his reasons for trespassing national boundaries. Egeon is actually looking for a long lost wife and seeking to reunite his identical twin sons  separated at birth.
Thus begins the strange tale where both sons appear in Ephesus, neither knows the existence of the other and both become involved in ongoing situations of confused identity. Each son has a servant named Dromio, and each Dromio looks like the other Dromio and even more to the point, both Dromio's are dressed in little Wally style striped t-shirts, just as the character of the Where's Wally story , who tends to disappear in a crowd of faces and who has to be recognized by all for the game to come to an end. To the same extent, Dr. Seuss' world of extreme costumes, props, makeup and heightened physical hi- jinks also define this show and it becomes a fast paced, fun filled series of mistakes that lead up to the final admission, that all this has only been a "comedy of errors".
The adaptation might have shortened some of the monologues because there is a lot of talk in this play and when characters are physically hyped up and ready to go, stopping to recite speeches does not always play out well especially if they do not have the necessary acting skills to do so. In some cases it stalled the general movement. However, Catriona Leger's snappy direction of  the clowning and mime and physical work, even to the point of true farce, is kept tight and hot most of the time, with characters exiting and entering behind all those doors, even from the back of the audience and then disappearing behind the set for lightning costume changes .
In fact , Vanessa Imeson's astounding Seuss style costumes and wigs really stole the show. I loved Gabrielle Lazarovitz' huge raspberry top of twirly curls sitting on her head when she becomes Adriana. She is the wife of the son from Syracuse played with great gusto and torment by Al Connors. Katie Ryerson stood out in all this mixture because she became a multitude of creatures who changed characters in seconds. There she appears as Angela the Goldsmsith – – the gold digging tsatska from Brooklyn with a broad Damon Runyon accent that was just perfect. Set off against Imeson's flaming reddish -orange construction on her head , she was delightful. , Ryerson also became Dr Pinch the sadistic living Zombie who scared the pants off them all with her creepy grey wig that suggested a Medusa-like hair style of wiggly things, but maybe that was my own imagination. She also became the the Abbess who assumed her official heaven sent stance and played perfectly throughout the general free for all without losing her churchlike dignity. Not bad at all. Miss Ryerson is becoming an excellent actress.
Of course the cast was impeccable. Scott Florence slinked on stage as the Courtesan with the immense curlers on his wild orange headdress and Warren Blain apart from his performance as one of the sons, became a nasty police officer with a slight Punch and Judy veneer as he wielded his weapon and beat poor Al Connors, the "other twin son", into submission. At some points, cruelty even became hilarious.
This is a fun filled show that takes us into children's story-book land that still might not hold the attention of younger children because there is so much happening and so much verbal explaining that I think they would have a hard time following the plot. Nevertheless there is lots of action, there are Vanessa Imeson's costumes and hair creations and all that might be enough. Bring your supper, a blanket, some water and enjoy!! The show starts at 7pm in various parks around the city. See the schedule for park locations:
http://fools.ca/current/the-comedy-of-errors/
The Comedy of Errors by William Shakespeare, directed by Catriona Leger
Featuring: Warren Bain, Al Connors, Scott Florence, Gabrielle Lazarovitz
Geoff McBride, Katie Ryerson
Costume designs and wigs : Vanessa Imeson
Set design: David Benedict Brown