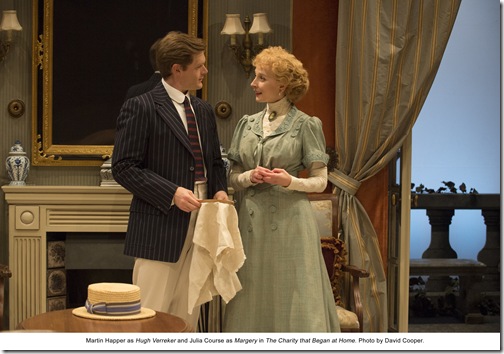 Martin Happer as Hugh Verreker and Julia Course as Margery in The Charity that Began at Home. Photo by David Cooper. .
NIAGARA-ON-THE-LAKE, Ont. — One of the happiest aspects of a Shaw Festival summer is an encounter with its latest archaeological discovery.
The people who run this internationally celebrated theatre are serious about its central mandate — to explore the world of Bernard Shaw and his contemporaries. And that, happily, has led to the rediscovery of neglected dramatists from the past.
When the festival launched a cycle of remarkable plays by Harley Granville Barker, it enjoyed some of the biggest triumphs of its 50-year history. But in the case of the forgotten St. John Hankin, it was rescuing a superb dramatist from an even deeper obscurity.
It was Christopher Newton, in his final years as festival artistic director, who rediscovered Hankin and gave audiences a production of The Return Of The Prodigal that proved so popular in 2001 that it was back on the festival playbill a year later. Jackie Maxwell, Newton's successor as festival boss, then invited him to direct another Hankin gem, The Cassilis Engagement, in 2007. And now Newton is back again, working with designer William Schmuck, his gifted colleague on the previous plays, and with a terrific ensemble cast to give us The Charity That Began At Home, a 1906 piece that bears the ironic subtitle — "a comedy for philanthropists."
Newton suggests that Hankin's uniqueness rests in the fact that he was as "perceptive as Noel Coward, as comic as Anton Chekhov." (And, indeed, how exciting Edwardian theatre must have been — what with people like Bernard Shaw, Granville Barker, John Galsworthy and St. John Hankin leading the revolution at the legendary Royal Court Theatre.) Newton's parallel with Noel Coward seems especially interesting, given that some two decades after Hankin's brief time in the sun, Coward wrote Hay Fever, a comedy about what happens when some hapless weekend guests end up being treated abominably by their hosts. But earlier, in an era when Coward was still a schoolboy, Hankin examined a similar situation but from an audaciously different perspective — presenting us with a household of do-gooders who, acting with misplaced Christian charity, host a country-house party featuring guests who nobody else in their right mind would allow under their roof.
This collection of visiting misfits include Jim Mezon, in wonderful form as a boring old general braying out interminable recollections of old military campaigns; Donna Belleville all too believable as a chronic complainer; the splendid Sharry Flett, purse-lipped and resentful as a demanding German tutor; and Martin Happer, as a young man with a somewhat dubious past.
It's Happer's deftly defined character who complicates matters by falling in love with Margery, the daughter of the house. Julia Course's spirited performance in the latter role encompasses a disarming naivety and ingenuousness: most importantly, she conveys an innate goodness without going soppy, thereby reminding us of the thread of humanity running through the play.
Fiona Reid is excellent as the fluttery Lady Denison, the well-meaning do-gooder matriarch who's on the side of "the deserving undeserving" — to the extent of actually inviting disagreeable people into her country home at Priors Ashton and striving mightily to keep her composure when they keep testing it. After all, she's firm in her belief that all reforms contain an element of danger — and in her own addled way, she considers herself a reformer, even though, ironically, she's still incapable of relinquishing her aura of class entitlement.
A low-key Graeme Somerville manages to make blandness interesting in his performance as the earnest cleric who has inspired Her Ladyship to embrace the adage that charity begins at home. But there's also more irony at work here as the household descends into chaos and this gentle non-conformist is forced to re-examine his own precepts.
Best of all is Laurie Paton as Lady Denison's beady-eyed, hard-nosed sister-in-law, openly disdainful of this display of good works that she considers to be a load of tosh.
The play concludes with a rueful coda, which interconnects beautifully with the earlier comedy. And in the process, Newton and his cast bring off some exquisite set-piece moments. There's a beautifully executed tea party confrontation that shows such moments were not solely the preserve of Oscar Wilde. There's also a sublime example of how the comic pause can be exploited and exploited again to wonderful comic effect — high marks to Reid's flustered Lady Denison and Andrew Bunker's hilarious contribution as an impassive servant for triggering the biggest laughs of the evening
There's a sobering message underlying The Charity That Began At Home — it's the reminder that, however we try to cut it, character is fate. But its manner of conveyance remains an endless delight. A hit, a hit, a palpable hit.
(The Charity That Begins At Home runs at the Court House Theare until Oct. 11. Ticket information at 1 800 511 7429 or shawfest.com)