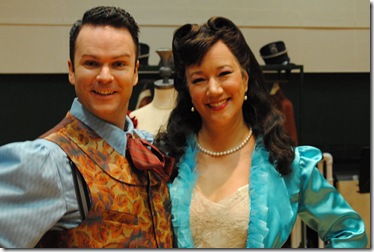 Photo: Barb Gray.  Joshua Hopkiins (Figaro) and Marion Newman(Rosina).
Just as Brian MacDonald transformed Gilbert and Sullivan into light opera, just as Steven Sondheim's musicals could often be considered light opera, why not do the reverse and transform Rossini's Opera Buffa into musical theatre where all the spoken parts are sung in any case, and comedy dominates the whole event? This production, which originates in Vancouver is a treat for the eye and is clearly aimed at a general even non-opera going audience that just wants an evening of entertainment in the lush setting of the National Arts Centre. Why not? Opera is not the sole possession of specialists. If Opera Lyra has to seduce the audience by setting Count Almaviva's attempts to declare his love to Rosina on the set of a 1940's film of Carmen, (Bizet's version I imagine) – a sort of mise en abyme musical, why not? It was all supported by conductor Giuseppe Pietraroia's fine direction that emphasized the heightened comic drama of the artists and produced excellent moments of music. The chorus of extras who changed costumes, who ran around trying to get their  hair cut by Figaro, the cheeky foppish barber and stylist of the film crew, sung by Baritone Joshua Hopkins, created an amusing performance. Also film-like with gangster undertones were the two sinister body guards who kept close to Rosina so that her impatient lover Almaviva (Lindoro), could not get near her as Bartolo snorted with anger in the background. Director Dennis Garnhum created numerous stage dramas operating simultaneously and eventually he transformed the whole cast into excellent actors whose timing was impeccable, whose sense of fun worked beautifully. A comedy of near epic proportions!!
I came last night with a 10 year old Italian friend who giggled all the way through, who knew the famous arias, who didn't need to read the surtitles and he loved it. I noticed other young people in Southam hall so bring the children. It might be a surprise even for them.
Nevertheless, something happened to Rossini! Perhaps that didn't matter. In this age of blog sites and alternative on line even promotional criticism, what seems to matter is the general perception of the event. But there still must be room for a closer look at Rossini's music which is, in fact the real star of the opera and frankly, the extremely physical stage business created so much pressure that at times, it diverted attention away from the singers. The result was that at times, emphasis on the musically exciting portions of the arias, the duos, the trios, evapourated although final moments of Act I where 6 voices work together succeeded beautifully. Baritone Joshua Hopkins offered a fine Figaro who held his own vocally while acting up a storm. Also extremely important was Peter McGillivray (Bass-Baritone) as Bartolo who projected the extraordinary richness of his voice whether he was whispering, grumbling, snorting or grunting with jealousy, even plotting revenge, until he finally blossomed into beautiful tones in his aria in Act I scene II where he defends his dignity as a Dottor della mia sorte, or sings one of the great arias La Calumnia – in praise of vicious gossip. Act II during his hysterical patter with Almaviva disguised as Don Alonso (tenor Isiah Bell), the substitute music teacher was also an electrifying moment. McGillivray especially generally carried the vocal performances and brought the opera up several notches. .
However, Rossini's operatic music is of a special nature because it is defined by ornaments, inherited from the coloratura singing of the castrati in 17th-18th century Baroque opera but forms that Rossini perfected in his own time and inserted into his own written music. These trills and runs and manifestations of great vocal virtuosity are essential. Singers of Rossini must perfect them but I had the unfortunate impression that they were all removed from this version. Rosina is defined as a coloratura mezzo-soprano and all her arias are feats of such expressive virtuosity but Marion Newman (as Rosina) slid over those runs as though she hoped we wouldn't notice them. Her upper notes were not well defined either. She was a big disappointment. Almaviva (Isaiah Bell) had a similar problem although he seemed to gain more control of his performance as he evening moved on.
Benjamin Covey (Baritone) as Fiorello almost took vocal charge of the stage when he organized the extras during the filming of Carmen that was happening off stage. Don Basilio (Gilles Tomkins) bass-baritone as the music teacher and photographer worked beautifully on the upper register but his voice disappeared on the lower notes. He was often drowned out by the orchestra but that could have been the fact that I was sitting in row D. The middle rows offer the best acoustic setting in Southam Hall. A real surprise was soprano Maghan McPhee as Berta who sings about her work as Rossina's dresser and the terrors of aging. She needs more strength but her voice was beautiful. Costumes (Parvin Mirhardy) were lush, the wigs  (Gerry Altenburg) fit the period perfectly, the scenery provided by the Pittsburgh Opera and designed by Allan Stitchbury was appropriately ultrarealistic and the whole technical crew created a monumental performance. The set clearly carried the evening.
This version of The Barber of Seville is a lot of fun, as long as you are not looking for a perfect evening of vocal performances. But even if there was the orchestra, the staging and so much more, top notch performances by everyone would have created a magnificent evening because the music is so exciting in its own right. One barely needs to embellish the stage with all that stage business unless the team can reach a perfect balance between the two forces at work. Here they sacrificed Rossini to an extent. When one deals with one of the great composers of opera of the 19th century, is that really the best solution?
The Barber of Seville by Gioachino Rossini continues until October 3 at Southam Hall at the N.A.C. Performance begins at 8pm
There will be pre-performance chats in English on Wednesday September 30 and Saturday, October 3 at 7pm I
Pre-performance chat will be held in French on Monday, September 28 at 7pm .