Guest critic Jim Murchison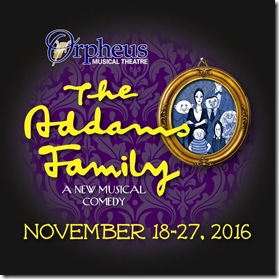 Photo, courtesy of Orpheus Musical Theatre
The original creator of The Addams Family, Charles Addams could likely not have imagined the long lasting effect he would have on popular culture when he inked his first drawing for the New Yorker in 1938. Countless reincarnations in TV, animation and film have allowed these characters to endure into the 21st century.
The musical version written by Marshall Brickman and Rick Elice, with music and lyrics by Andrew Lippa is a well crafted tale of love discovered, love lost and love regained that has been a favourite theme since civilization first picked up a pen, a quill or a rock and started writing. This isn't heavy stuff. It is quintessential entertainment, the perfect antidote for the post election blues and although the play is about an eccentric, wealthy American family living in New York there are no other frightening similarities to the first family elect. They're a little macabre to be sure, but generally loving.
The front curtain for this production is a drop of portraits of the Addams' framed by cobwebs. When it lifts, it reveals a gnarly old tree stage right stretching its craggy limbs over a dark gated cemetery as if ready to pluck someone up and toss them towards the gorgeous full moon.
While we are still absorbing the effect of the design elements of the play; the striking set, costumes and lighting, patriarch Gomez Addams leads the cast through the first musical number. It is as strong a beginning to a play as I have seen. While it introduces the main characters, in particular Thomas Franzky's elegant, witty and passionate Gomez, the crescendo highlights the strength of the chorus. That balance throughout the cast is what takes it from being good to a totally engaging and wonderful evening.
There is much to like in this play in addition to Franzky's stellar performance; the sultry dispassionate sex appeal of Stefania Wheelhouse as Morticia, the pugnacious and sometimes salacious, wisecracking of Maureen Quinn McGovern as Grandma, Samantha Clarke's meticulously sullen Wednesday and Jennifer Colbert's impudent, yearning masochistic Pugsley all provide great fun.
Eugene Oscapella's barely animate Lurch could be a scene study on less is more. Réjean Dinelle-Mayer's turbo charged, moonstruck Uncle Fester accompanied by demised kin frequently appears to hilariously update us on events while the family basks in their despair.
The Addam's dinner guests the Beinekes are the alleged normal family but they are not without their own problems. Jamie Rice as Lucas is love struck by Wednesday but he struggles to be as crazy and uninhibited as her. Charles Moir as Mal, the father of the groom is trying to find his youthful vigour and remove the starch from his corporate collar. It is Andréa Black's character Alice that is most transformed with a little help from some Addam's magic. She transitions from a subservient, rhyming milk toast to an angry, wanton woman demanding fulfillment.
Director Jenn Donnelly, musical director Murray Doggett and choreographers Jasmine and Jessica Lee have put together the complete package. Add in the set design of Tony Walker (co designed with Jenn Donnelly) costumes of Lesley Wilson, the lighting of Chris Amott, Kim Shields make up and John Cybanski's sound and you have the complete package.
The toughest part of a production team's job is play selection for a season. They should be over the moon about this Production. It shines brightly on everyone that was involved. Congratulations!